سرفصل های مهم
فرآیندهای علمی (پیشرفته) قسمت دوم
توضیح مختصر
زمان مطالعه

16 دقیقه

سطح

خیلی سخت
دانلود اپلیکیشن «زبانشناس»
این درس را می‌توانید به بهترین شکل و با امکانات عالی در اپلیکیشن «زبانشناس» بخوانید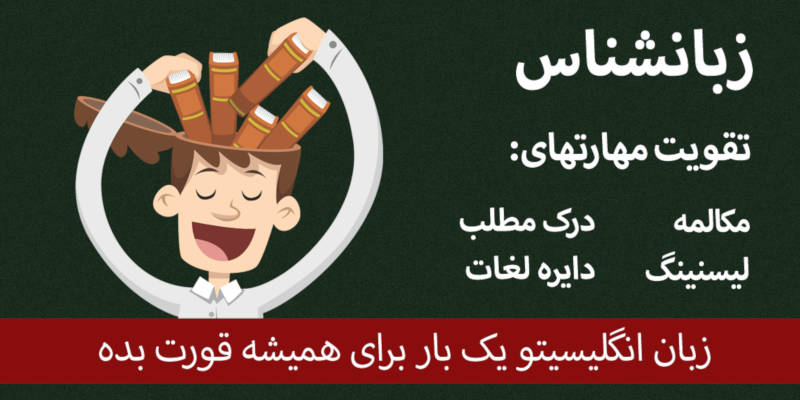 فایل ویدیویی
متن انگلیسی درس
In this lecture I'm going to take you through 10 words connected with scientific processes.
And here are the 10 words dissolve evaporate filter extract harness Since the size and dilute.
So here's your first word dissolve.
Dissolve.
You clean dissolve.
Notice by the way there's sounds disease not deaths but disease dissolve.
You can dissolve some substances such as sugar and salt in water.
So if you add sugar to water and stow it the sugar breaks up into tiny pieces it dissolves so you can't
see it anymore.
For example so salt and sugar dissolve in water.
Here is an instruction shake the vial gently to dissolve the mixture.
Vine is a bit like a test tube.
We'll dissolve our partnership immediately.
So here dissolve is not a scientific use it's for breaking up a business partnership so it can be used
more widely than chemistry.
Basically means a break-up you dissolve something in.
You can dissolve something rapidly or slowly.
And completely can dissolve something completely.
The sugar completely dissolve.
It's a verb dissolve so you can have dissolves.
Dissolving and dissolve.
There is a noun which is dissolution here by the way you have the dis not the disease but dis sound
dissolution.
But this isn't really used in science.
Dissolution means an organization or a system that is broken up softer often used the highest in history.
In fact we talked about the dissolution of the monasteries when the monasteries were broken up and banned
from the English Church.
So some synonyms for dissolve break up liquefy is a possible synonym as well but it's a very specialized
word.
Some people think that melt is a synonym of dissolve or disappear but not really.
That's not a very scientific way to look at the word dissolve.
Breaking up is the best when I think your next words evaporate evaporates when a liquid evaporates it
turns into a gas.
It goes into the air.
So here you have a hot cup of coffee on a cold day so you can see the steam the vapour rising from the
coffee into the cold air.
So the water in the coffee is evaporating into the air.
I use the word vapour.
You can see the word vapour here in the word evaporate.
Steam is also called water vapour.
So a liquid that turns into a gas is known as a vapour evaporate.
For example not moisture is drawn to the surface of the fabric and evaporates.
Sea water evaporates into the air to form clouds.
The warm morning sun evaporated the dew on the grass.
The day you do is water that appears on grass early in the morning.
You can evaporate into such as into the air so things evaporate quickly or slowly water evaporates.
There is a very common collocations.
Evaporate as a verb so evaporates evaporating evaporated and evaporation is the noun evaporation.
And some synonyms for evaporate dissipate.
Disappear.
Possibly vaporises are nice when they prove something like Star Trek to dry out.
And your next word is filter filter.
If you filter a substance you pass the substance through something which separates or removes smaller
substances So for example here's a coffee filter is made of paper.
You pour hot water through the coffee and the water.
Well that cow is small pieces of coffee into the jug underneath and it leaves the large pieces of coffee
in the coffee filter.
Here are some examples of the word filter.
First filter the water to clean it.
The liver filters toxins from the body.
Toxins are like poisons used a water filter before drinking every important.
So you can filter water filter out filter through.
And again filter is a verb.
Filtering filtered.
And here's And now an.
Filth.
Now watch what happens to the ending here.
That's how you spell filtration filtration.
It's a very common Miss spaning but filtration is the process of filtering something so the e in filter
is dropped so not filled to ration but filtration filtration.
Some synonyms for filter.
Clean pure thigh.
Just fine.
Sift sift sift is usually used when you filter out big objects like stones and rocks from soil.
And then the word strain strain strain is often used when you pour hot water through tea leaves.
So you strain T.
But you filter coffee.
Here's your next word extract extract.
If you were extract something you remove it you take it out like this poor boy in the dentist.
The dentist is extracting a tooth from the boy's mouth.
The dentist is taking the tooth out of the mouth removing it extracting the tooth extract.
Okay AB extract watch the ending here.
Bouncing extract.
You stress the second syllable here extracts can be used as a verb or a noun but as is often the case
with English words we tend to stress the second syllable in a verb when we use this word as a noun we
say extract extract.
So if it's a noun you tend to stress the first syllable.
In this electoral focus on the verb extract extract.
So the dentist extracted my tooth.
Extracted can be.
Connect with information to the police questioned him for hours.
They wanted to extract information from him.
Such a casket can be extracted from oranges and lemons.
You can extract things from extract something from extract information.
Very common collocation extract oil from the ground.
So here we have it as a verb extracts extracting extracted.
You can also use this as in you contend the verb into a noun to get the word extraction.
So the dentist performed an extraction when his teeth are not often used though that word.
But here are some synonyms for extract.
Remove.
Draw out.
Drive.
Drive.
Gleam.
You often glean information.
Pull.
And you sit.
You list sit.
Your next one is harness.
HARNESS.
If you harness something you bring it under your control and you use it.
Now here is a horse in a harness.
We have by using the harness we've harnessed the power of the horse.
We control the horse but not only do we control the horse.
We can now use the horse to pull things.
So we've controlled it and now we can use it.
Some of the examples we use solar panels to harness the power of the sun.
Turkey plans to harness the waters of the euphrates River to make hydroelectric power.
We want to harness international support to achieve our aims.
So you're and harness support harness knowledge harness energy and with an app that you can harness
things effectively.
If it's as using as a verb harnesses is this present simple.
Hama's Same.
Harnessed.
Harness is also a noun.
So a horse wears a harness.
Some synonyms make use of.
Utilize.
Exploit.
In control.
But RIM remember harness is kind of a combination of control and make use of.
Tame.
Taim is closer to control doesn't really.
Doesn't really suggest using something Channel.
Your next word is synthesize synthesize when you synthesize something you make a substance using chemical
or biological reactions but you can also sense the size ideas which means bringing ideas together synthesize.
Now I spelt it here with a Z.
That's quite a common spelling especially in American English in British English.
You can also spell it with an i s e ending.
British English tends to use lots of I S E E endings whereas American English prefers.
I Z E endings.
But both are correct.
In fact I'm British but I tend to use the eyes Z E endings myself.
Some examples after extensive research Albert Hoffman succeeded in synthesizing acid.
Vitamins cannot be synthesized by the human body.
It was their aim to synthesize these factors into a comprehensive view of life.
Some common collocations here synthesize in synthesize protein.
Synthesize molecules synthesize ideas.
Incidentally when you synthesize proteins and molecules you make them you make proteins you make molecules.
But when you synthesize ideas you bring ideas together maybe making a new idea as well.
So synthesizers is a verb synthesizer synthesizing synthesized.
You can also have an adjective synthetic.
We often have synthetic materials so clothes that are made from chemical or artificial materials are
synthetic materials not natural ones.
And synthesis.
When you bring ideas together you create a synthesis of ideas.
And some synonyms for synthesis for synthesize combine make whole bring together make.
And our last one is dilute.
Dilute.
You dilute a liquid if you die lute's a liquid it becomes weaker.
We often dilute liquids with water but you can also dilute ideas which make ideas weak.
So for example if you give orange juice to your baby always dilute it with water make it weaker because
the acid is too strong for babies.
The chemicals sipping from the contaminated land quickly diluted in the water.
Here's one for ideas.
Their ideas tend to dilute the significance of the Holocaust.
This one is about making ideas weak week diluting an idea.
So you dilute something with something.
You can also dilute by and you often dilute solutions as well.
As a verb dilutes diluting diluted.
You can use the noun dilution.
The process of diluting something is called a died luciane.
And some synonyms for dilute weaken.
Watered down.
Lesson.
And is an ice wood.
Temper temper you often temper ideas.
You make them less extreme.
So there are your seven scientific processes words dissolve evaporate filter extract harness synthesize
and dilute.
مشارکت کنندگان در این صفحه
تا کنون فردی در بازسازی این صفحه مشارکت نداشته است.
🖊 شما نیز می‌توانید برای مشارکت در ترجمه‌ی این صفحه یا اصلاح متن انگلیسی، به این لینک مراجعه بفرمایید.