سرفصل های مهم
زمان
توضیح مختصر
زمان مطالعه

0 دقیقه

سطح

خیلی سخت
دانلود اپلیکیشن «زبانشناس»
این فصل را می‌توانید به بهترین شکل و با امکانات عالی در اپلیکیشن «زبانشناس» بخوانید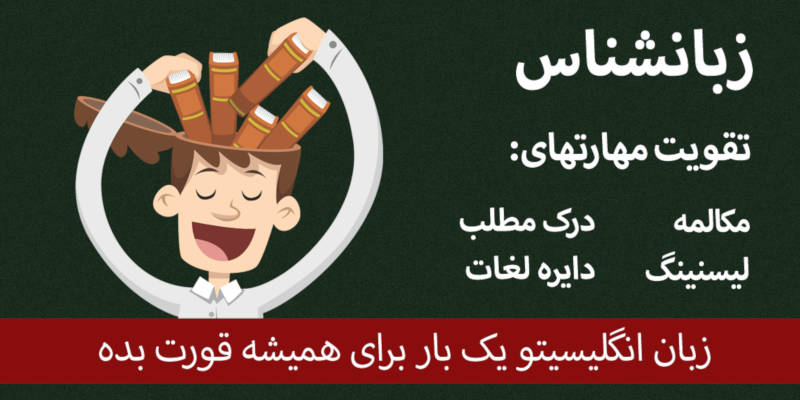 متن انگلیسی فصل
So in this lecture we're going to look at vocabulary related to time and here're our seven words, consecutive, successive penultimate, intermittent, periodic, concurrent and coincide.
So the first word is consecutive, consecutive.
If events are consecutive, they happen one after the other.
So for example.
This is the third consecutive year that Barcelona have won La Liga.
Five six seven eight and nine are consecutive numbers.
And there's one for your photographers, photographs taken at the same time on consecutive days can be quite different from one another, because the lighting conditions can be different.
And then we can look at some collocations consecutive years, consecutive often go with time words so consecutive years, consecutive days, consecutive weeks, months.
Consecutive numbers, consecutive defeats, consecutive victories.
So football team, successful football teams have consecutive victories.
The team I support has consecutive defeats often.
You can turn consecutive into an adverb simply by adding lY consecutively.
And some synonyms for consecutive, the sequential, successive, will look at successes next, one after another as well.
So consecutive years means one year after another or one week after no one month after another.
Our next word is successive, successive.
It's similar to consecutive, successive mean something happens one after the other usually without a gap.
In the pronunciation success as in the word success of course.
So are some examples of how to use successive.
This is the same sentence as before about Barcelona but I've now put in the word successive.
So this is the third successive year that Barcelona have won La Liga.
Greece was suffering from the failure of successive governments to curb the debt.
So one government after another did not curb the debt.
Smith was the winner for the third consecutive, for the third successive year, the third successive year.
So here's that third successive, you can also have second successive, fourth successive, 11th successive.
Successive governments, successive defeats, or victory successive years, successive weeks, successive month.
And you can turn it into adverb again successively, successively.
And some synonyms for successive consecutive, sequential, and again one after another.
The next word is penultimate, penultimate.
The penultimate item in a series is the second last line item second to last, the last but one.
So in this queue of people with the man on the left at the front of the queue the person in penultimate position is this lady.
The red haired lady, she is the penultimate person in the queue.
Penultimate comes from the word ultimate, ultimate can mean the best, but it can also mean the furthest.
The prefix pen here then means almost.
So penultimate means almost, so penultimate means almost the furthest, almost the last.
Some examples.
The murder took place during the penultimate scene of the play.
The football one here, Juventus clinched the title, clinched here means one, so Juventus clinched the title in the penultimate game of the season, so with one game left.
He gave his speech on the penultimate day of the conference.
So some collocations for the penultimate, penultimate round, penultimate stage, penultimate phase,
And for writing and looking at books penultimate chapter.
Some synonym, second to last and last but one, you can use.
Your next word is intermittent, intermittent. something that happens occasionally and at irregular intervals irregular intervals happens intermittently.
Here's one we often have a problem with rain in England.
We get intermittent rain.
So after three hours of intermittent rain, the day's tennis was abandoned. It means that we maybe had some rain and then stopped for an hour and then it started again.
And then it stopped five minutes and it started again and then it stopped for two hours and then it stopped again and then it rained for 30 minutes.
It was intermittent.
Essential maintenance work may lead to intermittent power outages.
And to learn more about intermittent fasting, read The Fast Diet.
Intermittent fasting is you may be fast you stop eating, you stop eating for one day and then you weak for five days.
And then you stopped eating for one day and then you eat for two days and then you stop eating for one day.
So it's intermittent.
Intermittent rain is a common collocation, intermittent pain.
So we have some pain. It goes away but it comes back maybe after a few months or a few days.
And we get intermittent problems, intermittent faults.
And again you can turn intermittent into an adverb intermittently.
And some synonyms, occasional is a very good synonym for intermittent, sporadic, sporadic means the same thing is intermittent as well.
Patchy, patchy we can have patchy rain.
Periodic that's a word we'll look at later as well periodic, infrequent and fitful.
Fitfull means kind of things start and stop start and stop.
Now here's the word periodic.
This is for something that happens occasionally like intermittent, but it suggests things happen occasionally at regular intervals, whereas intermittent was irregular intervals.
So something that happens occasionally at regular intervals happens periodically.
So here is a periodic checks, periodic checks are taken to ensure that high standards are maintained.
Her grandfather was suffering from periodic bouts of illness.
We will issue updates to the app periodically.
So maybe once a month or once every two months.
So we often have periodic reviews, periodic update, periodic reports, periodic payments.
For the scientists amongst student, you may have heard of the periodic table of the elements.
No I don't understand this at all.
But I'm told that the periods are each row, each row happens they're something between each row which is regular regular gaps, so the elements in the table appear at regular periodic interval.
And here's the word periodic again.
You can have the adverb periodically, periodically. You can also have a noun. periodical.
A periodical is a journal or a magazine that's published at regular intervals.
For example once a month or once every two months academic journals are often called periodical because they come out every month.
So some synonyms regular, at fixed intervals, recurrent, repeated.
And these next two aren't quite synonyms, but again in ILETS reading or listening test, these are the kinds of words they might use they might use words like annually or weekly which means the same thing as periodical, periodically.
Your next word is concurrent, concurrent.
A concurrent events happen at the same time so two events happening at the same time are concurrent
concurrent.
The word courrent actually means something that's moving or running like electric current or the current of a river.
Con means with or together.
So concurrent means things that are moving or running together.
He will be serving three concurrent life sentences.
They launch concurrent attacks by land, sea and air.
So in a war you've got planes and soldiers and ships attacking concurrently.
And more than 40 parties were being held concurrently in the city.
Some collocations you can have concurrent with, concurrent sentences, concurrent events, concurrent symptoms for health you might have subtle symptoms of a disease at the same time.
Again concurrently is the adverb concurrently.
And some synonyms.
At the same time, simultaneous, one that's not so common is coincident, coincident is normally used as the adverb coincidentally, coincidentally.
Coincidentally means the same as can concurrently.
Coincide.
Is similar to concurrent, but it has a more general meaning too.
Again, so coincide is an if one event coincides with another event they happen at the same time.
Coincide does have a more general meaning than concurrent one to do with agreement.
Look at some examples.
Although his mental illness had coincided with his military service it had not been caused by it.
So the mental illness and the military service happened at the same time.
The start of the solar and lunar years coincide every 13 years.
This last sentence means their opinions agree. this is the agreement sense of coincide.
Their opinions often coincide.
That doesn't mean they happen at the same time.
It's that they agree they are the same.
Coincide with is a very common collocation.
You can broadly coincide, so you almost completely coincide but not quite.
This is through agreements as well of ideas.
Frequently coincide, rarely coincide.
A coincide is a verb so you can have coincides, coinciding, coincided.
But you can also turn it in to a noun coincidence so coincide coincidence.
Coincidence is when two or more related things happen at the same time but by chance it's a coincidence.
So for coincide some synonyms, concurrent, go along with , coexist, correspond.
So there are your seven time words consecutive, successive, penultimate, intermittent, periodic, concurrent and coincide.
مشارکت کنندگان در این صفحه
تا کنون فردی در بازسازی این صفحه مشارکت نداشته است.
🖊 شما نیز می‌توانید برای مشارکت در ترجمه‌ی این صفحه یا اصلاح متن انگلیسی، به این لینک مراجعه بفرمایید.