سرفصل های مهم
زبانشناسی
توضیح مختصر
زمان مطالعه

0 دقیقه

سطح

خیلی سخت
دانلود اپلیکیشن «زبانشناس»
این فصل را می‌توانید به بهترین شکل و با امکانات عالی در اپلیکیشن «زبانشناس» بخوانید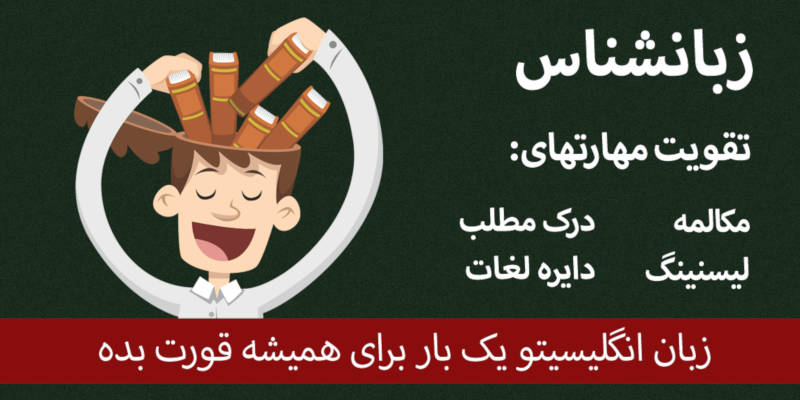 فایل ویدیویی
متن انگلیسی فصل
In this video we're going to look at seven words connected with linguistics.
And here are the seven words analogy, nuance, coin, connotation, figurative, literal and metaphor.
So the first word is analogy, analogy.
If you make an analogy or if you draw an analogy between two things, then you are saying that they are similar in some way.
It's a very formal word, used in formal writing.
So for example, the term social capital was coined by analogy with the conventional use of the word to mean financial assets.
So there's a connection being drawn between social capital and financial assets.
You can make an analogy between the courses of the planets and two trains travelling in the same direction.
So if you want to explain to somebody the movement of the planets, you can use an example of two trains moving.
You're making an analogy, you're making it easier for somebody to understand the movement of planets.
And you can have an analogy with something, an analogy between two things, and you draw an analogy and you can make a good analogy as well.
So analogies is the plural form and analogous is the adjective.
So if one thing is analogous to another, they are similar.
And some synonyms, comparison, similarity, resemblance and parallel.
You draw a parallel between two things.
Here's your next word nuance, nuance.
A nuance is a very small difference in the sound, the feeling, the appearance or the meaning of something is it very subtle very small difference.
For example, these the girl on the left is giving a very subtle message to the girl on the right.
She's whispering, she's giving a nuance, nuance view, a nuanced impression of something.
We can use our eyes and facial expressions to communicate every subtle nuance of a motion there is, so a few raise your eyebrows you're conveying surprise it's a subtle nuance of meaning.
If you read the Koran in translation, you miss the nuances of the original language. so translations of texts tend to tend to miss the nuances of the original texts.
So you can have a subtle nuance.
This is a very common collocation with the nuance.
You have a nuance of language, you can understand the nuance, aou can appreciate a nuance.
And some synonyms, subtlety, hint.
And the next phrase coin, coin.
Of course a coin is a piece of metal which is money.
But as a verb if you coin something, if you coin a phrase or if you coin a word, then you're the first person to say it.
And here's a poet for maybe hundreds of years ago in the forests writing a poem.
And she's the first person to coin a phrase.
It's making something up.
She coined the term ''virtual reality'' and pioneered its early development.
Simone de Beauvoir first coined the phrase 'women's liberation' in her book, The Second Sex.
So she was the first person, to use to make the phrase, to invent the phrase women's liberation so she coined a phrase you can coin a word.
And something can be coined by, so a coin a phrase by coined by, first coined Shakespeare.
First coined lots of different phrases in words.
And it's a verb so, coins, coined, coining is well.
And some synonyms for coin create, invent, come up with.
And the next word is connotation, connotation.
The connotations of a particular word or name are the ideas or qualities which makes you think of.
Makes you think of ideas and qualities.
So for example, in Norse mythology, the Vikings, Hell is the realm of the dead, but the name doesn't carry the negative connotations which Christianity later placed on it.
So in Christianity hell is a bad place, it has negative connotations.
'Urchin', with its connotation of mischievousness, may not be a particularly apt word.
So if the word urchin usually means a kind of homeless child specially a boy who maybe steals things.
So as a connotation of mischievousness, the words suggest something you have a deeper meaning.
You can have a negative connotation of a word, sexual connotation, sconnotation of a word, connotation of a term.
And it's a noun, so connotations.
Negative connotations,
And some synonyms association, meaning, overtone, undertone.
And then next what is figurative, figurative.
If you use a word or an expression in a figurative sense or a figurative way, then you use it in a more abstract or imaginative meaning than when it looks like.
So for example, if you use the phrase I am so hungry, I could eat a horse, doesn't mean you'd really go in to eat a horse just means you're really hungry.
It's a figurative expression.
I'm so hungry I could eat a horse.
Or I will keep an eye out for him, doesn't mean you're going to take your eye out just means you're going to look for him.
It's a figurative phrase.
We're in the same boat.
Two people were in the same boat, may mean we have the same problem, we're not actually in a boat.
It's a figurative phrase.
It's not literal.
Most poems are written in figurative language.
Makes them hard to understand sometimes.
It's an event that will change your life in both the literal and figurative sense.
So we talk about figurative language, figurative sense, figurative description, figurative image.
Figurative is an adjective so you can turn it into an adverb figuretively.
I was speaking figuratively not literally.
So figurative synonyms metaphorical, descriptive, fanciful.
Slightly old fashioned phrase, well a word though.
Figure of speech as well we use.
And here's the opposite of figurative literal, literal.
So the literal sense of a word is, its most basic meaning.
You don't really have to think too much to get the literal sense of something.
People there are fighting, in a literal sense, for their lives.
So maybe there's a war going on.
The concert ended with a bang in the most literal sense.
So there literally was a bang at the end of the concert.
A literal translation of the word is 'walls'.
You can have a literal translation, literal interpretation, literal sense, literal meaning.
And the adverb for literal is literally.
And some synonyms, exact, actual, authentic, untarnished.
And your next word metaphor, metaphor.
A metaphore is a very imaginative way of describing something by talking about something else, something which is similar.
So for example, if you want to say that somebody is a very shy, very quiet and frightened of things, you might say that they are a mouse.
Ok! You're a mouth means you're scared of things it doesn't mean you're really a mouse, it means you're similar in some ways, some qualities to a mouse.
Some example sentences, the writer's use of metaphor is very fitting for the topic.
If you want to explore music as a metaphor for society, this book is the place to start.
He goes further, extending the metaphor beyond the game itself to the business of the NFL.
On some common collocations a metaphore for something, a perfect metaphor it's really really good, a visual metaphor, a fitting metaphor.
So a metaphore, so it's a noun so you have the metaphors and an adjective metaphorical, metaphorical.
So metaphor, metaphorical.
Some synonyms, analogy, image, symbol, allegory.
And so there are your seven words for linguistic analogy, nuance,coin, connotation, figurative, literal and metaphor.
مشارکت کنندگان در این صفحه
تا کنون فردی در بازسازی این صفحه مشارکت نداشته است.
🖊 شما نیز می‌توانید برای مشارکت در ترجمه‌ی این صفحه یا اصلاح متن انگلیسی، به این لینک مراجعه بفرمایید.