سرفصل های مهم
حیوانات
توضیح مختصر
زمان مطالعه

0 دقیقه

سطح

خیلی سخت
دانلود اپلیکیشن «زبانشناس»
این فصل را می‌توانید به بهترین شکل و با امکانات عالی در اپلیکیشن «زبانشناس» بخوانید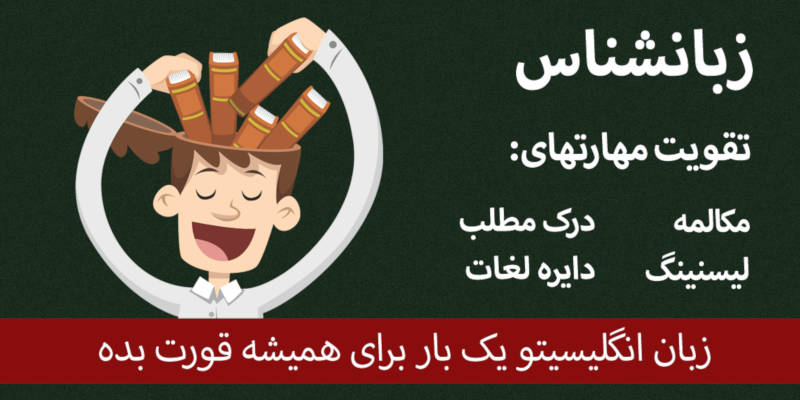 متن انگلیسی فصل
In this lecture we're going to look at seven words connected with animals and here are the seven words:
amphibian, carnivore, herbivore, omnivore, predator, prey, parasite.
And the first word is amphibian.
Amphibian.
Notice the stress on the middle syllable.
AmPHIB. Amphibian. They're animals such as frogs and toads.
They can live both on land and in water as well.
So for example alligators did not evolve from amphibians.
The pond teemed with all manner of amphibious animals.
Amphibians feature prominently in ancient legends (such as the frog).
So an amphibian swims and amphibian lives.
You can have an amphibious animal.
Amphibious is the adjective amphibious creature.
So here's the word amphibian amphibious.
The adjective.
There aren't really any synonyms for amphibians.
So here I'll just show you examples of amphibians.
There's a frog a toad also salamander a salamander is an amphibian.
Carnivore.
A carnivore is an animal that eats meat.
Just meat. Carnivore from the Latin word for meat which is Carne.
"Carn" means meat.
So for example the researchers conclude that carnivores should not be kept in captivity.
A herbivore and a carnivore may share the same habitat but their feeding patterns keep them separate.
Lions are the great carnivores of the African savannah.
Some common collocations carnivores and herbivores.
Carnivorous animal, carnivorous mammal, carnivorous species.
So carnivore plural of course is carnivores.
And there's the adjective carnivorous carnivorous.
So carnivore synonyms: meat eater, predator.
A carnivore is often a predator as well. Beast of prey.
Slightly old fashioned phrase though.
Herbivore.
Herbivore. A herbivore is an animal that only eats plants such as the elephant.
And it comes from the Latin word for plant which is Herb. Herb.
Not "erb" by the way you pronounce the "h" in the word herbivore.
For example the stomach of a herbivore has several chambers.
The teeth of herbivores are quite different to those of carnivores.
Elephants are herbivorous animals.
So carnivore and herbivore again.
Herbivorous creature. There's the adjective herbivorous animal, herbivorous species.
And there's the plural form of the word and the adjective herbivorous.
So some synonyms for herbivore plant eater, vegetarian.
And these two words browsers and grazers.
Grazers feed on grass and low-lying plants.
Browsers feed on leaves and fruits of higher growing plants and shrubs.
Omnivore.
Omnivore.
An omnivore eats both meat and plants such as the fox.
And again it comes from the Latin, omni is Latin for all.
So they eat everything.
For example it was a tree-dwelling omnivore that resembled a cat.
These teeth replaced those of herbivores and omnivores.
Human beings are an example of an omnivorous creature.
So humans are omnivores.
Omnivorous
No synonyms that I can think of for omnivorous, so let's go to the next word predator.
Predator.
A predator is an animal that kills and eats other animals such as the birds of prey.
The mites were in turn eaten by other arachnid predators.
Farmers are using natural predators to protect their crops.
The predatory behaviour of foxes is extremely sophisticated.
So we often talk about predator and prey.
Or a natural predator or a predator attacks.
And you need to escape a predator.
So the plural of predator is predators and predatory.
Predatory.
Is the adjective
Prey.
Prey.
So an animal's prey are the creatures that it hunts and eats.
If you are prey you get hunted and you get eaten such as the mouse. The mouse is the prey of lots of different animals, very tasty.
Electric eels stun their prey with huge electrical discharges.
These animals are the prey of hyenas.
They prey on small insects.
So here you use the word prey is used as a verb.
They prey.
You prey on.
Prey upon.
And you can be the prey of something.
Birds of Prey is another common collocation.
There is no plural form of prey it's an uncountable noun but you can use it as a verb preying, preyed.
And some synonyms.
quarry, quarry, game, hunted, so the hunted victim.
And your next word parasite.
Parasite.
A parasite is a small animal or even a plant that lives on or inside a larger animal or plant and it gets food from it to live.
So here you've got an insect that's a parasite.
I think it's a mosquito.
Certainly a parasite of some kind trying to get some blood.
So it's living on other animals.
He tested positive for intestinal parasites so he had parasites in his intestine.
The infection is caused by a tiny parasite which can affect humans and pets.
Global warming may cause the spread of tropical parasitic diseases.
So some common collocations a malarial parasite, a microscopic parasite, and a parasite infects and you can carry a parasite.
So the plural of parasite, parasites and to turn it into an adjective.
There you go, parasitic.
So parasite parasitic.
So there are your seven words for animals amphibian, carnivore, herbivore, omnivore, predator, prey, parasite.
مشارکت کنندگان در این صفحه
ویرایشگران این صفحه به ترتیب درصد مشارکت:
🖊 شما نیز می‌توانید برای مشارکت در ترجمه‌ی این صفحه یا اصلاح متن انگلیسی، به این لینک مراجعه بفرمایید.