سرفصل های مهم
توصیف علت و معلول
توضیح مختصر
زمان مطالعه

0 دقیقه

سطح

خیلی سخت
دانلود اپلیکیشن «زبانشناس»
این فصل را می‌توانید به بهترین شکل و با امکانات عالی در اپلیکیشن «زبانشناس» بخوانید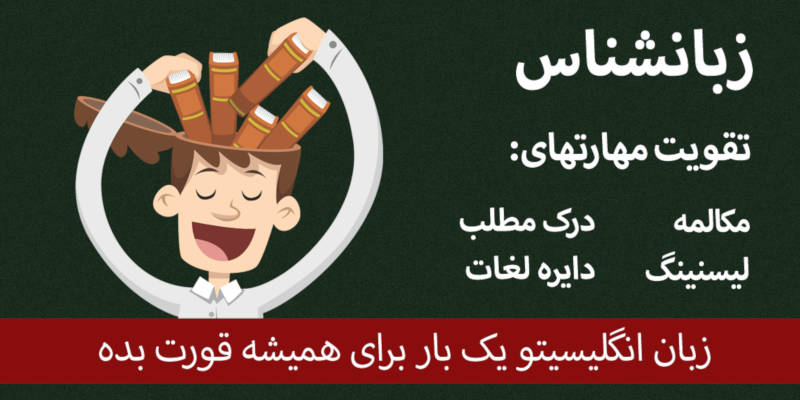 فایل ویدیویی
متن انگلیسی فصل
Welcome to the lecture all about cause and effect vocabulary.
And here are your seven words.
Attribute, chain reaction, derive, initiate, interdependent, interrelate and repercussion.
So your first word is attribute, attribute.
It's a verb.
So with this verb you stress the second syllable.
It also works as a noun where you stress the first attribute.
But here as a verb attribute If you attribute something to an event, you think that the thing was caused by that event.
So, he attributed his stomach-ache to something he ate at lunch.
So he thinks his lunch caused his stomach-ache.
Here's another example this man has a really bad hangover.
His head hurts, he feels sick.
Why? what caused his hangover.
Well last night he went to a big party and drank lots of beer too much beer.
He thinks the beer at the party caused his hangover.
So he attributes his hangover to the beer and the party.
Here is some example sentences.
Women tend to attribute their success to luck. according to some study.
The increased death rate was attributed to a severe outbreak of influenza.
She attributed his bad temper to ill health.
Some collocations you attribute success to something, what caused your success.
Well you attribute your success to it.
You attribute an increase in something to something worse, the cause of the increase.
You can use also these two adverbs, partly attribute, and directly attribute.
So he directly attributed his hangover to drinking too much beer last night.
It's a verb so you can have all these endings attributing, attributed.
And some synonyms for attribute, blame he blamed the beer on his hangover, associate, connect he connected his hangover to the party, trace, credit.
The next word actually phrase, chain reaction, chain reaction.
A chain reaction is a series of events and each event leads to the next event.
Here are some dominos a line of dominoes.
If I push the first domino down, it will knock down the next domino which sure knock down the next domino and the next and the next and the next.
A chain reaction will happen, if I push the first domino there will be a chain reaction where the other dominos are knocked over.
A gas canister exploded and started a chain reaction of explosions.
The factory closure led to a chain reaction of job losses in the local economy.
Splitting an atom starts a chain reaction in which more and more atoms are split.
And you have a nuclear bomb going off.
So you have a chain reaction of events, you can say a chain reaction occurs, you can set off a chain reaction and trigger a chain reaction.
Your next word is derive, derive
Note the pronunciation, not drive, but derive, derive.
If something is derived from something else it comes from that something.
Coffee in the Cup.
Coffee comes from coffee beans.
So coffee the drink coffee is derived from coffee bean.
Aspirin, the drug, is derived from something called salicylic acid.
I think that's how you say it anyway though.
And the word Easter is derived from Eostre, which is the pagan goddess of spring apparently.
And he drives a lot of fun from playing football.
You might derive a lot of fun from watching football.
So you derive things from, derived from derive authority, derive enjoyment, you enjoy.
You derive enjoyment and pleasure from watching football.
So derives, deriving, derived and you can have a noun from drive, derivative, derivative.
A directive is something that has come from something else.
So coffee is a derivative of coffee bean.
And some synonyms for derive, the very common word is gets, extract, so you extract enjoyment.
You acquire enjoyment from watching football, obtain, received or receive you receive enjoyment, you receive pleasure. You get pleasure, infer has a slightly different meaning there.
Next word is initiate, initiate.
So if you initiate something, you start it or you cause it to happen.
So the man with the starter gun he initiated the race.
He started the race. He initiated it.
They wanted to initiate a debate on economic.
Peace talks were initiated by the president in May.
Such ideas may initiate educational reform. And they may start educational reform.
So you initiate a process, or an action or precedings.
And initiate often goes with the preposition by.
The peace talks were initiated by the president.
So with a verb of course you can have these endings, initiating, initiated.
You can also have the noun initiation, an initiation is when you start doing something for the first time.
So some synonyms for initiate start of course, set up commence, launch, trigger. and begin.
And your next word is interdependent, interdependent.
So things are interdependent they need each other or they are dependent on each other.
There is a connection very close connection between the two things.
This is the yin yang symbol a Chinese symbol of Chinese idea that says that different forces are interdependent.
For example light and shadow are interdependent.
I mean they look different but light is better with shadow and shadow needs light.
They they are interconnected.
Night and Day interconnected.
And interdependent.
And the prefix intern means between so interdependent means that they are dependent.
There are, there is a dependency between thing.
And some example sentences, in our globalized world, countries are increasingly interdependent.
So what one country does affects lots of other countries.
Happiness is derived from a variety of interdependent factors. they all linked together.
Computers on the Internet are not just interconnected, they are also interdependent.
So if one computer gets a virus so will lots of other compute.
So we live in an interdependent world.
We have an interdependent economy, interdependent relationships.
And you can use adverbs like increasingly this is a very common adverb to use with interdependent, increasingly interdependent.
And some synonyms for interdependent, interconnected, mutually dependent is another one that's not so commonly used but it might be an IELTS reading tests of course and listening tests, reciprocal, complementary.
And your next word is interrelate, interrelate.
So if things are interrelated, they have an effect on each other.
It's very similar to interdependent in fact.
So weather patterns around the world are interrelated.
And again inter tells you that there is a relationship between things here, between is what intur means.
So the body and mind are interrelated.
If your body is sick, then your mind will suffer as well.
Social skills are in part about how we interrelate with other people.
All the sounds of your body are closely interrelated.
So things are interrelated with, and interrelate closely is a very common collocation.
Of course it's a verb so interrelates, interrelating, interrelated.
But you can also have a noun interrelationship interrelationship.
And some synonyms for interrelate, affect, connect, link.
And your final word is of repercussion, repercussion.
If an action or an event has repercussions, it causes unpleasant things to happen as a result.
Usually for a long time afterwards.
Repercussion begins with Ri of course again and again.
It was an event which was to have painful repercussions.
Members of congress were warned of the repercussions if they voted for war.
This seemingly minor virus was to have serious repercussions for her health for years.
So serious affects for a long time, serious repercussions, potential repercussions.
And things have repercussions, and we often fear repercussions as well.
And some synonyms,, backlash, backlash, negative effect, fallout that suggests bad things as well a fallout, reverberations is more of a neutral word, and side effects again side effect usually has negative a negative sense, negative meanings.
So there you are your 7 cause and effect words and phrases, attribute, so I attribute attribute, it's a verb in this lecture.
Attribute, chain reaction, derive, initiate, interdependent, interrelate and repercussion.
مشارکت کنندگان در این صفحه
تا کنون فردی در بازسازی این صفحه مشارکت نداشته است.
🖊 شما نیز می‌توانید برای مشارکت در ترجمه‌ی این صفحه یا اصلاح متن انگلیسی، به این لینک مراجعه بفرمایید.