سرفصل های مهم
تاریخ
توضیح مختصر
زمان مطالعه

0 دقیقه

سطح

خیلی سخت
دانلود اپلیکیشن «زبانشناس»
این فصل را می‌توانید به بهترین شکل و با امکانات عالی در اپلیکیشن «زبانشناس» بخوانید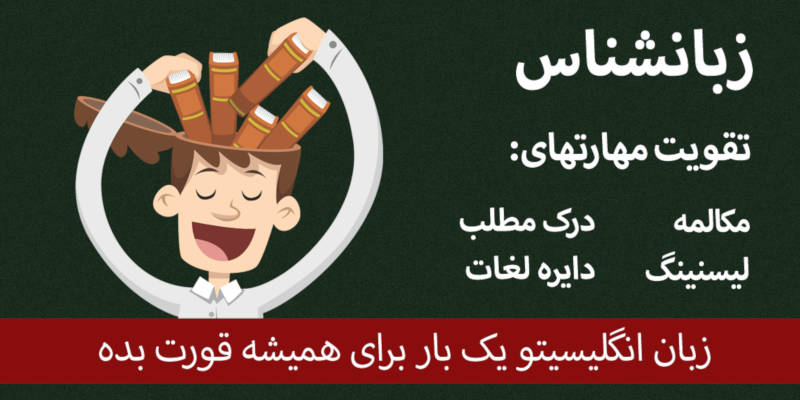 فایل ویدیویی
متن انگلیسی فصل
In this video we're going to be looking at seven words connected with history.
And here are the seven words archive, artefact, excavate, heritage, primitive, millennium and Renaissance.
So here's your first word archive, archive.
An archive is a collection of historical documents and historical records.
And also it's the place where the collections are stored.
It's kind of like a library, but it's also a word connected with the collection in the building.
So here was some example sentences, the archives of the museum are filled with interesting documents and artefacts.
We now have an online archive of records which can be accessed by the public.
The city archives contain birth, marriage and death certificate.
So you can have an archive of something, such as an archive of documents.
You can have a digital archive.
If the archive iss on a computer or the Internet, and you can have a vast archive if it's really big.
It's both a verb and a noun and so the archive is the collection or the building but you can also use it as a verb so you have archives, archiving and archived.
And the person who looks after the archive is an archivist, archivist so archive, archivist.
And some synonyms for archive are collection, library, repository and records office.
And something you often find in an archive are artefacts, artefacts.
So artefacts are objects such as tools or weapons or jewellery or ornaments.
Basically things made by human beings that are interesting to us for historical reasons and cultural reasons.
You can spell it either with an E in the middle or an I, exact the both correct.
Here's some example sentences now.
The museum holds more than 1000 artefacts from Ancient Rome.
He was an illegal trader in ancient artefact.
It was a priceless historical artefact.
And some common collocations, historical artefact, cultural artefacts, a priceless artefact and somebody often collects artefacts.
of course is a nouse so artefact. And some synonyms for artefact, antique, heirloom.
Heirloom is usually passed down a family through the generations from father to son or mother to daughter.
Relic.
And here's your next word excavate, excavate.
When archaeologists excavate a piece of land, they dig in the ground and they remove the earth and they look for things in the ground.
Things like old Potts, bones, buildings, artefacts.
So for example, a new expedition is again excavating the site of the ancient Viking settlement.
Archaeologists excavated the skeletal remains of an early human in Indonesia.
They excavated the site of a dried up river and found many interesting artefacts.
So you can excavate a site, you can excavate a grave, if you looking for skeletons, you can excavate the remains of thing, excavate a skeleton.
And it's a verb so excavates, excavating, excavated.
And an excavation is the the thing when the archaeologist are digging in the ground in it's it's an excavation.
It's the process again of excavating something.
And some synonyms dig, uncover, unearth.
Here's your next word heritage, heritage.
Country's heritage is basically all the qualities and traditions or the features of a country or a culture that have been passed on over the centuries from generation to generation.
So the things that we should look after and preserve for future generations, it tell us about the past.
So here you've got the Sphinx in the pyramids in Egypt.
So this is part of Egypt's heritage.
So tells us about the past of Egypt for example.
Historic Buildings are part of our unique heritage.
The concert celebrates the rich heritage of Russian folk music.
It is important to protect our heritage for future generations.
So you can have a cultural heritage, or a historical heritage.
You can have a heritage site, so often ancient towns or medieval towns, very old towns are heritage sites.
And you can preserve the heritage of a country or of a city.
And some synonyms, culture, customs and traditions are similar words too, legacy, history.
Possibly ancestry as well although there's a slight difference between those two words.
And primitive.
So your next word primitive means something belonging to a society, in which people live in a very very simple very basic way usually without any industry or without a writing system or without any technology.
So they live a primitive lifestyle.
A primitive could be people that lived maybe thousands of years ago, but there are still primitive societies today which simply means they don't have much technology writing.
So his book is a study of the primitive societies of the Pacific Islands.
He has studied the health of many primitive tribes of Central America.
You have a primitive tribe or primitive tribesmen.
You'd have a primitive society, primitive culture.
And some synonyms for primitive, basic, undeveloped, backward sometimes backward.
Millennium here's your next word millennium.
This is a period of one thousand years.
So for example from the year 1000 to the year 2000 was a millennium.
So for example, many Japanese companies are unsure whether they will survive the new millennium.
There were parties all over the world as people celebrated the new millennium.
So you can celebrate the millennium, approached the millennium, So that's the year's going up toward say the year 2000 or the a 1000.
You can have a new millennium.
We live now in the third millennium or into the Western calendar.
Similary and the plural of millennium is millennia, although a lot of people still say millenniums but millennia is the correct plural form.
Not really many synonyms for millennium, a thousand years is the only one.
And finally Renaissance, Renaissance.
This was a period in Europe and especially in Italy between the 14th and the 16th centuries, when there was the nude interest in art and literature, in science and in learning.
And it was really inspired by the ideas of ancient Greece and ancient Rome.
And here you can see some Renaissance statues and paintings.
So the word Renaissance is used to denote a particular period and you appear in history although it's often used more generally to talk about a rebirth, a renewal of something.
So you can view many great Renaissance masterpieces in the art gallery.
Science took a new and different turn during the Renaissance.
Renaissance art is typified by a particular style of painting.
So you can have Renaissance art, Renaissance masterpiece, Renaissance architecture, Renaissance studies.
So there are your seven words then archive, artefact, excavate, heritage, primitive, millennium and Renaissance.
مشارکت کنندگان در این صفحه
تا کنون فردی در بازسازی این صفحه مشارکت نداشته است.
🖊 شما نیز می‌توانید برای مشارکت در ترجمه‌ی این صفحه یا اصلاح متن انگلیسی، به این لینک مراجعه بفرمایید.