سرفصل های مهم
نظر دادن - تسک دوم نوشتار
توضیح مختصر
زمان مطالعه

0 دقیقه

سطح

خیلی سخت
دانلود اپلیکیشن «زبانشناس»
این فصل را می‌توانید به بهترین شکل و با امکانات عالی در اپلیکیشن «زبانشناس» بخوانید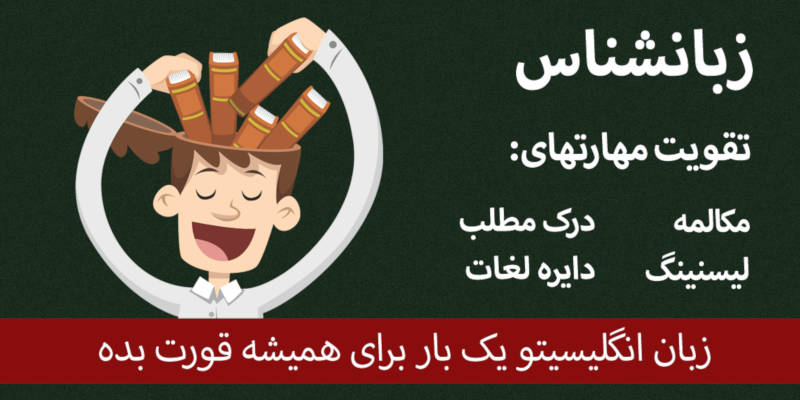 متن انگلیسی فصل
In this lecture we're going to look at seven words connected with opinions, giving opinions, stating opinions.
And here are the seven words assertion, conjecture, contention, dogma, stance, sceptic, speculation.
The first word is assertion, assertion.
If someone makes an assertion, they they state an idea very firmly.
Not always though with evidence, politicians like to make assertions.
Here's a politician making an assertion.
He's very sure of himself, even though he doesn't have much evidence for his assertion.
So for example.
There is concrete evidence to support assertions that the economy is contracting.
She challenges the assertion that participation in organized sport teachers children teamwork.
He made a confident assertion that the company would grow next year.
So you make an assertion, you repeat an assertion, you can challenge an assertion and refute an assertion.
So assertions is the plural form.
And some synonyms statement, argument, pronouncement, allegation, contention.
And the next word is conjecture, conjecture.
A conjecture is a conclusion that is based on information that is not certain or not complete.
So if we go back to this politician, he is making an assertion.
You couldn't just say to him, but you don't have any evidence what you're saying is merely conjecture.
It's just a conjecture he's making. There's no real backing to his ideas.
So that was merely conjecture, not fact.
Ozone creation is a very large scale natural process and the importance of human attempts to reduce it are a matter of conjecture.
So in this, people are saying well they are the human attempts to reduce ozone.
What's the importance of that. There's not full information yet, we don't have the full facts.
It's conjecture.
So things are a matter of conjecture, you can have, make conjecture about something, you can fuel conjecture.
So you feed the ideas of the conjecture, you can spark conjecture, you start it.
So you might spark conjecture about, I don't know the leadership of a political party.
So some synonyms for conjecture, surmise, guesswork, hunch, hypothesis, supposition.
Contention is the next word contention.
Someone's contention is the idea or the opinion that they are expressing in an argument or a discussion.
The person making a contention thinks it's true.
Lawyers often make contentions, they put an argument together in order to convict or free someone in a court.
And so they put forward a contention. They say it like it's true.
They make arguments, they believe are true or arguments. They they say they believe are true, is a contention.
So this evidence supports the contention that the outbreak of violence was prearranged.
There is sufficient evidence to support this contention.
They hold the contention that no student should be compelled to pay for tuition fees.
So you can support a contention, accept a contention, someone's contention, you can dispute a contention.
And some synonyms argument, assertion, idea, position, hypothesis, opinion.
And the next word is dogma, dogma.
If you refer to a belief or a system of beliefs as a dogma, you disapprove of it because people are expected to think it's true without questioning it.
So for example.
Atheists so to atheists religious beliefs are dogmas because there is no evidence behind religious belief, but people believe anyway.
It's a dogma at least to an atheist it is.
Obviously not to religious person.
So their religious dogma has blinded them to the real needs of the people.
He is fighting to free the country from the grip of dogma.
We are now questioning the dogma of the ruling elite.
So you can accept dogma, question a dogma, challenge a dogma, you can have a religious dogma.
And the adjective form is dogmatic.
The dogmatic belief.
And some synonyms for dogma, ideology, doctrine, creed, teachings, tenet, gospel.
Stance is your next word stance.
So your stance on a particular issue, is your attitude towards that issue.
So these protesters here, they are taking a stance they are, they have particular beliefs and they are making a stance about it.
So for example, the Congress has agreed to reconsider its stance on the war.
The Swiss frequently maintain a neutral stance in international affairs.
And his stance towards the new story is similar to mine.
So you can take a stance, maintain a stance, you can take a neutral stance, an aggressive stance.
And synonyms, position is the most, there is a very close synonym. attitude, posture, viewpoint.
And sceptic is the next word, sceptic.
So a sceptic is a person who has doubts about things that other people believe.
So they question the things that other people believe.
They are sceptic.
So this man is a sceptic.
You can spell it either with a C S C or a K.
So often in American English this often uses a k..
He was a born sceptic.
She now has to convince sceptics that he has a serious plan.
Anyone who is sceptical of global warming and its consequences simply need to look at the evidence.
The third sentence sceptical is an adjective.
A born sceptic, is somebody who always questions things.
You can silence the sceptics, persuade the sceptics, and you can be sceptical about something.
So here are plural sceptics, you can be sceptical.
Scepticism, scepticism refers to way a state of being sceptical says sceptics are people who have a lot of scepticism about something.
Sceptic.
Just a note about the spelling.
Of course make sure, make sure you have either a C or a K there.
Sceptic is often confused with this word, septic, septic.
Which is something completely different.
The word septic relates to sewage or something poisonous.
So you don't want to say that you're septic.
You're a sceptic.
Beware of the difference is there.
Some synonyms for sceptic, critic, cynic, dissenter, dissident, questioner, and this from this phrase I like Devil's Advocate.
If you're a devil's advocate, then you always take the opposing view often just to make sure there's an argument.
So you always question things.
The next word is speculation, speculation.
If you make a speculation about something, you make guesses about somethings nature or identity or about what might happen in the future.
Now people often speculate about the future. Here's a picture somebody has drawn about the future, a future city.
They're speculating what a future city might look like, might look like.
So the prime minister has dismissed speculation about his plans to resign.
I have published my speculations about the future in my latest book , The World in 2100.
There are speculations that he might have died from a blow to the head.
So you can have speculation about something, you can make a speculation, fuelled speculation, dismiss speculation.
So speculations you can have. And the verb form is speculate, speculate.
And some synonyms, guess, prediction, hypothesis, thought, opinion, belief.
So there are your seven words for opinions.
Assertion, conjecture, contention, dogma, stance, sceptic, speculation.
مشارکت کنندگان در این صفحه
تا کنون فردی در بازسازی این صفحه مشارکت نداشته است.
🖊 شما نیز می‌توانید برای مشارکت در ترجمه‌ی این صفحه یا اصلاح متن انگلیسی، به این لینک مراجعه بفرمایید.