سرفصل های مهم
نیروها
توضیح مختصر
زمان مطالعه

0 دقیقه

سطح

خیلی سخت
دانلود اپلیکیشن «زبانشناس»
این درس را می‌توانید به بهترین شکل و با امکانات عالی در اپلیکیشن «زبانشناس» بخوانید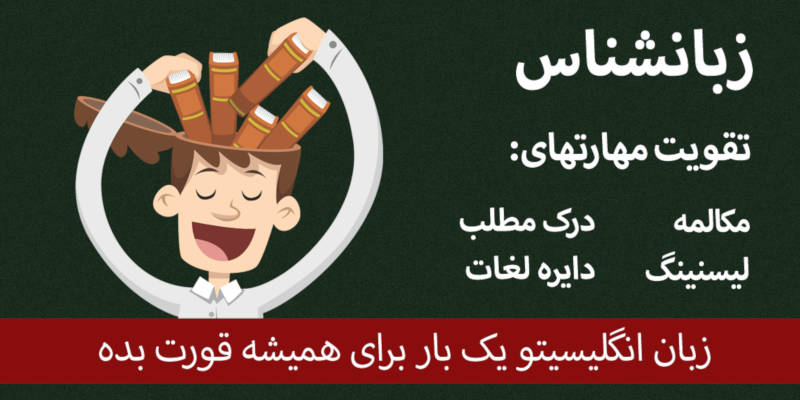 متن انگلیسی درس
In this lecture we're going to look at seven words connected with forces.
These are the seven words force, dynamic, motion, friction, kinetic, momentum, propel.
And the first word is force, force.
A force is the pulling effect or the pushing effect that something has on something else that one object has on something else.
For example the earth's gravitational force was first understood by Newton.
Powerful magnetic forces trapped particles in the Van Allen Belt.
Love is the only force capable of transforming an enemy into a friend.
So some forms forces is the plural form of course.
And some collocations we talk about the force of something, such as the force of gravity or we can switch this around and talk about gravitational force.
Another common collocations electromagnetic force.
Here force.
And your next word is dynamic, dynamic.
A dynamic process is one that is constantly changing.
And in science, dynamics are forces that create change and movement is the study of forces that create change and movement.
Some example sentences.
Scientists observe similar dynamics in fluids.
He was a specialist in the field of fluid dynamics.
This new flu strain is a dynamic and evolving worldwide epidemic.
This is a more general use of the word dynamic to suggest, to change something that's changing.
So dynamic is an adjective.
Dynamics is the study of dynamics of things that are moving.
It's an uncountable noun.
We talking about the dynamics of something.
For example the dynamics of fluids.
We understand or try to understand dynamics and scientists talk about the underlying dynamics of something.
Some synonyms.
These are synonyms for the more general use of dynamic as that meaning something that is changing.
So changing, active, energetic as well as changing something that is dynamic, changes and has energy.
Similarly vigorous, vigorous.
Dynamic.
The next word is motion, motion.
If something is in motion in motion, then it is continually moving or changing position.
Like the balls in this picture, they are in constant motion.
They are continually moving, because they pass the energy the force between the balls.
Let's look at some example sentences.
The motion of planets is studied by physicists.
So physicists study how planets move.
Newton's laws of motion laid the foundation for classical physics.
The rocking motion of the boat made me feel sick.
People get sea sick because of the motion of boats.
Some common collocations planetary motion, perpetual motion, this means that something moves all the time.
Motion sensor, motion sickness.
So if you're in a car or on a boat, you can get motion sickness.
Some synonyms for the word movement, action, and you could also use the word change in certain contexts.
Motion.
And the next word is friction, friction.
Friction is the natural physical force that prevents one surface from sliding easily over another surface.
So in this picture the man is pushing a tyre along the ground but it's very difficult for him because there was a lot of friction between the tyre and the ground.
So let's look at some example sentences.
Friction between two surfaces produces heat.
So when two surfaces rub together it causes friction and it creates heat.
Putting oil in the machine reduces friction.
So if you want to make friction lower, put in some oil lubricant.
The hinge was oiled and didn't squeak because the friction had been reduced.
So often hinges on doors make noises because of friction.
Here's one form of the word frictionless so when there is no friction it's frictionless.
Some collocations we often talk about friction between things when you want, you can reduce friction or increase friction.
No synonyms for the word because it's a very precise word. Friction.
The next word is kinetic, kinetic.
In physics, the word kinetic is used to describe something that is concerned with movement.
It's a form of energy that gives objects the power to move.
For example kinetic energy is shown in body movements such as physical exercise.
The kinetic energy of the gas molecules gradually dissipated.
Kinetic cues come from either your own movement or the motion of an object.
Some different forms kinetics, is the study of motion and its causes is a branch of science something that you study, you study kinetics.
Kinetically is the adverb for kinetic.
And some , some collocations you talk about kinetic energy, kinetic theory, kinetic stress and kinetic conditions.
No synonyms for the word is very precise word.
Kinetic.
And the next word is momentum, momentum.
If a process or a movement gains momentum, it keeps developing or happening more and more quickly and it becomes less likely to stop.
Like for example this car is gathering momentum it's unlikely to stop.
In science momentum has a very precise definition it can be calculated.
There is an actually an equation in science.
So the mass of a moving object multiplied by its speed gives you an object's momentum in science.
Here are some example sentences, her election campaign was gaining momentum.
The position and momentum of particles varies over time.
The gravity of Jupiter robs comets of much of their orbital momentum.
And we talk about the momentum of something, we often talk about how things gather momentum or maintain momentum or lose momentum.
And some synonyms, impetus, acceleration, push, impulse, impulse, thrust and propulsion.
Momentum.
Your next word is propel, propel.
If you propel something in a particular direction, then you make it move in that direction.
You make something move when you propel it.
Some example sentences, the rocket will propel the spacecraft to Jupiter.
The army won the battle by using rocket propelled grenades.
He invented an engine that improved the propulsion of ships.
Propulsion is the noun form of the verb propel.
Here's another noun form, aeroplanes were powered using propellers until the 1950s.
Some forms it's verbs so propels, propelling, note the double L., and propelled.
Let's look at those noun forms as well, propulsion.
So you propel a rocket, you can propel a ball.
Something can be rocket-propelled, so propelled by a rocket.
And you propel something forward, propelled forward.
And some synonyms for propel, drive, launch, thrust, move, push and shoot.
You can shoot a rocket into space.
Propel.
So there's the seven words then for forces, force, dynamic, motion, friction. kinetic, momentum. propel.
So go on now to the practice quiz and the vocabulary record.
مشارکت کنندگان در این صفحه
تا کنون فردی در بازسازی این صفحه مشارکت نداشته است.
🖊 شما نیز می‌توانید برای مشارکت در ترجمه‌ی این صفحه یا اصلاح متن انگلیسی، به این لینک مراجعه بفرمایید.