سرفصل های مهم
عقاید سیاسی
توضیح مختصر
زمان مطالعه

0 دقیقه

سطح

خیلی سخت
دانلود اپلیکیشن «زبانشناس»
این فصل را می‌توانید به بهترین شکل و با امکانات عالی در اپلیکیشن «زبانشناس» بخوانید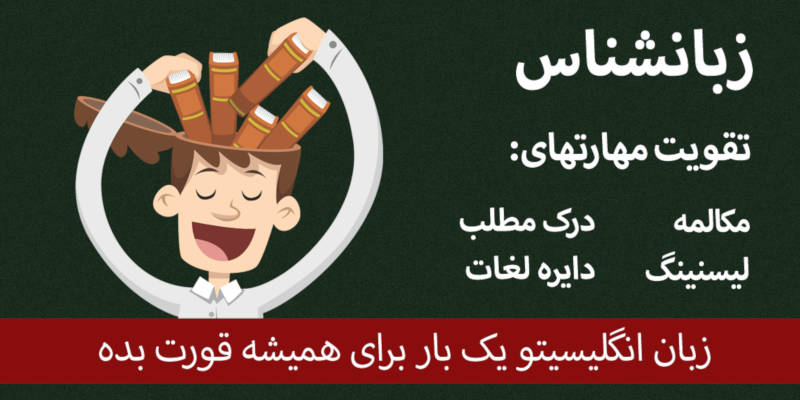 متن انگلیسی فصل
In this lecture we're going to look at seven words connected with political beliefs and they are advocate, dogma, propaganda, ideology, liberal, libertarian and pluralism.
So here's the first word advocate, advocate.
So if you advocate an action or a plan you recommend it in public, it's quite formal verb.
There's also a noun an advocate which is more of a legal term.
But advocate is the verb.
So somebody who advocates some.., here somebody advocating something in public.
So this man is advocating a political idea.
So advocate, in the middle of the word is the word the Latin word of VOC which means voice or call and ad means toward.
So if you advocate your calling people towards your idea.
So for example, the prime minister advocates fewer government controls on business.
The education policy advocated by the opposition will reduce the amount of testing done in schools.
And I am going to advocate for the rights of refugees.
So you can advocate by doing something, advocate for something, advocate reform.
You can strongly advocate as well.
That's a very common the collocation, strongly advocate.
It's a verb's so advocates, advocating, advocated.
And some synonyms advance, recommend, support, campaign for, push, promote.
Here's your next word dogma,dogma if you refer to a belief as a dogma.
You disapprove of , you don't like it because you think that people believe it without thinking.
They don't question a belief.
If it's a dogma.
So we say, a kind of negative term for a belief a lot of religious beliefs are seen as dogmas.
Their religious dogma has blinded them to the people's suffering.
Her political dogma made her ignore the real needs of the country.
He wants to free the country from the grip of dogmatic belief .
So dogmatic is the adjective.
You often talk about religious dogma, political dogma, you can challenge dogma, outdated dogma, so old fashioned dogma.
You can have dogmas and the the adjective dogmatic, dogma, dogmatic.
Some synonyms ideology, doctrine, creed and belief.
Here's your next word propaganda, propaganda is information that an organization usually a political organization publishes or broadcasts in order to influence people.
But it has a negative sense.
It suggests the information is in some way misleading or inaccurate or even just lying.
So it's a negative term.
So the separatists adopted an aggressive propaganda campaign against its rivals.
He made a series of pro-fascist propaganda movies in the 1930s.
Republican propaganda is designed to encourage fear and hatred.
You can have racist propaganda, election propaganda, political propaganda and you can have a propaganda machine, that churns out propaganda.
And some synonyms disinformation and misinformation, hype, brainwashing, indoctrination.
And your next word is ideology, ideology.
An ideology is a set of beliefs especially their political beliefs on which people and governments base their actions and it comes from the from the Greek.
The Greek logy means knowledge.
So ideology is.
I have knowledge of ideas and knowledge about an idea.
So the president embraced the ideology of the free market.
American conservatives are often divided by powerful political ideologies.
And their fascist ideology devastated Europe.
You can have a political ideology, we often talk about a dominant ideology, you can embrace an ideology, and reject an ideology.
So the plural of ideology is ideologies and the adjective ideological, ideological.
The stresses on lodge in the middle, ideological.
So the world is divided on ideological lines.
And some synonyms, values, beliefs or belief doctrine, theory, philosophy.
And your next word is liberal, liberal.
A liberal system allows people, lots of political and economic freedom.
The word comes from Liberty but as a noun a liberal is someone who supports change or reform or progress rather than keeping things the same which is conservative.
So you have conservatives who don't want change.
A liberal who does want things to change.
So the country transitions successfully from a dictatorship to a liberal democracy.
Liberal economic policies encourage more free trade and less protectionism. some more freedom.
You can have a liberal democracy, liberal Education, liberal values, you can be socially liberal, liberal.
We often talk about liberalism, which is the political ideology based around liberal values.
Very specialized words.
But there are synonyms like progressive and radical and reformist.
These are all for change and social democrat is a similar political ideology to liberalism.
One word that's often confused with liberal is libertarian, libertarian.
There is an overlap.
A libertarian is someone who believes in the reduction, in the role of government in all areas.
Giving people freedom to do whatever they want to do as they please.
So it's to allow people to do and think and act as they please without government interference.
And again it comes from the idea of liberty.
For example, he was a libertarian politician and advocated the right to carry guns.
Libertarians argue that people have the right to live as they choose.
So you can be a civil libertarian, there's a libertarian party, libertarian views and you can have libertarian policies.
And of course the plural is libertarians and the idea is libertarianism.
The political idea libertarianism.
Some synonyms autonomous, self-ruling, individualistic, free will.
And the next word is pluralism, pluralism.
But this is the idea that a country should have many different groups and organizations and political parties within it lots of them, so that everyone has a voice.
It's to reduce the sometimes negative effects of democracy, in which maybe in a democracy only a small majority of the people have a say in the government.
So a country with lots of trades unions, organizations for professional people and political parties is a pluralists country plural of course means many, so pluralism is the idea of many groups.
The country was gradually shifting towards political pluralism.
Reform in Arab countries is centred around the need to create a pluralist society.
So you can have political pluralism, religious pluralism, social pluralism, and a pluralist society.
So pluralism.
Pluralist is someone who believes in pluralism or pluralist society.
Some synonyms diversity, inclusivicity, inclusivicity are possible synonyms for pluralism.
And here are the seven words again advocate, dogma, propaganda, ideology, liberal, libertarian and pluralism.
مشارکت کنندگان در این صفحه
تا کنون فردی در بازسازی این صفحه مشارکت نداشته است.
🖊 شما نیز می‌توانید برای مشارکت در ترجمه‌ی این صفحه یا اصلاح متن انگلیسی، به این لینک مراجعه بفرمایید.