سرفصل های مهم
فرآیندهای فکری
توضیح مختصر
زمان مطالعه

15 دقیقه

سطح

خیلی سخت
دانلود اپلیکیشن «زبانشناس»
این فصل را می‌توانید به بهترین شکل و با امکانات عالی در اپلیکیشن «زبانشناس» بخوانید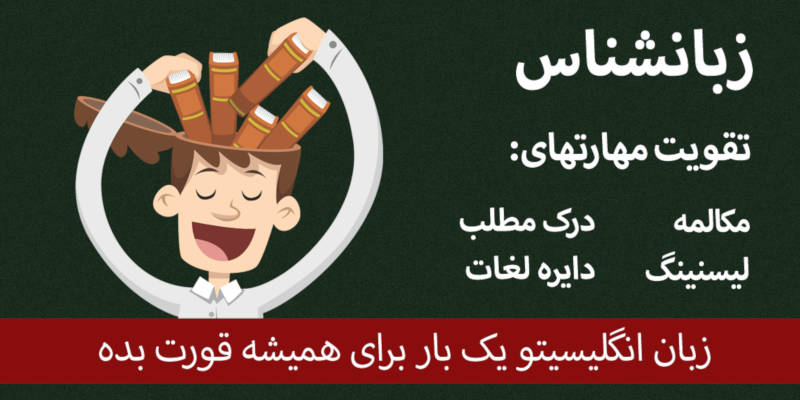 فایل ویدیویی
متن انگلیسی فصل
In this lecture we're going to be looking at vocabulary connected with thought processes.
And here are the seven words.
Anticipate.
Appreciate.
Comprehend.
Conceive.
Envisage.
Infer.
Recall.
So anticipate.
Anticipate.
If you anticipate an event you think about it in advance that it's going to happen in your you're ready
for it or you're excited about it.
So for example this man is anticipating life in a new country.
He's about to arrive he's getting quite excited he's getting ready to start his new life.
So anticipate a. means before.
From the Latin word a..
So for example banks anticipate further rate cuts over the next three months.
I anticipate rain.
Sorry I'm disappointed rain.
So I took an umbrella.
Police in anticipate that rivalry between drug gangs will lead to war.
And some collocations you anticipate a decline or a slow down or rise.
Things can be widely anticipated as well widely anticipated.
Some forms for the verb anticipates anticipating anticipated and then the noun form is anticipation
So anticipate anticipation.
And some synonyms expect.
Predict.
Forecast.
For C.
For C.
You can wait for.
And oh wait.
Wait for and await mean the same thing.
Here's the next word.
Appreciate.
Appreciate.
If you appreciate the situation then you understand it or you know what it involves and if it's a good
thing it can also mean that you're thankful for it so you can appreciate the beauty of nature the calm
the tranquillity.
Of nature.
You understand how important it is and you can be thankful for that as well.
So for example many governments don't appreciate the importance of free speech.
It is essential to appreciate the side effects of using antibiotics.
This next sentence I greatly appreciate your help is.
More a formal way of thanking someone.
Say that you really liked your thank for their help.
So you can appreciate the importance or the seriousness.
Of things you can much appreciate.
So I much appreciated your help.
You can fully appreciate when you fully understand a situation and you fully appreciate it.
So some verbs that for different forms appreciates appreciating appreciated.
And the noun form is appreciation appreciation.
So an appreciation of a situation is an understanding of that situation.
So somebody might have a strong appreciation of the importance of football for example.
Some synonyms.
Understand.
Recognize.
Acknowledge.
Comprehend.
Comprehend.
If you as a comprehend means.
Understand.
But we often use this word when we actually don't understand something when we don't comprehend we can't
comprehend something.
Not always but it's a quite a common use so this woman here she can't comprehend something she doesn't
understand it.
So for example she can't comprehend the implications of the new policy.
Patients may not have enough information to comprehend their illness.
And the first sentence is a more positive use of comprehend we fully comprehend the seriousness of the
situation.
So it's a more formal use of.
Understand.
So you can fully comprehend it or at the other extreme scarcely comprehend.
You can comprehend the importance of something and the implications of something.
Same verb forms confer hands.
Comprehending comprehended and the noun form is comprehension comprehension.
You often do.
Reading comprehension comprehensions in tests to show how much you understand.
And some synonyms.
Understand.
Of course.
Grasp.
Appreciate.
As well can be a synonym.
And realize.
Realize.
Conceive.
Conceive.
Conceive means.
You think about or you imagine something again is often used with not and can't but not always it's
often used.
For example when you come up with an idea you come up with a good idea you conceive an idea.
So for example the government was unable to conceive the idea that they were wrong.
J.k. Rowling conceived the idea of Harry Potter when she was on a train.
She cannot conceive of herself being anything else but a doctor.
And some common collocations you conceive of something or you conceive that something.
You can't conceive of something and you couldn't conceive an idea.
So the verb forms conceives conceiving conceived and conception is the noun form conception.
And some synonyms believe.
Perceive realigns.
Excerpt.
And the next to come up with and create a more about conceiving ideas you come up with or you create
ideas.
Envisage.
Envisage.
If you envisage something then you imagine it.
But you imagine it's true all real or likely to happen in the future.
So this woman here she is envisaging something for the future.
In visage visits in the middle from vision so if you in vision if you envisage something then you.
You make what you put in to your head in your head a vision of something in the thing.
For example he envisages a better future for the country.
The peace plan envisaged the creation of an independent Palestinian state.
I cannot envisage a stronger EU.
You appear the union without making it more democratic.
So you envisage the creation of something you envisage the possibility you can originally envisage So
when you envisage something at the start you originally envisaged.
You can previously envisage something.
So envisages envisaging.
Envisaged.
The verb forms.
Note no noun form for this word.
Are some synonyms in revision.
Invasion envisage in vision very similar verbs often used.
Often swapped in use.
In a vision envisioned in a visioning.
Imagine.
Consider.
See.
Visualize and picture.
Infer.
Infer.
You infer something then you work out that something is true.
Often with incomplete information.
You've got to read between the lines.
To understand something completely.
You often have to infer information in a text and detectives often have to infer information if they
don't have enough evidence so you infer things from an incomplete picture.
So for example I inferred from what she said that you have not been well.
So she didn't say.
This person is not well.
She maybe said oh she didn't look very nice.
She didn't look well she looked pale.
She was in bed all day yesterday.
So you and you infer that she's not well.
Astronomers can infer the mass of a star by its movement.
So they don't weigh the star but we can work it out from some other evidence.
We can infer from his behaviour that he does not like he.
You infer the meaning in the existence of something you can infer from something you can reasonably
infer something is well.
You fairly close to the facts even reasonably infer the facts.
So infers one verb form in inferring note.
The second.
Are you going to put in the same for inferred.
And the noun form is influence.
Inference.
So infer.
Inference for the noun.
Some synonyms deduce conclude assume.
Speculate guess guess American reckon is the informal form of guess or speculate.
Recall.
Recall.
When you have a call something you remember it.
You call it back into your mind.
So this man here was calling it d day.
I think in World War Two he's an old soldier.
He's recalling the war.
So the call call again you call something back into your mind you remember it.
So for example I suddenly recalled When I left my phone.
People often have a call with sadness how life used to be simpler.
And ho.
Now the third full sentence here is using the call as a noun.
And we say who recal recal.
So her recall detail is amazing.
She's going to very good memory her recall so you can use it as a noun.
But the stress in the word moves to the front.
Here's the verb.
Collocations the call a conversation you could call something with happiness or sadness.
But is he doing it with happiness you can fondly the call fondly call something.
You can correctly recall you correctly recall details.
And some verb forms.
Who calls a calling.
The called now a said one noun form is v call.
But you can also have recollection.
Recollection.
My recollection was correct and some synonyms.
Remember remind think of.
And so there are your seven words for thought processes anticipate.
Appreciate.
Comprehend.
Conceive envisage infer the call.
مشارکت کنندگان در این صفحه
تا کنون فردی در بازسازی این صفحه مشارکت نداشته است.
🖊 شما نیز می‌توانید برای مشارکت در ترجمه‌ی این صفحه یا اصلاح متن انگلیسی، به این لینک مراجعه بفرمایید.