سرفصل های مهم
خصوصیات مثبت
توضیح مختصر
زمان مطالعه

0 دقیقه

سطح

خیلی سخت
دانلود اپلیکیشن «زبانشناس»
این فصل را می‌توانید به بهترین شکل و با امکانات عالی در اپلیکیشن «زبانشناس» بخوانید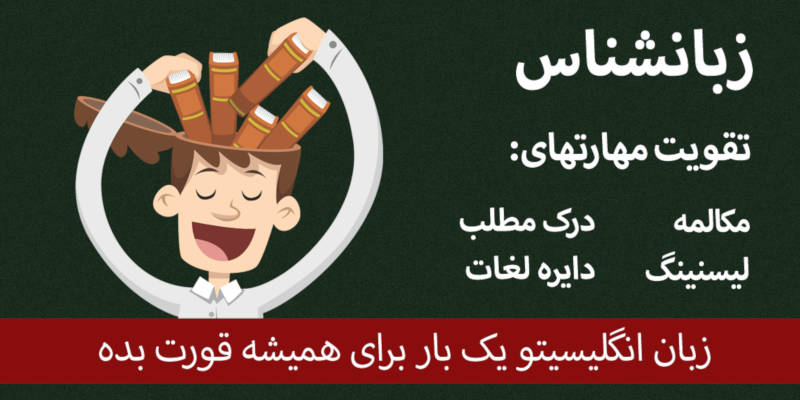 فایل ویدیویی
متن انگلیسی فصل
In this video we're going to look at seven words connected with positive qualities for describing positive things.
So for example here are the seven words, compelling, constructive, credible, groundbreaking, integrity, optimum and rigorous.
And here's the first word compelling, compelling.
For compelling argument or a compelling reason is one that is very convincing and very persuasive.
It makes you think that something is true or that something should be done.
You really want to do it, it's compelling.
So for example, all the evidence makes a suicide verdict the most compelling answer to the mystery of his death.
The evidence was so compelling that the government was forced to make that change.
He made a very compelling argument for the dismissal of the case.
You talk about compelling argument, compelling reason, compelling evidence, compelling data.
And some synonym strong, irresistible.
The next word is constructive, constructive.
So a constructive comment or a constructive argument or approach or discussion is useful and helpful rather than negative and unhelpful.
So for example in the picture you've got some constructive feedback.
So maybe the employee is getting constructive feedback from his or her employer and it's useful and helpful for them.
Serbia has praised what they call a constructive approach to peace talks.
After their meeting, both men described their talks as open and constructive.
She received a lot of constructive criticism after her performance.
So constructive criticism is a very common collocation, so criticism that's useful and helpful to somebody.
Helps them improve, constructive talks, constructive role.
And constructive comment as well.
So constructive.
And constructively, constructively is the adverb.
And some synonyms, positive, useful, usable, productive, effective, practical.
Practical because you can go away and use the constructive feedback, the constructive criticism.
Your next word is credible, credible.
So something that is credible means it can be trusted or believed.
It's a very believable it's credible so I'm able to believe it.
It's from the Latin word credier which means to believe something credible is able to be believed.
So for example, her claims seem very credible, very believable.
To maintain a credible threat, we must maintain the alliance.
His story was scarcely credible.
So not very credible, not very believable.
Something can be credible to someone, something can appear credible or sound credible, but if it's not very credible it's scarcely credible.
Credibility is the noun. It's not a very common word.
But this word is very common incredible, incredible.
So that means unbelievable.
It's amazing often, something incredible is so unbelievable it's amazing.
So credible, believable is a synoym, plausible, conceivable, honest, trustworthy.
Groundbreaking is the next word groundbreaking.
So something groundbreaking is important because it provides new ideas usually very positive ones, and it influences the way people act or think.
So it breaks new ground it makes advances.
So Enistein, this is Albert Einstein on the left and his ideas were groundbreaking.
It changed the world it changed science.
She published her groundbreaking book on psychology in 1986.
Their groundbreaking research will have a major impact on the way we treat disease.
Alexander Flemming's groundbreaking discovery of penicillin changed the world.
So we can talk about groundbreaking research, groundbreaking discovery, groundbreaking work, and something that is really groundbreaking is truly groundbreaking truly.
Some synonyms, original, innovative, cutting edge, radical, revolutionary.
And I love this word trailblazing, trailblazing.
Integrity is the next word integrity.
So if you have integrity, you are honest and firm in your values and your morals.
You tell the truth, you're good to people. You treat people well, you are honest.
I have always regarded him as a man of considerable integrity.
The game relies on the integrity of the individual to abide by the rules.
Most politicians today lack integrity, so they don't tell the truth.
We talk about the integrity of someone, we can question someone's integrity, you can have personal integrity, artistic integrity.
And some synonym, honesty, principle, sincerity, virtue.
And the next word optimum, optimum.
So the optimum level or state of something or someone, is the best level or state that it could achieve, the state at which someone or something can achieve its very best.
So these athletes are performing at their optimum level maybe at the Olympics.
So an athlete needs to be at their optimum level, their peak level when they're competing at the Olympic games.
To maintain optimum health, exercise three times a day, three dear.
They are the regions which enjoy optimum conditions for farming.
He reached his optimum fitness level just in time for the Olympics.
So optimum level, optimum size, optimum condition, optimum state.
So optimum is an adjective and so is optimal, optimal.
And those two words are interchangeable.
You can perform at an optimal level of fitness at the Olympics.
And some synonyms, ideal, maximum. most favourable, peak and this next word is slightly different but similar, perfect.
And the next would rigorous, rigorous.
So an exam or a system or procedure or investigation that is rigorous is very thorough, very precise, very strict, very tough.
And this soldier is undergoing a rigorous test of his physical ability.
So the government is going to introduce more rigorous testing of children.
The pathology department uses a rigorous system of blood analysis.
The soldiers underwent rigorous training before being sent into the war zone.
We talk then about rigorous testing, rigorous scrutiny, rigorous analysis and a rigorous examination.
It's tough, it's difficult.
And you can have an adverb rigorously.
So here are some synonyms for rigorous, thorough, strict, tough, meticulous, uncompromising.
So there are your seven words for describing positive qualities, compelling, constructive, credible, groundbreaking, integrity, optimum, rigorous.
مشارکت کنندگان در این صفحه
تا کنون فردی در بازسازی این صفحه مشارکت نداشته است.
🖊 شما نیز می‌توانید برای مشارکت در ترجمه‌ی این صفحه یا اصلاح متن انگلیسی، به این لینک مراجعه بفرمایید.