سرفصل های مهم
علم شیمی
توضیح مختصر
زمان مطالعه

0 دقیقه

سطح

خیلی سخت
دانلود اپلیکیشن «زبانشناس»
این فصل را می‌توانید به بهترین شکل و با امکانات عالی در اپلیکیشن «زبانشناس» بخوانید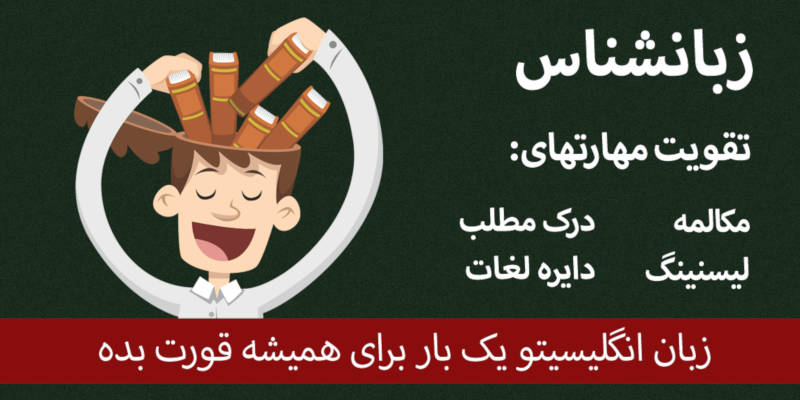 فایل ویدیویی
متن انگلیسی فصل
So in this lecture we're going to look at words connected to chemistry.
And your seven words are, agent, atom, molecule, compound, soluble, insoluble, and crystal.
So the first word agent,agent.
A chemical that has a particular effect always use for a particular purpose can be referred to as it as an agent as a chemical agent or biological agent if it has a particular effect or a particular purpose.
So for example, white bread contains a chemical agent that bleaches the flour.
It makes the flour white it makes the bread white.
He found that this chemical agent can produce birth defects.
The agent reacted with body tissue with serious effects.
It's probably a biological agent.
So you can have a chemical agent, a biological agent, bleaching agent, clotting agent clotting agents make liquid such as blood much thicker.
The next word is atom, atom.
An atom is the smallest amount of a substance that can take part in a chemical reaction.
Here's a diagram of an atom as well.
For example, a methane molecule is composed of one carbon atom attached to four hydrogen atoms.
He was the scientist who was first to split the atom.
There were substantial fears about their capacity to spread atomic weapons.
So you can split the atom, that's a very common collocation but also a carbon atom, or oxygen atom, hydrogen atom, an atom bomb, an atom contains.
So atom and you can have, atoms of course and atomic is the adjective for atom.
And the next molecule, molecule.
A molecule is the smallest amount of the chemical substance which can exist by itself.
So an atom can't exist by itself but a molecule can.
And that's only when we're talking about matter about substances.
Here's a diagram of a molecule.
Lots of atoms joined together.
At high temperatures the strands of the DNA molecule start to come apart.
Molecules are made up of atoms that are held together by chemical bonds.
A water molecule is made up of two atoms of hydrogen and one oxygen atom.
So you can have an organic molecule, a water molecule, so a molecule of something , a molecule of water, and you bind a molecule.
Some molecule, the molecules and the adjective is molecular, molecular. So molecule, molecular, molecular structure.
Compound, here's your next word compound so a compound is a substance that consists of two or more elements and here's a,.. here's a diagram of what a compound is.
So organic compounds contain carbon in their molecules.
Gasoline is essentially a compound of carbon and hydrogen.
So you can have an organic compound.
You can have a synthetic component, and a chemical compound.
They can have a compound of something.
Your next word is soluble, soluble.
So if a substance is soluble it dissolves in a liquid like these pills here, they dissolve in a liquid.
And at the end of the worst soluble it looks a little bit like able it can be done.
It can dissolve something can dissolve if it's soluble.
So sugar is soluble in water.
And some are soluble in water as shown by the discolouration of the substances on which they grow.
So we often talk about something is soluble in something, a soluble substance , something is soluble, and if it can't dissolve it's insoluble, insoluble so it doesn't dissolve in a liquid.
So for example, sand is in soluble in water.
And there's the prefix in.
So not Un but insoluble.
Carotenes are insoluble in water and soluble in oil.
A mask of pure, insoluble collagen fibre is placed over the skin.
So we're going to we talk about something is insoluble in something, an insoluble substance, something is insoluble.
Your next word is crystal, crystal.
So a crystal is a small piece of a substance that has formed naturally into a regular shape, is symmetrical shape, a little bit like the diagram shows you here.
So for example, the symmetrical shape of an ice crystal is due to depositional growth.
And it's usually grown in this symmetrical way.
This process is used to grow single crystals to be used as semiconductors.
So, for example, silicon crystals can be grown.
So a crystal of something, we say a silicon crystal, you grow a crystal, you form a crystal.
So crystal and you can have crystals, and the process or the verb is crystallizing and the process is crystallization, crystallization is the process of crystallizing something.
So there we are seven chemistry words.
Then agent, atom, molecule, compound, soluble, insoluble, crystal.
مشارکت کنندگان در این صفحه
ویرایشگران این صفحه به ترتیب درصد مشارکت:
🖊 شما نیز می‌توانید برای مشارکت در ترجمه‌ی این صفحه یا اصلاح متن انگلیسی، به این لینک مراجعه بفرمایید.