سرفصل های مهم
مقایسه و تضاد
توضیح مختصر
زمان مطالعه

0 دقیقه

سطح

خیلی سخت
دانلود اپلیکیشن «زبانشناس»
این فصل را می‌توانید به بهترین شکل و با امکانات عالی در اپلیکیشن «زبانشناس» بخوانید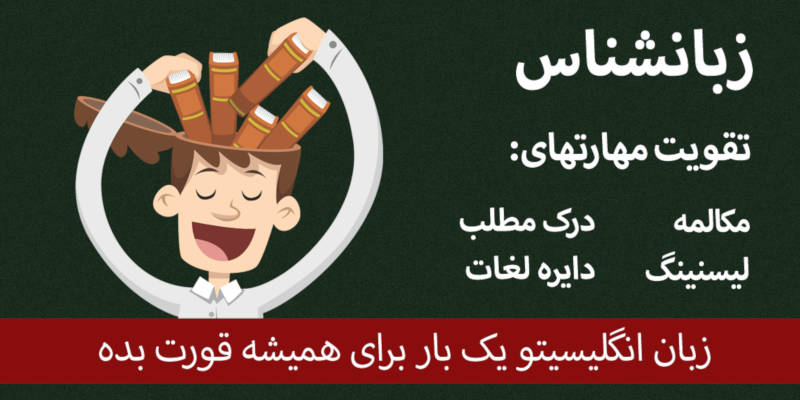 متن انگلیسی فصل
In this video we're going to be looking at seven words connected with comparing and contrasting things.
Here are your seven words complement, converse, differentiate, diverse, mirror, resemble and synonymous.
So our first word here is complement, complement.
If people or things complement each other they are different or they do something differently and it makes them a good combination.
So they complement each other.
So two people with different skills that help the other person those two people complement each other very well.
They go together, complement.
Note the spelling.
There's an E here so a complement with an E is what we're looking at but complement with an I is when you say something nice to somebody.
So there are two completely different words.
Here's some example sentences for you.
There will be a written test to complement the practical test.
So the written test and the practical test go together, they support each other to assess the student.
Their academic program is complemented by a wide range of sporting and cultural activities.
And some synonyms, you complimented by, you can have something that could perfectly complements.
So you often compliment something and you can have complimentary skills, so complementary is the adjective form of compliment.
So it is a verbs so, compliments, complimented.
And then there's complimentary the adjective form.
And some synonyms for complement, accompany, add to, augment, augment and enhance and supplement, supplement is a slightly different meaning though it's means adding two rather than go in together but it's a medium close synonyms
Here's the next word converse, converse.
So the converse of a statement is, its opposite or reverse.
Now when writing you can use conversely to introduce a completely opposite idea or situation so, it's so they basically were talking opposites converse not converse.
By the way converse is what we're looking at.
Converse is when you have a conversation with somebody so for this particular words put the stress on the first syllable.
So for example, your job affects where you live. And the converse is true where you live, affects what job you will have.
If taxes are high, savings will be low. Conversely if taxes are low, savings will be high.
They may reduce the activity of certain hormones or , conversely, they may cause excessive hormonal activity.
So we often have the converse of something, so the converse is true is a very common phrase.
So converse, converse, conversely is the adjective.
And some synonyms, on the other hand is a good phrase to use and opposite of course, opposite.
Here's your next word, differentiate, differentiate.
So if you differentiate between different things, you recognize or you show the difference between them.
So you recognize differences between things, between people.
So you can work out what's different about them, how they differ.
So for example, a baby can differentiate between a smile and a frown.
A child may not be able to differentiate between his imagination and the real world.
They can't tell, the real world apart from the fantasy world in their heads.
Their brand was not differentiated enough from the competition.
Now in this third sentence differentiate here is about a quality or a feature.
So the brand of the company, the quality it's it's not different enough to that of the competition so we can you differentiate for qualities as well.
And here are some common collocations, you differentiate between things, you differentiate something from something else.
You can have a differentiated product, or a differentiating factor.
And some forms differentiates, differentiating, differentiated, and differentiated.
And differentiation is the process of trying to see the difference between people or things.
And some synonyms distinguish, and you point out differences.
And your next word is diverse, diverse.
If a groupor a range of things is diverse, it's made of over a wide variety of things, different things.
So for example, the country has a diverse range of habitats.
Society is now much more diverse than ever before.
The program is enjoyed by a very diverse audience.
And some common collocations, ethnically, ethnically diverse, culturally diverse.
You can have a diverse background, a diverse group.
And we also talk about diversity, so diversity is a noun.
And there's a verb as well, diversify.
So diversifies, diversifying, diversified.
And some synonyms for diverse, varied, differing, distinct, and assorted.
Often with boxes of chocolates, you have an assorted box of chocolates, lots of diverse chocolate.
Here's your next would mirror, mirror.
If something mirrors something else, then it has similar feature to it, so it it seems like a copy of that thing, a slight resemble or reflects.
There are two things that mirror each other.
So for example, the story mirrors many of my own experiences.
So my own experiences and the story are very similar.
The debate over immigration often mirrors the debate over assimilation.
And you can closely mirror, exactly moer, or perfectly mirror, almost mirror.
And it's a verb, so mirrors, mirroring, mirrored.
And some synonyms for mirror, resemble, reflect, seem like, echo, embody, epitomize, epitomize.
And a word that's very similar to mirror is resemble, resemble.
So if a thing old person resembles another, they are very similar to each other.
So these two girls resemble each other probably because they're twins.
And some example sentences.
Some commercially produced venison resembles beef in flavour.
It is true that both therapies do closely resemble each other.
There was a remarkable resemblance between the two books.
And resemblance is the noun form.
You can closely resemble, or strongly resemble.
You often have a resemblance between things, and you can bear any resemblance.
So somebody bears a resemblance to somebody else, if they look almost the same.
And it's a noun resembles, resembling, resembled.
And there's your noun as well resemblance, resemblance.
And some synonyms look like, act like, be like, here's echo again, be similar to.
And your next word synonymous, synonymous.
If you say that one thing is synonymous with another thing, you mean that the two things are very closely associated.
So for example, Paris is synonymous with elegance, with luxury, with style, with love as well.
So Paris is synonymous with those things. It's the city of love. Here you are.
In politics, power in popularity are rarely synonymous.
So they don't go together.
Champagne is synonymous with celebration.
So here's a very common collocations synonymous with, so for example synonymous with quality, synonymous with wealth.
So something can be synonymous, it is synonymous, paris is synonymous with love.
And some synonyms, equates with, identical, these are all of course synonyms for synonymous.
And these are interrelated, interchangeable the same as, identified with.
So Paris is identified with love.
So there are your seven words for comparing and contrasting things, complement, converse, differentiate, diverse, mirror, resemble, synonymous.
مشارکت کنندگان در این صفحه
تا کنون فردی در بازسازی این صفحه مشارکت نداشته است.
🖊 شما نیز می‌توانید برای مشارکت در ترجمه‌ی این صفحه یا اصلاح متن انگلیسی، به این لینک مراجعه بفرمایید.