سرفصل های مهم
علوم پزشکی
توضیح مختصر
زمان مطالعه

0 دقیقه

سطح

خیلی سخت
دانلود اپلیکیشن «زبانشناس»
این درس را می‌توانید به بهترین شکل و با امکانات عالی در اپلیکیشن «زبانشناس» بخوانید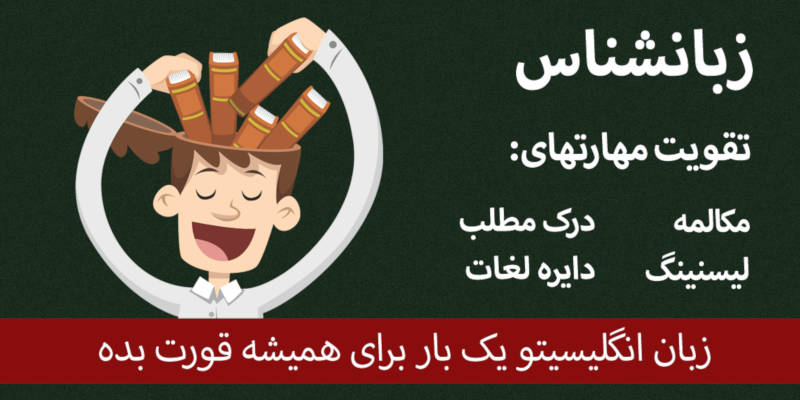 فایل ویدیویی
متن انگلیسی درس
In this lecture we're going to look at seven words connected with medical science, medical science.
So here are the seven words, bacteria, cell, germ, hereditary, toxic, trial and virus.
Let's look at the word bacteria, bacteria.
So bacteria are very small organisms.
Some bacteria can cause disease but some are necessary for the body.
So you can have good bacteria.
Let's look at some example sentences.
Chlorine is added to swimming pools to kill bacteria.
The bacteria of most diseases are in the air around us every day.
Yogurt contains good bacteria that is essential in effective digestion.
So let's look at some forms now for the word.
A bacteria is actually a plural noun.
You have two bacteria three bacteria and this singular is bacterium
So one bacterium.
And the adjective form of the word is bacterial, bacterial.
Let's look at some common collocations now.
So bacteria multiplies, bacteria spreads, you can have harmful bacteria and you can have a bacterial infection.
Some synonyms for bacteria.
Well he could have germs, microbes, very similar to microbes micro-organisms.
So there you are bacteria.
And the next word is cell, cell.
And a cell is the smallest part of an animal or a plant that is able to function on its own to function independently.
And every animal or plant is made up of billions of cells.
And the cells, the cells divide and produce many other different types of cells.
So the cells divide and produce many other different types of cell.
Soap destroys the cell walls of bacteria.
And all cells are bounded by a cell membrane.
So in this picture the membrane is the outermost part of the cell.
So of course the plural is cells.
And some common collocations we talk about a stem cell, a cancerous cell, the cell wall and one cell gives out something a liquid a fluid perhaps or a gas a cell secretes,
It's a very precise words though no precise synonyms for the word cell.
The next word is germ, germ and a germ is a very small organism that causes disease.
It's not a precise medical term though it's a term that's used in general English not in medical English so much and there are four main types of germ.
There's the, the virus, bacteria, fungi and protozoa.
So germ is quite a general term.
So some example sentences.
Chlorine is widely used to kill germs.
The virulent germ affected millions of people. A virulent germs, that means it's a virus but it also spreads very widely too.
Germs in contaminated water can spread quickly.
So germ, we normally refer to to a germ in the plural , germs.
And some collocations, so germs spread, germs infect something, germs attack something.
But also something kills germs, so chlorine kills germs.
Some synonyms, infection, disease.
And another word that's used in common everyday general language is bug.
So you catch a bug, you pick up a bug, if you get infected by a germ.
So there you are germ.
The next word is hereditary, hereditary.
And a hereditary characteristic or hereditary illness is something that's passed on from generation to generation from a parent to a child before it's born.
So in the picture there's a baby and if the mother had a hereditary disease, then the baby may well get that disease as well.
So it's things that are passed on through the generations.
So for example, albinism, which is when you are white you don't have any colour, so albinism is a hereditary trait.
So this line lacks the normal colouring of a lion.
In men, hair loss is hereditary.
Hair from the top of your head anyway.
And around 200 hereditary traits are transmitted from generation to generation.
So hereditary traits are things like eye colour for example hair colour.
So hereditary is an adjective.
Now there is a noun form which is not very commonly used.
It's heredity.
So it's quite a rare form, it's not very often use.
So we might come up with a sentence like.
Heredity is not a factor in causing the disease.
Some common collocations now so we can talk about a hereditary disease or a hereditary trait or characteristic.
And the hereditary factor.
And some synonyms, genetic, inherited, inborn.
So there's the word hereditary.
The next word is toxic, toxic.
And a toxic substance is poisonous.
It is very bad for you and it will probably kill you as well because it's toxic, it's poisonous.
Here was some example sentences for you.
The cost of cleaning up the toxic waste will be very expensive.
This product is highly toxic to cats but harmless to humans.
Claire Patterson fought for the removal of lead, which has a highly toxic substance, from gas.
And some common collocations, something can be toxic to something else, it could be highly toxic, we talk about a top a toxic substance, and toxic waste as well.
And some synonyms poisonous, dangerousm harmful, deadly.
And a word that's very similar to deadly but very nice powerful word is, lethal. sotrong poisons are lethal, they will kill you.
So they you are the word Toxic.
Your next word is trial, trial.
And in a medical sense a trial is an experiment in which you test something to see how well it works.
It is usually done over a certain extended period of time maybe a few months or even a few years for some things.
And the word comes from the verb try, try so trial.
Some example sentences than, they have been testing this drug in clinical trials.
The new CT scanner has been on trial for the last week.
The new medicine has been undergoing a trial. so undergoing testing.
Some forms for the word of course, trials is the plural of that. And some common collocations. something can be on trial, to be on trial, so a drug is on trial, we often talk about a clinical trial.
And you undertake a trust, so a scientists undertake a trial, on the drug itself can undergo a trial or the new medical treatment can undergo a trial.
Some synonyms for trial test, experiment, investigation, examination, analysis.
So there you are trial.
So here's your next word.
And it's virus, virus and a virus is a kind of germ that can cause a disease.
Diseases like a common cold for example or the flu.
So there are many different strains of the flu virus.
And a virus can spread rapidly in confined places.
You can spread a virus by coughing and sneezing. so you spread a virus.
Some forms for the word the, the plural is viruses.
So one virus, two viruses and the adjective form is viral.
So you can have a viral infection.
Some common collocations you catch a virus, you can spread a virus, if you give it to other people.
You can have a deadly virus, that's the flu, flu is not usually a deadly virus, a deadly virus one that can kill. and the flu virus.
And some synonyms for virus disease, infection, germ.
Remember though a virus is a very precise words so disease infection, germ are not exact synonyms.
There's also the word pathogen, pathogen and a pathogen is a it is a microscopic organism and often causes illness is usually very bad illnesses.
So there you are virus.
So those are your words for medical science.
bacteria, cell, germ, hereditary, toxic, trial and virus.
And here's your homework, don't forget to do the practice quiz, and also the vocabulary record.
مشارکت کنندگان در این صفحه
تا کنون فردی در بازسازی این صفحه مشارکت نداشته است.
🖊 شما نیز می‌توانید برای مشارکت در ترجمه‌ی این صفحه یا اصلاح متن انگلیسی، به این لینک مراجعه بفرمایید.