سرفصل های مهم
واژگان سلامتی
توضیح مختصر
زمان مطالعه

0 دقیقه

سطح

خیلی سخت
دانلود اپلیکیشن «زبانشناس»
این درس را می‌توانید به بهترین شکل و با امکانات عالی در اپلیکیشن «زبانشناس» بخوانید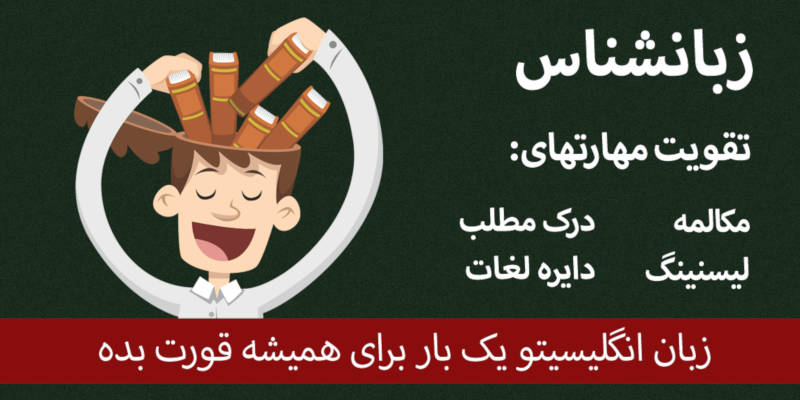 فایل ویدیویی
متن انگلیسی درس
So in this lecture I'm going to take you through seven words connected with health care.
And here are your seven words, immunize pathology, pharmaceutical, physiotherapy, practitioner, psychiatry and anaesthetic.
So your first word is immunize, immunize.
If people or animals are immunized they are protected from a disease from a particular disease.
So they are made immune to the dise.., they to the disease.
They can't get the disease and doctors immunize people usually with an injection into the arm into the bloodstream sometimes though through the mouth.
So for example, we require that every student is immunized against hepatitis.
The monkeys had been immunized with a vaccine.
All parents should have their children immunized.
Very good idea.
Stop the disease from spreading.
So we immunize against things, you can immunize against flu.
You immunize a child or a student.
We often talk about flu immunization or a disease, particular disease immunization like flu.
And it's a verb immunize so you can have immunizes, immunizing, immunized and the noun form is immunization, immunization.
So immunize, immunization.
So some synonyms for immunise, not too many actually, inoculates, vaccinate, protect is a more general term for immunize.
Here's your next word pathology, pathology.
A pathology is the study of the way diseases and illnesses develop.
So here you have a doctor in this picture trying to work out the pathology of a disease by analyzing some blood.
Here is some example sentences. anatomy, physiology and pathology are studied in medical courses.
A sample was sent to a pathology laboratory for analysis. it could be a sample of blood.
The physician reviewed the pathology of selected disease processes.
Some common collocations with pathology, forensic pathology, social pathology, molecular Pathology, and you do pathology often in a pathology laboratory.
Pathology is a noun.
You can have a somebody that does Pathology is a pathologist.
Pathologist, pathologist.
And here's your next word pharmaceutical, pharmaceutical.
So a pharmaceutical it means something connected with the production of medicine.
Often the industrial, scale production of medicine that we're talking about the pharmaceutical industry.
And the pharmaceutical companies they often manufacture pills.
So for example, Roche are a Swiss pharmaceutical company. one of the biggest in the world apparently.
The pharmaceutical industry is the second largest in the world.
The firm has supplied pharmaceuticals to Africa for many years.
So we talk often about the pharmaceutical industry, or a pharmaceutical company and they make a pharmaceutical product.
And we also took a pharmaceutical firm.
And some synonym for pharmaceutical, drugs, medicine as well.
Pharmaceutical.
Now here's your next word physiotherapy, physiotherapy.
So physiotherapy is the medical treatment for problems that affect the joints such as the elbow, the knee, or the muscles or the nerves of the body.
It often involves exercises with your body stretching or having your body massaged in some way or moved or even warmed in some way.
This is a somebody having a massage, which is a very basic form of physiotherapy.
So for example you can say, after his leg heals, he will need several weeks of intensive physiotherapy.
An alternative is to visit a physiotherapy clinic.
If you experience joint pain, you can undergo a course of physiotherapy.
So we often talk about you undergo therapy, that's a very common collocation you can receive physiotherapy, you need physiotherapy for example, if your joints hurt or your muscles hurt.
And you can go to the physiotherapy clinic.
And the person who will give you your physiotherapy is a physiotherapist, physiotherapist.
And here's your next word practitioner, practitioner.
Doctors are often referred to as practitioners or medical practitioners.
They practice medicine.
So here's a medical practitioner hard at work.
And some example sentences for practitioner.
If in doubt, consult a medical practitioner.
To become a qualified practitioner takes several years.
If you feel chest pain, visit a medical practitioner immediately.
You might be having a heart attack.
Some common collocations, a general practitioner or also known as a GP is a qualified doctor often in the UK.
A medical practitioner as the same meaning as well, you can consult a practitioner so if you're feeling if you're not feeling well you can ask that a practitioner questions, you consult a practitioner and you could also visit a practitioner.
Some synonyms for practitioner of course the obvious one, doctor or consultant or specialist.
Here's a type of specialism is psychiatry, psychiatry, psychiatry.
And that's it, this is a branch of medicine concerned with the treatment of mental illness.
So here you have a psychiatrist, psychiatrist with a very sad or depressed patient who needs psychiatry.
So, Psychiatry is a relatively new profession in medicine.
She is a consultant in child and adolescent Psychiatry.
He practices psychiatry at the local hospital.
So you can study psychiatry, teach psychiatry, practice psychiatry, and one of the one field of psychiatry is child psychiatry.
An adjective for psychiatry is psychiatric.
So you often have a psychiatric department in a hospital and the person, the doctor that carries out psychiatry is a psychiatrist, psychiatrist.
Here's your next word anaesthetic, anaesthetic.
And an anaesthetic is a substance that doctors use to stop you feeling pain during an operation.
It can be to make your whole body stop feeling pain or at particular part of your body.
So for example, if you go to a dentist, you might have an anaesthetic in your mouth.
But here in this picture the anaesthetic is being given to you as a gas and this will put you to sleep.
So you won't feel anything in an operation.
So anaesthetic.
And the spelling is a little bit tricky but in, in American English often we dropped the second A.
Here's the first, Here's the British English spelling.
A N A E S.
But often it's spelt like this especially in American English.
So some example sentences.
The operation is carried out under General anaesthetic.
Seventy three percent of women had an epidural anaesthetic during labour.
So they didn't feel pain.
And the dentist will usually give you a local anaesthetic during dental surgery.
So you can have a general, a general anaesthetic which takes the pain away from your whole body or a local anaesthetic which takes the pain away from a particular part of your body such as the mouth at the dentist.
And you can, you go under anaesthetic when the doctor gives you an anaesthetic.
And the doctor administers an anaesthetic.
So anaesthetic. there is a verb for anaesthetic, anaesthetic is a noun and the verb is anaesthetize, anaesthetize.
And the person who gives an anaesthetic is an anaesthetist, anaesthetist.
So some synonyms for anaesthetic, painkiller, gas.
If the gas of course kills pain, soporific, makes you go to sleep or makes you very drowsy or sleepy a soporific.
And the doctor will often give you a shot to make you feel no pain as well.
So there you are anaesthetic.
So there again you're seven health care words, immunize, pathology, pharmaceutical, physiotherapy, practitioner, psychiatry and anaesthetic.
مشارکت کنندگان در این صفحه
تا کنون فردی در بازسازی این صفحه مشارکت نداشته است.
🖊 شما نیز می‌توانید برای مشارکت در ترجمه‌ی این صفحه یا اصلاح متن انگلیسی، به این لینک مراجعه بفرمایید.