سرفصل های مهم
آناتومی
توضیح مختصر
زمان مطالعه

0 دقیقه

سطح

سخت
دانلود اپلیکیشن «زبانشناس»
این درس را می‌توانید به بهترین شکل و با امکانات عالی در اپلیکیشن «زبانشناس» بخوانید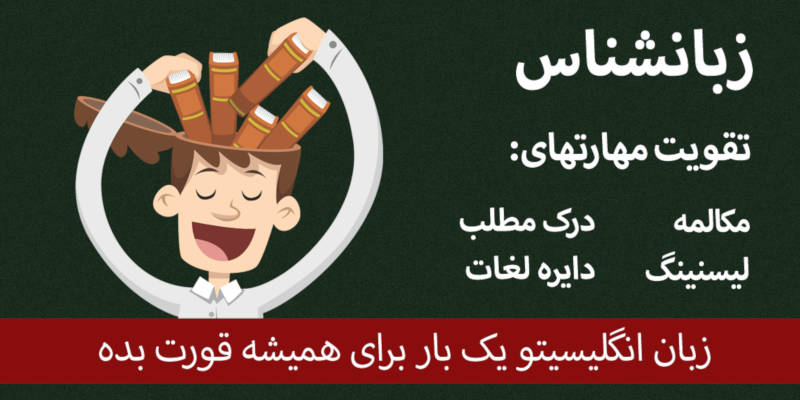 متن انگلیسی درس
In this lecture we're going to look at seven words connected with the human anatomy, anatomy.
And this is all to do with different parts of the body and your seven words are brain, bone, breathe, muscle, heart, sight, organ.
There're next word is, bone, bone and your bones are the hard parts inside your body and together they form your skeleton.
Note the pronunciation of bone rhymes with own.
It doesn't rhyme with one so it's not Bon.
It's bone.
Some example sentences.
I fractured a bone in my arm when I fell off my horse.
The body is made up of bone, fat and muscle.
Osteoporosis happens when not enough new bone grows.
Osteoporosis often affects elderly people.
So of course the plural is bones.
You can have an adjective form as well which is bony, bony.
So that means you have bones that can easily be seen.
So you have prominent bones, they stick out as opposed to muscular.
So thin people are often seen as bony, because you can see their bones sticking out.
Some common collocations a broken bone, and fractured bone.
There's no actual difference between a broken bone and a fractured bone, fracture is the clinical , the medical term for a break in a bone and a fracture can range in severity from a from a small crack.
Now there's a hairline fracture to a compound fracture which shows when the bone punctures the skin on a fractured bone is, is the clinical term.
Thigh bone you can have a course and collar bone so different bones of the body.
And some synonyms no real precise synonyms.
You can talk about the bony parts of the body.
Or you could talk about, when you're talking about the entire body the skeleton.
So bone.
So let's look at the word brain, brain.
And this is the organ inside your head that controls your body's actions and also enables you to think and to feel things.
And the development of a child's brain happens very quickly.
His father died of a brain tumour, brain tumour.
And the brain consists, so the brain contains a number of different lobes.
In the picture you can see some of the lobes of the brain.
So of course the plural of brain is brains.
We can also use an adjective brainy.
So someone is very clever, you say that they are brainy.
You've got a big brain.
And some common collocations you can have brain damage, a brain tumour.
This has to do with cancer.
We can talk the human brain.
Of course you can talk about any animal's brain, cat's brain.
We're talking about part of the brain as well.
So part of the brain affects emotions.
And some common synonyms mind ah,. mind is really just the thinking part of the brain.
The cognitive side of the brain, sometimes we talk about grey matter.
It's a kind of slang term for the, for the brain.
And the cerebrum is the largest part of the human brain.
So there you are brain.
The next word is breathe, breathe.
And the woman in the picture is taking in the fresh sea air, she is breathing in the fresh air from the sea.
So breathe.
The final E changes the word from breath to breathe.
So without an E it's breath, with an E is breathe, breath breathe.
And some sentences.
She held his breath under water for several minutes.
I can't breathe because of the air pollution.
You should try to breathe through your nose.
So breathe is the verb form and breath is the noun form.
You take a breath.
Breathe.
And of course breathes is the verb form is breathing, breathed, breather is another noun you can be a heavy breather at night if you're asleep.
If you make a lot of noise if you snore you're a heavy breather.
You can also take a breather.
That means take a rest.
And this is the noun form the plural of the noun form breaths.
It's exactly the same as the same spelling as breaths.
So he breaths is the verb form.
But breaths is the plural noun form.
Same spelling different pronunciation.
Some common collocations.
You breathe in and you breathe out, you breathe through things.
You breathe through your nose or your mouth.
You can breathe deeply.
And you can breathe easily.
Some synonyms inhale and exhale are two fairly close synonyms inhale is the breath in, exhale to breathe out.
Respire is often what plants do.
Sniff is slightly different to breathe.
Sniff is when you, you breathe in a smell or a scent like a flower.
You sniff the smell, you sniff the flower.
So there you are breathe.
The next word is heart, heart and the heart is the organ in your chest that pumps blood around your body.
Some example sentences the athlete's heart was beating fast by the end of the race.
The pain in his chest was a sign of a heart attack.
The heart transplant operation was a great success.
And of course the plural of heart is hearts and some common collocations for heart the heart beats.
Now when the heart beats strongly loudly the heart pounds suggests also a little bit of speed.
You can have heart disease and you can have a heart transplant.
That's a very precise words so not any real synonyms.
Possibly cardiac organ or vascular organ.
One very informal word for heart is ticker.
Sometimes people say in native British English ,you've got a dicky ticker which means that your heart isn't working properly.
So there you are heart.
The next word is muscle, muscle and muscle is tissue in your body which connects to bones and which you use when making movements
the muscle contracts when you use it and it relaxes when you don't use it.
Note the spelling there is a silent c letter in muscle.
And don't confuse it with these mussles.
Muscles are a type of delicious shellfish and the pronunciation is exactly the same as muscles.
So let's look at some example sentences.
The Incredible Hulk has enormous muscles.
To get strong muscles you must do lots of resistance training in the gym.
He tore his calf muscle while he was walking and he is in lots of pain.
And some different forms for the word.
So muscles is the plural of course.
Now muscled is an adjective not all that common but it's an adjective which means that you have lots of muscles.
You have a well muscled body but the normal adjective that we use is muscular.
Muscular muscle muscular.
Muscle can also be used sometimes as a verb.
So for example turn to muscle in means that you push in, you jump the queue you try to get on the bus before everyone else so you muscled into the queue.
So muscling, I muscling into the queue.
Here is the verb form in fact to muscle in.
When you are using muscle as a noun you can tear a muscle or pull a muscle.
Different parts of the body, when you go to the gym you build muscle and different parts of the body have names like is the calf muscle, thigh muscles.
Muscle is a very precise word there is no synonym.
The next word is organ, organ and an organ is a part of your body that has a particular purpose or job.
So for example the heart, the liver, the brain.
Here's some example sentences.
The virus damaged her muscles and internal organs.
The lungs, are one of the five vital organs in humans.
A balanced diet is essential for proper functioning of your organs.
Of course the plural is organs.
Some common collocations are vital organs.
I often talk about internal organs, so organs inside your body.
And if one of your organs goes wrong you can have an organ transplant.
You can also donate an organ to somebody else.
Now organ is a very precise word.
So these words aren't synonyms but they are examples of human organs so the heart, he brain, the kidneys, the liver, lungs.
And finally the largest organ in the body is skin.
Organ.
Sight is the next word sight and sight is the ability of someone to see something.
So humans have sight is one of our senses.
We also use this word when talking about a famous sights, so a place that you go to see.
And the spelling of that word is the same.
So the Eiffel Tower It's a famous sight in Paris.
There is another word which has pronounced exactly the same but spelt differently site and we often confuse people often confuse this with this site.
The famous site like the Eifel tower.
But this word is, it means a particular place a building site for example or the site of a battle.
But we're going to look at a sight when it's to do with eyes of course.
So some example sentences.
My sight is failing so I need to wear glasses.
Owls have a powerful sense of sight.
Goalball is a sport for blind and partially sighted people. So sighted is the adjective form of sight.
So here we are sighted.
Some common collocations.
You can lose your sight, if you either go blind or your sight gets worse you lose your sight.
You have good sight, bad sight, you can be partially sighted and poor sight as well, poor sight, bad sight.
Some synonyms for sightes vision, perception, possibly perception is also to do with thought as well as sight.
We often talk about eyesight.
And here's the word sight.
So here again are your seven words connected with anatomy brain, bone, breathe, muscle, heart, sight, organ.
Coming up next is the practice quiz for these words.
And if you go to the resources section you can download and complete the vocabulary record.
مشارکت کنندگان در این صفحه
تا کنون فردی در بازسازی این صفحه مشارکت نداشته است.
🖊 شما نیز می‌توانید برای مشارکت در ترجمه‌ی این صفحه یا اصلاح متن انگلیسی، به این لینک مراجعه بفرمایید.