سرفصل های مهم
بخش دوم
توضیح مختصر
زمان مطالعه

0 دقیقه

سطح

خیلی سخت
دانلود اپلیکیشن «زبانشناس»
این درس را می‌توانید به بهترین شکل و با امکانات عالی در اپلیکیشن «زبانشناس» بخوانید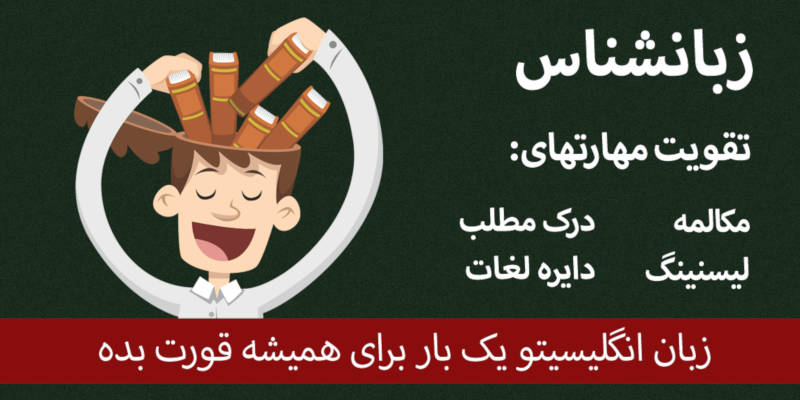 متن انگلیسی درس
So in this lecture we're going to be looking at words connected with geography.
And here are your seven words, temperate, arid, marine, glacier, terrestrial, fauna, and flora.
And here's your first word temperate, temperate.
A temperate climate is rarely very hot or very cold it's in the middle it's warm, it's mile it's not cold it's not hot so it's in the middle.
So here's a forest in a temperate climate.
Things grow easily in temperate climates.
The Nile Valley retains a temperate climate throughout the year.
Agricultural crops thrive in temperate in temperate climates.
And his report the president was far more temperate and balanced than his earlier effort.
Now this last sentence is a more general use of temperate So the sense here is it's a moderate.
The port it's calm.
So we talk about temperate climate, temperate zone, and temperate region and things like a temperate rainforest.
So some synonyms for temperate, moderate and mild, balmy balmy we often talk about the sea side by the sea is balmy because there's a nice breeze a nice gentle wind, warm, restrained, agreeable.
Your next word is arid, arid.
So if a climate is arid it's very dry like a desert.
So here's an arid area, arid zone, few plants can grow here because it's so dry you don't normally get plants in arid areas.
Botanists though, botanists have cultivated crops that can withstand arid conditions.
Farming is difficult in the arid parts of the country.
And this third sentence, the last sentence the meaning of arid here is dry as in unexciting as in boring.
His history lectures were arid.
They were very dull, they weren't interesting.
So we can talk about in arid desert, arid land, arid conditions, arid landscape.
Some synonyms for arid, dry of course, barren, barren suggest not just dryer at There's no plants though at all.
There's nothing there.
Bone dry, dusty, parched, parche is very dry.
People's mouths get very parched when they haven't drunk any water.
and let's go to water now marine, marine.
This word is used to describe things related to the sea and water such as animals and plants that live in the sea.
We talk about marine life.
So here you are.
Dolphins or sharks I can never tell.
I think there are dolphins in the sea so they are an example of marine life.
The start of the word Mar actually means the sea.
It's a Latin word, the Latin word mare means the sea.
Coral reefs are excellent breeding grounds for marine life. They can have lots of babies there.
Jacques Cousteau spent his life researching marine biology.
Jacques Cousteau was a famous French marine biologist and explorer from the 1970s in 1960s I think.
Sea Life Centres have raised awareness of the marine environment.
So we talk about marine environments and life, biology and sometimes a marine ecosystem.
So where the, where the animals live where the animals and plants live.
Some synonyms aquatic, coastal.
There's a slight difference in meaning there coastal, it's just the marine life near the coast deep sea.
So that's a long way out to sea.
maritime, salt water and oceanic, oceanic.
Okay now what's the opposite of marine.
Well it's terrestrial, terrestrial.
So the word terrestrial is used to describe things related to the land such as animals and plants that live on the land as opposed to animals and plants that live in the sea.
So there's terrestrial life and marine life.
However terrestrial also has another meaning, it can be used to describe any thing to do with planet Earth as opposed to any other part of the universe.
So we are terrestrial animals for example.
In Latin the word terra T E R R A means earth.
So anything that starts terre terra is to do with Earth and land.
So here we are, human beings are a terrestrial life form.
Although Mercury is very hot by terrestrial standards, it is cool by comparison to the sun.
So by Earth's standards, it's very hot.
Terrestrial TV channels send their signals over land, rather than by satellite.
So you can have satellite TV you get your signals by satellite.
You can have cable TV, you get your signals by cable or terrestrial, big masts carry signals over land.
So you can have a terrestrial environment, another common collocation is the term extra terrestrial which is a life form from outside of Earth and beyond the Earth.
So if there is life on Mars or elsewhere in the universe it's extra terrestrial.
Synonyms, earthbound, terrene is quite a rare word, not,.. I don't see it very often and global.
your next word is a glacier, glacier.
So a glacier was an extremely large mass of ice which moves very slowly often down a mountain valley.
So here's an example of a glacier you can see the mountains in the background there.
So example scientists report that Alaska's glaciers are melting faster than expected.
During the Ice Age, Northern Europe was covered under an enormous glacier.
The glacier moves down the valley at a speed of one meter a day.
We talk about glacier melts, so a glacier melts but also this word retreats, retreats are similar to melts. It just means it is getting smaller.
So the retreat of mountain glaciers is evidence for global warming for example they get smaller.
Glacier moves, and Antarctic glaciers So you have glaciers in the Antarctic.
So we talk about an Antarctic glacier.
Some synonyms for glacier, ice, and snow not quite the same thing, ice pack is closer.
Of course, reading, reading questions in exam papers may well test your knowledge of the way a glacier by using words like ice pack.
Two more words to go.
And they go together fauna and flora.
Here's fauna, fauna relates to animals.
Here's an example of fauna, and it relates particularly to animals in a particular area or ecosystem.
So the flora and fauna of the African savannah is very diverse.
So here's an example of flora and fauna go in together a very common collocation.
Brackish waters generally support only a small range of faunas.
Brackish water means it's, it's not clean it doesn't move it's stagnant.
They worked hard to protect the fauna of the Appalachian forests.
So here's that collocations flora and fauna, we often talk about the native fauna.
So animals that are native to a particular area, marine fauna the sea animals, diverse fauna.
So some synonyms for fauna, animal life, animal Kingdom, wildlife.
And here's the other word Flora.
Flora released to plant life as opposed to animal life.
So we can say things like a wide variety of Flora exists in the ama.. in the Amazon jungle.
The purpose of the expedition was to study the flora and fauna of the island.
And some collocations as Flora and Fauna were again we often talk about rich flora, there's lots of diverse plant species, diverse flora, native flora.
And some synonyms for Flora, plant life, and plants, vegetation, crops.
And this way which is not commonly used but you might come across it verdure, verdure.
So do with vegetation and plant life.
So there is your, there are your seven geography words, temperate, arid, marine, glacier, terrestrial, fauna and flora.
مشارکت کنندگان در این صفحه
تا کنون فردی در بازسازی این صفحه مشارکت نداشته است.
🖊 شما نیز می‌توانید برای مشارکت در ترجمه‌ی این صفحه یا اصلاح متن انگلیسی، به این لینک مراجعه بفرمایید.