سرفصل های مهم
بخش اول
توضیح مختصر
زمان مطالعه

0 دقیقه

سطح

خیلی سخت
دانلود اپلیکیشن «زبانشناس»
این درس را می‌توانید به بهترین شکل و با امکانات عالی در اپلیکیشن «زبانشناس» بخوانید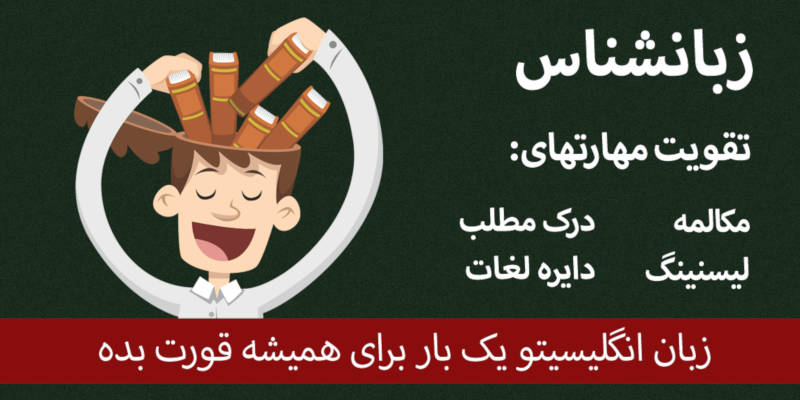 فایل ویدیویی
متن انگلیسی درس
In this lecture we're going to look at some vocabulary for describing changes.
And here are the seven words acclimatize merge, restore, amend, deviate, distort divert.
And your first word is acclimatize acclimatize.
So we use the word acclimatize for when you get use to a new situation and it's often used with climate and weather, but also more widely.
So for example here's a mountaineer and she's going to climb a mountain, but it's high in the mountains the air is very thin.
There isn't much oxygen.
It's very difficult to breathe so she must first get used to the thin air.
And she must therefore spend a few days in the mountains before she climbs.
Getting used to the thin air, getting acclimatized to the thin air.
So she's getting used to the climate in the mountains.
She's acclimatizing to the climate basically climate is in the middle of the word a acclimatize without the E of course.
Acclimatize the Z sometimes spell S the I S E ending is quite common in British English and the I Z E ending is more common in american english, but they're both correct.
For example, allow time for your body to acclimatize to the high altitude.
Take a few days to acclimatize to the new time zone.
And I'm sure that we will acclimatize very quickly to the new economic situation.
So the third sentence is a more general use of acclimatize.
This is a very common collocation, you acclimatise to something.
So here is a verb acclimatizes, acclimatizing, acclimatized and acclimatization is the process, It's a noun.
The process of acclimatizing.
Some synonyms get used, we will get used to, conform, adapt , and adjust adjust.
Here's your next word merge, merge.
If one thing merges with another they come together.
They combine to make one whole thing so here are three roads merge to become one road and it's the same with rivers two rivers merge to become one river.
Also you can have the same with at companies with business.
If two businesses merge they form a new company.
So here is an example of that in fact.
The Bank of America merged with Merrill Lynch.
Modern and traditional architectural elements merge in a clever way.
So here you've got styles and merging.
We often use these two words together merge with, merge in two, merge together.
And as a verb you can have merges, merging merged, and a noun merger, merger.
You can also emerge from something, like putting the E in front.
So if you come out of a crowd and show yourself you emerge from the crowd.
You can also have unmerge.
This is when two things separate.
So there may be two companies unmerge.
Some synonyms, amalgamate, join, blend, (styles blend a lot) combine, unite.
And your next word is restore.
Restore.
If you restore something you make it exist again.
So in England in 16 49 we got rid of the Monarchy so there was no king but 11 years later in 16 16 we decided that we wanted the Monarchy back so we had a king again.
So the Monarchy was restored.
We restored the Monarchy.
The army was brought in to restore order.
The death penalty was restored.
The new government restored confidence in the economy.
And we restore confidence, restore order.
That's a common collocation.
Restore peace, restore democracy.
Note the pronunciation of Restore not not restore but RE, restore.
And as a verb you can have restores, restoring, restored.
In the noun form is restoration.
So you can have the restoration of the Monarchy in England in 1660.
You can bring back, that's a synonym, bring back, reinstate, re-establish, put back, rebuild, recover.
And the next word is amend, amend.
So if you amend something you change it usually in a small way and usually for the better.
We often amend written documents, legal documents, constitutions for example.
The president agreed to amend the Constitution.
Parliament may amend the proposed tax bill.
We reserved the right to amend the terms and conditions.
So we often amend a plan, amend a law, amend the legislation, amend the constitution.
And it's a verb so you can have amends, amending, amended, and the noun form is amendment, amendment.
And some synonyms, altar, enhance, change, modify, correct.
And here's the next word deviate, deviate.
If you deviate from something you start doing something differently or unplanned and especially in a way that causes problems for others.
In the middle of the word deviate is via.
Which is a Latin word which means way, so a few devia it means you go from the way you leave the way so if you deviate you go from the normal way of doing things.
They stopped you as soon as you deviated from the script.
Sub-Saharan Africa has a wage levels that deviate significantly from international norms.
It's not normal.
Galileo's ideas deviated markedly from those of his time.
So you deviate from things, you can deviate significantly, and markedly or slightly.
And it's a verb it's also deviates, deviating, deviated, and the noun is a deviation, deviation.
Some synonyms veer, vary, differ, diverge, depart.
And your next word distort, distort.
If you distort an object you pull it so that it that it's out of shape but you can also distort facts and ideas to, if you distort facts or ideas.
You report these facts and ideas in an untrue way you distort the facts.
So for example, the media distorts reality by showing people as all good or all bad.
They're distorting reality.
There are allegations that the government distorted scientific findings to justify its policies.
So you can distort the truth, distort reality, distort competition, distort something, distort things by doing things by lying sometimes.
And as a verb distorts, distorting, distorted.
And the noun form is distortion, distortion.
Some synonyms for distort, misrepresent, twist, warp, pervert, alter.
And your next word divert, divert.
If you divert something you make it follow a different direction.
So for example, here's a plane it was flying from Vladivostok to Moscow when it developed a fault.
Oh no.
So it needed to land.
So it diverted to Novosibirsk and landed there instead.
So the plane diverted to Novosibirsk.
Here's some more examples.
The project diverted water to the drought -prone areas.
During the strike, we will divert ambulances to private hospitals.
So you can divert something from or divert something to.
You can divert attention, you often divert people's attention, divert resources.
And as a verb diverts, diverting, diverted and the noun form.
Watch what will happen to the t goes away.
Diversion.
Diversion uses an S.
And some synonyms for divert, redirect, switch, pivot, deflect.
So there are your 7 changes words acclimatize, merge, restore, amend, deviate, distort and divert.
مشارکت کنندگان در این صفحه
ویرایشگران این صفحه به ترتیب درصد مشارکت:
🖊 شما نیز می‌توانید برای مشارکت در ترجمه‌ی این صفحه یا اصلاح متن انگلیسی، به این لینک مراجعه بفرمایید.