سرفصل های مهم
بخش دوم
توضیح مختصر
زمان مطالعه

0 دقیقه

سطح

خیلی سخت
دانلود اپلیکیشن «زبانشناس»
این درس را می‌توانید به بهترین شکل و با امکانات عالی در اپلیکیشن «زبانشناس» بخوانید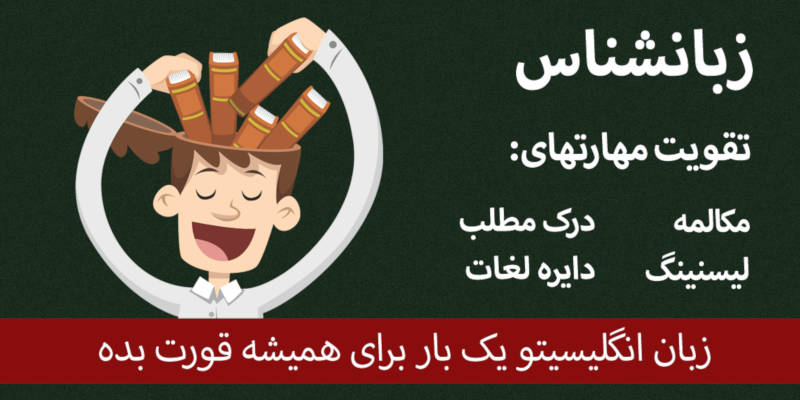 متن انگلیسی درس
In this lecture we're going to look at some vocabulary connected to changes.
And here are the seven words that we're going to look at.
Manipulate, refine, transition, enlarge, deteriorate, diminish and eradicate.
So the first word is manipulate, manipulate.
The general meaning of manipulate suggests control of some kind either of people or objects.
So why do you say that someone is manipulating an event or a situation. You disapprove of what they're doing because the person is trying to change the event for their own benefit.
You can also manipulate an object or a piece of equipment or even a difficult idea.
So it suggests a skill as well.
For example, the media is trying to manipulate the election.
The election results, they're trying to change the election results by saying things.
The robot is manipulated by using a joystick.
So you can control the robot with a joystick.
Some collocations you can manipulate the result, manipulate information, manipulate the situation.
And a common preposition that goes with manipulate is by.
You can manipulate something by doing something.
Here are the different forms for the word manipulate.
And for a noun you can use manipulation, manipulation.
And here are some synonyms for manipulate.
Handle and shape, mould, influence, exploit and control.
The next word.
Refine, refine you refine a process or an idea or a skill.
And if you ever find those things you make small changes that make the process idea or skill better.
So when you refine something you make things better but with small changes.
So for example, medical techniques are constantly being refined.
Potter botanists are refining these classifications.
They're making small changes to the classifications.
And the third sentence you can refine your search by adding filters.
So you are refining a choice.
So for example when you use google search you can add in search by date filters to make your search results better by refining your search.
You can also refined substances like oil sugar and wheat so refined sugar is a white.
Oil is refined by removing some impurities from it.
You can refind a skill or a technique.
And we often talk about refining a method.
Here are some forms for refine.
And for a noun.
Can you guess the noun form for refine?
Here it is refinement, refinement.
And some synonyms.
Improve, polish.
Polish as in to make it better.
Hone the word hone means you're trying to,.. you hone a skill.
You make your skills better.
perfect, make, and improve.
Our next word is transition.
Transition.
A transition is the process where something changes from one state into another so something changes.
And the word transition as the prefix trans trans means between or across.
So a transatlantic flight is one that flies across the Atlantic Ocean.
A transvestite is a man who wears women's clothing.
He kind of crosses the gender gap in clothing.
He's across dresser.
Trans.
Some examples here.
The transition to a democracy was difficult.
Young people need more support in the transition from school life to work.
So when they're making an important change.
In Beethoven's symphony there was a beautiful transition between the second and third movements.
So there's a change between the different movements there.
Typical collocations a transition from something or to something.
We also talk about transition periods.
And you can make a transition.
And some common forms here.
Transitions.
Transitioning.
Transitioned.
The noun is simply transition for all the got the I O N endings so you can use the verb form as a noun.
Occasionally you might see the adjective transitional, transitional.
So people often say the transitional period rather than the transition period.
Some synonyms.
Change, path, changeover, transformation, shift and passage.
And the next word enlarge, enlarge.
So enlarge means to get larger to become larger or bigger.
Enlarge
So we use silicone implants to enlarge the breasts.
The glands in your neck may enlarge especially if you're ill.
And the European Union enlarged to 25 countries in 2004.
That was called E U enlargement.
So you enlarge something and things can be greatly enlarged or slightly enlarged and you can enlarg something by.
So the preposition By goes with enlarge.
Here are the forms in largers, enlarging enlarged and the noun enlargement.
And here are some synonyms for enlarge you can make bigger, expand, extend, grow, and boost.
The opposite of Enlarge is diminish diminish.
So when something diminishes or is diminish it becomes smaller or less important, less significant.
So federalism is designed to diminish the power of central government.
And hospitals are facing problems because of diminishing funding.
The funding is going down it's getting smaller.
This could lead to diminished support for the war.
So the support for the war may go down.
Common collocations with diminish you diminish pain, diminish something in size, in importance and you can rapidly diminish as well.
So diminishe, diminishes, diminishing, diminished.
And the noun form this is, is actually very rare diminution, diminution.
Rarely use, also another noun diminishment which is very rarely use.
Normally we would use a word like reduction instead reduction.
Some synonyms for diminish, lessen, decrease, lower, reduce, shrink and abate.
The next word is deteriorate deteriorate if something deteriorates it becomes worse in some way.
Usually someone's or some somebodies or something's condition, deteriorates.
So for example here's a house.
And it's condition oh no it's in a terrible state of decay its condition is deteriorating.
The walls are falling down.
The roof is damaged.
The windows are falling out.
The condition of the house is deteriorating.
Some more examples.
There are fears that the situation may deteriorate into full scale war.
His health rapidly deteriorated overnight.
The condition of the roads deteriorated because of the floods.
So the condition of something deteriorates somebody condition deteriorates, rapidly deteriorate.
Health deteriorates and you can have a deteriorating situation.
So here are some forms for deteriorate.
And deterioration is the noun.
And some synonyms for deteriorate worsen, decline, degenerate, fall apart, weaken,and degrade.
Our final word is eradicate, eradicate stresses on ERAD if you ever eradicate something you get rid of it completely, you wipe it out it ceases to exist.
So doctors are fighting to eradicate malaria from Africa.
Government policies sought to eradicate child poverty.
And the headteacher wanted to eradicate lateness at school.
So you eradicate from you eradicate by.
We often talk about eradicating disease and poverty as well.
Trying to wipe those things out.
So eradicates eradicating eradicated.
And eradication eradication is the noun.
Some synonyms for eradicate destroy, erase, wipe out, abolish, eliminate and exterminate.
So those are your seven changer's words manipulate, refine, transition enlarge deteriorate, diminish, and eradicate.
مشارکت کنندگان در این صفحه
ویرایشگران این صفحه به ترتیب درصد مشارکت:
🖊 شما نیز می‌توانید برای مشارکت در ترجمه‌ی این صفحه یا اصلاح متن انگلیسی، به این لینک مراجعه بفرمایید.