سرفصل های مهم
بخش اول
توضیح مختصر
زمان مطالعه

0 دقیقه

سطح

خیلی سخت
دانلود اپلیکیشن «زبانشناس»
این درس را می‌توانید به بهترین شکل و با امکانات عالی در اپلیکیشن «زبانشناس» بخوانید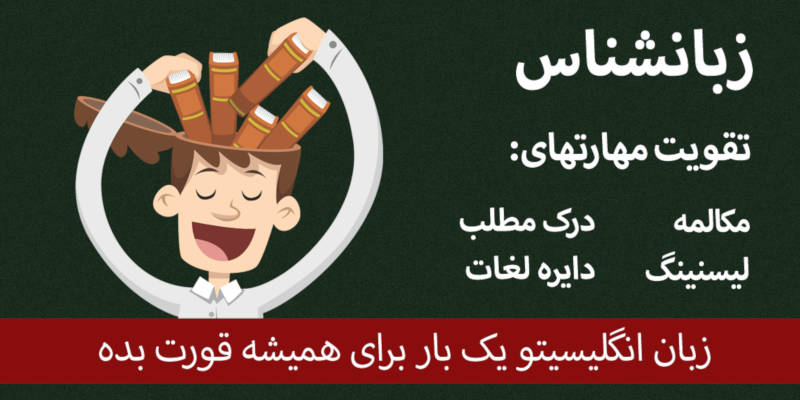 متن انگلیسی درس
This lecture is all about words connected to health.
And here are the seven words, therapy, transplant, immune, vaccine, antibiotic, dose, remedy.
So the first word is therapy, therapy.
The treatment of someone with a physical problem or a mental illness without drugs or surgery is often called therapy.
So this man is in desperate need of therapy but he really needs somebody to talk to perhaps, not drugs.
So therapy is involving improving somebody's health without drugs.
Many people in therapy begin to remember what happened to them in childhood.
Speech problems can often be solved by a speech therapy program.
After breaking her leg, she needed several weeks of therapy to rebuild her muscles.
We often talk about being in therapy or undergo therapy or receive therapy or need therapy.
Therapist is somebody who gives the therapy.
And therapeutic is the adjective so therapeutic treatment treats an illness or a physical problem.
And some synonyms for therapy, treatment, cure, remedy, and counselling, counselling is when you talk to somebody.
Transplant, transplant.
So a transplant is a medical operation.
Surgery basically in which part of a person's body is replaced because it's disease or damaged.
It can be a verb or a noun.
And as with a lot of words which can be both nouns and verbs we stress the first syllable in a noun and the second in a verb.
So the noun is transplant, so a heart transplant.
But with a verb it's transplant.
So the doctor transplants hearts.
And here you can see the prefix trans which means a cross so to transplant is to move something.
Where it's already planted from one place to another place.
And in health it means moving it from one person to another person so heart transplants are very common nowadays.
Hundreds of people are awaiting liver transplant operations.
There was a scandal over the sale of human organs for transplant.
So you can have a heart transplant, an organ transplant, you undergo a transplant and you can receive a transplant.
Of course the plural is transplants, transplanting, for the verb transplanted.
And transplantation.
Is the process.
Some synonyms then replace, move, graft specially used with skin, and transfer.
Your next word is immune, immune.
If you are immune to a disease you can't be affected by it.
You have immunity.
And nowadays we often get immunity from a disease by being given a vaccine.
Some example sentences, the blood test will show whether you are immune to the disease.
Most adults are immune to rubella.
After living in the war zone for a year, he became immune to the sight of death.
So the third sentence just means not affected by the sight of death so it's a more general sense of immune.
Often talk about the immune system, immune response.
You can be immune from a disease and immune to a disease.
And often you use the word immunity, immunity. which is a noun.
So you have immunity to a disease if you are immune to it.
And immunization is the process of giving people immunity through vaccination.
So some synonyms for immune, unaffected is a general sense of the word, resistant that you're resistant to disease, safe from, and exempt is also a fairly general use of the word.
So now let's look at vaccine, vaccine.
So a vaccine is a substance containing a very weak or harmless form of the germ that causes a particular disease.
And if you give the vaccine to people usually by injecting it into the body, it prevents them from getting that disease.
And here was a woman being vaccinated against a disease.
Anti-malarial vaccines are now undergoing trials..
Seven million doses of vaccine are given to British children every year.
Elderly people are often given a vaccine against flu.
So we use give a vaccine, inject a vaccine, a new vaccine, and vaccine against.
So a vaccine against measles, vaccine against a disease.
So vaccine, note the pronunciation of vaccine the two C's in the middle the first C is the K sound, the second C is the S sound vaccine, vaccine.
Now you can have vaccines and vaccination is the process of giving a vaccine.
And to vaccinate is the verb form. you vaccinate somebody.
No synonyms for vaccine rarely as it's quite a specialized word.
So let's move on to antibiotic, antibiotic.
An antibiotic is a drug a medical drug used to kill bacteria that causes diseases and infections.
So here are some antibiotics in the picture.
Usually in the form of pills or liquid.
And you, you'll see here bio in the centre. Anti bio.
So it kind of means anti life in the sense of life as a back to here, back to is a form of life.
So an antibiotic is something that acts against living bacteria that causes a disease.
For example, approximately 60 percent of antibiotics are used to treat respiratory infection.
A 10 day course of all antibiotics is the usual treatment for tonsilitis.
Antibiotic resistance is a growing problem that threatens the entire globe.
And some common collocations prescribe an antibiotic, administer antibiotic, kind of a powerful antibiotic, and a course of antibiotics.
So there's a plural antibiotics.
And some synonyms drug, medicine.
And here's the next one dose, dose.
So a dose of medicine or a dose of a drug is a measured amount of the drug which should be taken at one time.
So here in the picture each cup contains one dose of a mixture of drugs.
So I think the patient here has got a lot of diseases to get rid of.
The recommended dose for patients is three hundred milligrams.
You can have a dose of something, a recommended dose, a high dose, a low dose.
And you can have doses of something and dosage.
And some synonyms for dose, shot, measure, measurement, quantity, and amount.
And the next word remedy, remedy.
The remedy is a successful way of dealing with a problem.
Including a disease.
So here we have a herbal remedy.
So for example, natural herbal remedies often help overcome winter infections.
There are many over-the-counter remedies for the common cold.
The remedy of our economic ills lies in the hands of the government.
So you can have a remedy for something, a remedy for pain for example, a natural remedy, a cough remedy.
And you can have a remedy of something as well.
So remedy the plural of remedy is remedies, of course.
And some synonyms for remedy, medicine, drug, antidote, panacea, a panacea cures everything.
It's a wonderful thing, and a fix, nd relief for example pain relief.
So there are your seven words therapy, transplant, immune, vaccine, antibiotic, dose and remedy.
مشارکت کنندگان در این صفحه
تا کنون فردی در بازسازی این صفحه مشارکت نداشته است.
🖊 شما نیز می‌توانید برای مشارکت در ترجمه‌ی این صفحه یا اصلاح متن انگلیسی، به این لینک مراجعه بفرمایید.