سرفصل های مهم
سی و نهم - دایره لغات
توضیح مختصر
زمان مطالعه

0 دقیقه

سطح

خیلی سخت
دانلود اپلیکیشن «زبانشناس»
این درس را می‌توانید به بهترین شکل و با امکانات عالی در اپلیکیشن «زبانشناس» بخوانید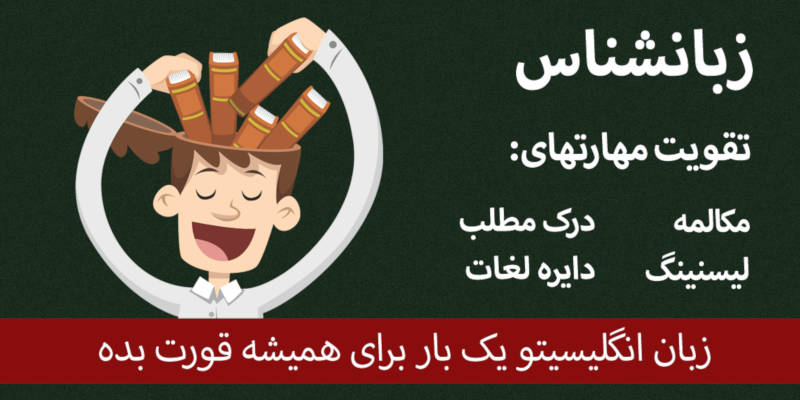 متن انگلیسی درس
Hi there, guys! Welcome to the next lesson. Here we have the vocabulary part for lesson 39 of 504 Absolutely Essential Words. Are you ready? Let's go!
The first word we have here is "unearth". Unearth means to dig up; discover; find out. It's a verb, right? A) The digging of the scientists unearthed a buried city. B) A plot to defraud* the investors was unearthed by the FBI. C) The museum exhibited* the vase that had been unearthed in Greece. So, again, unearth means to dig up, to find out.
Now, the second one is "depart". Depart means to go away; leave; turn away (from); change; die. Again, we have a verb here. A) We arrived in the village in the morning and departed that night. B) Stan was vague* about departing from his usual manner of choosing a partner. C) Vera was reluctant* to mention that her uncle had long since departed.
The next word is "coincide". Coincide means to occupy the same place in space; occupy the same time; correspond exactly; agree. One more time, we have a verb. Let's take a look at the examples. A) If these triangles were placed one on top of the other, they would coincide. B) Because Pete's and Jim's working hours coincide, and they live in the same vicinity, they depart from their homes at the same time. C) My verdict* on the film coincides with Adele's.
The fourth word is "cancel". Yeah, I know you're familiar with this one, too. Cancel means to cross out; mark so that it cannot be used; wipe out; call off. It's a verb, again. A) The stamp was only partially* canceled. B) Because the first shipment contained defective* parts, Mr Zweben canceled the rest of the order. C) Having found just the right man for the job, Captain Mellides canceled all further interviews.
The fifth one is "debtor". Debtor means person, country, or organization who owes something to another. It's a noun. A) If I borrow a dollar from you, I am your debtor. B) As a debtor who had received many favors from the banker, Mr Mertz was reluctant* to testify against him. C) A gloomy* debtor's prison was once the fate of those who could not repay their loans.
Our next word is "legible". Legible means able to be read; easy to read; plain and clear. It's an adjective, obviously. Let's see some examples. A) Julia's handwriting is beautiful and legible. B) Nancy hesitated* in her reading because the words were scarcely* legible. C) Our teacher penalizes* us for compositions that are not legible.
The seventh word for this lesson, "placard". Again, you know this one. Placard means a notice to be posted in a public place; poster. It's a noun. A) Colorful placards announced an urgent* meeting. B) Placards were placed throughout the neighborhood by rival* groups. C) Numerous* placards appeared around the city calling for volunteers*.
Now, the next one is "contagious". Contagious means spreading by contact, easily spreading from one to another. Like coronavirus which is highly contagious. It's an adjective, right? A) Scarlet fever is contagious. B) I find that yawning is often contagious. C) Interest in the project was contagious, and soon all opposition to it collapsed*.
The ninth word is "clergy". Clergy are those people prepared for religious work; clergymen as a group, right? It's a noun. A) We try never to hinder* the clergy as they perform their sacred* tasks. B) Friar Tuck was a member of the clergy who loved a jolly* jest. C) The majority of the clergy felt the new morality* was a menace* to society.
The next word we have here is "customary". Customary simply means usual. It's an adjective. A) It was customary for wealthy Romans to recline* while they were dining. B) The Robin Williams movie received the customary rave* reviews from the critics. C) The traitor* rejected* the customary blindfold for the execution.
Our next word is "transparent". Transparent means easily seen through; clear. Again, we have an adjective. A) Window glass is transparent. B) Colonel Thomas is a man of transparent honesty and loyalty. C) The homicide was a transparent case of jealousy* that got out of hand.
And the last word for this lesson, "scald". Scald means to pour boiling liquid over; burn with hot liquid or steam; heat almost to the boiling point. We're using it as a verb here, but it's also a noun. Let's see the examples. A) Do not neglect* to scald the dishes before drying them. B) The scalding lava pouring from the mountain placed everyone in peril. C) By being hasty*, Stella scalded her hand.
Alright, the vocabulary part is finished now. Let's go to the next part, Words in Use 1.
مشارکت کنندگان در این صفحه
تا کنون فردی در بازسازی این صفحه مشارکت نداشته است.
🖊 شما نیز می‌توانید برای مشارکت در ترجمه‌ی این صفحه یا اصلاح متن انگلیسی، به این لینک مراجعه بفرمایید.