سرفصل های مهم
درسنامه اصلی
توضیح مختصر
بحث و گفتگو در رابطه با راه‌های بهتر یادگیری زبان انگلیسی، و ایده های جالب و جذاب برای زندگی بهتر
زمان مطالعه

36 دقیقه

سطح

متوسط
دانلود اپلیکیشن «زبانشناس»
این درس را می‌توانید به بهترین شکل و با امکانات عالی در اپلیکیشن «زبانشناس» بخوانید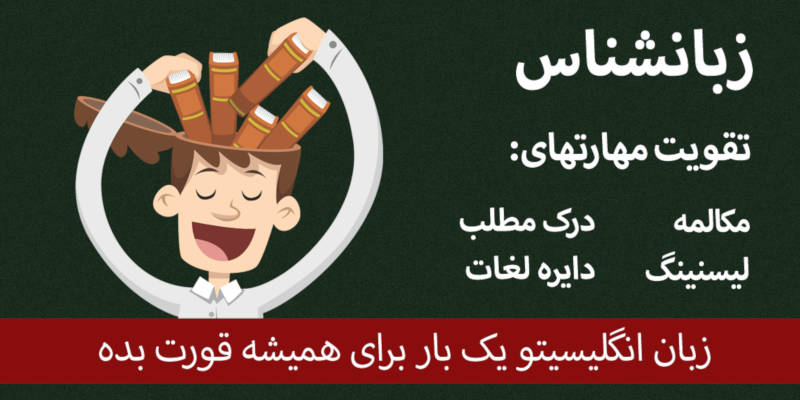 فایل ویدیویی
متن انگلیسی درس
Main Lesson
Hello and welcome to this month's coaching lesson. Let's get started. First I recommend that you go out and watch that documentary. And then think about that documentary, that movie, think about it from the point of view of the musician, Rodriguez. So you can imagine, y'know, what his life was like.
He started several decades ago as a musician, a passionate musician. I'm sure he had dreams of making it big.
And he made several albums but in his home country, the United States, he just never really achieved great success. And so at some point in his life I imagine that he just assumed, well, it's not going to happen for me. And so, y'know, he went back and got, y'know, a regular job. Continued loving music but just really didn't have the idea that he was ever going to become a big, famous, popular musician.
Now during all those years when he's thinking that he never made it, at this exact time that he's back in the United States thinking, oh, I never made it as a musician, in South Africa he's becoming the biggest musician ever, the most popular musician ever in South Africa, y'know, the Elvis or the Beatles of South Africa. It's just…it's kind of fascinating to think about that.
Of course, he had no idea at the time that that was going on, but it was. And so when I think about this story, one of the first things that pops to my mind is a saying we have in English, "It's always darkest before the dawn." That means that just before the sun comes up that it's very dark, the most dark at night just before the sun comes up. Now, of course, that's a metaphor, meaning that life always seems the most difficult, perhaps the most painful, just before it gets much better.
So you can imagine this guy, Rodriguez, right? He's, ugh, perhaps he's having all these doubts about his musical career, probably, basically, given up. And then some guy makes a movie about him and finds him and tells him, "You're hugely popular in South Africa." And his whole life changes again for the better.
The first thing that comes to my mind is that even though we don't know it, we might just be one little step away from huge success, a huge positive change in our life. And yet it's possible to lose hope. It's possible to lose hope and to think I'll never make it, whatever "it" is, whatever that dream is. It might be, y'know, finding a good husband or wife. It might financial freedom and success. It might be getting healthy and strong. It could be anything.
But it's possible for all of us, whenever we have these big goals, these big dreams, that at some point you kind of lose hope. I'm never going to make it, even something as simple as speaking English like a native speaker. And I can relate to this. I think back of 7-1/2 years ago to when I first moved to San Francisco. I moved to San Francisco from Thailand.And when I came to San Francisco I had very little money. I had $700.00, US dollars. Which, for San Francisco, is not much, it's a very expensive city. So I arrive in San Francisco with no job, nowhere to live, nothing. But I did have a friend here. So I would sleep on my friend's floor while I tried to find a job. And this went on for a couple of weeks with no luck and my money started going down, down, down. I was buying food, etc.
And then my friend told me that I had to leave, that he was going to move somewhere else and I had nowhere to stay. And I had this incredible feeling of panic. Just at the last minute, just before I thought I would become homeless, I found a part-time English teaching job downtown. And somehow, through a miracle, I started the job and one of the students told me about a very cheap apartment near the school and I was able to get a cheap apartment in San Francisco, which is extremely difficult to do.
So I moved into this cheap little apartment and I had just a part-time job, was barely making any money at all. Now, this apartment was not great. It didn't have a bathroom so I had to walk outside my apartment down a long hallway to go to the bathroom or take a shower, a big shared bathroom situation. Also, just underneath my window, the window of the apartment, there was a bus stop.
And there were a lot of bars in the neighborhood so most nights loud, drunk people would go to the bus stop and yell and make lots of noise and sometimes get into fights, so I found it very difficult to sleep. I found it to be a very stressful situation. Also, just a couple blocks away there was a fire station and very frequently the fire trucks would leave or the rescue trucks would leave with their sirens…very, very, very loud. And I found that extremely stressful, too.
At this same time, I got married. And my wife came and this was a very tough challenge as well because we hadn't lived together before. She's from another country so we had communication problems. And we're living in this tiny, little, cheap place. It was very loud and stressful. All of this was going on at the same time. And it seemed like a very dark, difficult time in my life.
I was poor, barely, barely, barely paying bills. I was stressed out by the place we were living. It was very, very tough. And at that time I couldn't see past much of that. So I just thought, oh, my god, I made a huge mistake moving to San Francisco. This was a huge mistake. And I just dreamed of leaving San Francisco and going back to Thailand where I had been living before. So very dark, difficult time.
What's interesting when I look at it now, of course, with the benefit of hindsight, meaning I can look back now because it's many years later. And at that moment, when I felt helpless and stressed and all of that, that I was only 7 months away from the greatest financial success of my life, being completely financially independent.Something I had dreamed about for decades, since I was a kid, meaning like 16 or 17 years old, I dreamed about being financially free, not having to work for other people. Be my own boss. Have plenty of money and time to travel and do all I wanted. But it seemed like I would never get there because from the age of 17 until the age of 37, it didn't happen.
And there in this tiny apartment, working at this part-time job, not getting paid much money, it seemed farther away than ever before. It seemed like it would never happen. And yet, at that moment, now I realize, now I can look at it and I know, that at that moment when things felt so difficult and tough and hopeless, I was only 7 months away because 7 months later I started my first company and it quickly become successful. And I quit that part-time job and had financial freedom then for the rest of my life.
It came so quickly, after 20 years of struggle, and suddenly there it was. It's an important lesson I try to remember all the time now, because there I was, really, one step away from that great success. And I didn't know it at that time. I couldn't see it at that time. I can see it now. I realize it. But just imagine if, at that moment in time, that dark, difficult time, what if I had just quit? What if I had just given up and said this is…it'll never get better than this so I'm not even going to try anymore. I'm hopeless.
I was only 7 months, less than a year away. It would have been easy to give up at that time because I didn't know it was going to happen. Thank god I didn't do that and I managed to motivate myself still and kept moving forward. And then, as I said, 7 months later I was free, having the most success ever in my life.
We see this again and again in life that, especially when we're working towards something very difficult, there comes a point where we just want to give up where it feels like I'm never going to make it. And yet, that's the point where possibly you are just one or two steps away from that great, huge success.
And if you quit then, what a tragedy. And I think so many people do quit then. It's like there's a final test and you've got to pass it and if you don't pass that final one, if you just give up and don't have that faith, then you never do make it.
It's very, very easy to become hopeless in those kinds of situations. I know, I've been there in many different parts of my life. This is just one example. But what the movie says to me, what my own experience says to me, is that you've got to keep going. That you've got to keep moving forward even when things are hopeless or seem hopeless, in fact, we may be so close to that success. That's true for your English speaking. It's true for your business or finances. It's true for relationships. It's true for all parts of life.
Now think back to Rodriguez again, the musician. Remember, y'know, just before that movie was made, he had no audience that he knew of. He had probably no hope of ever having any kind of music careeragain. And then the movie gets made. This guy connects him to his fans in South Africa. And suddenly he's got this incredible music career again. Just like that.
Now just imagine if he had totally given up on music and decided, ah, I'm not going to do music again and just forgotten how to play the guitar and forgotten how to sing and just decided he would never do it. Luckily he did not do that.
And you shouldn't either. So whatever it is in your life, yes, you're going to have those moments.
You're going to be tested where you're going to feel hopeless, where it's going to feel like it's never going to happen. Like I said, I dreamed for 20 years of becoming financially independent before it finally happened. So it can take a while sometimes. But you can't stop. You can't give up because that success could be right there. You might have just a couple more steps to go.
So your actions for this month, first of all, identify these big goals or dreams you have in your life and realize any areas where you may be losing hope or maybe have already lost hope. Or maybe you even quit already. And decide to take another step, just one. Whatever it is. If you quit, then start back again and just take one little step forward.
There's a guy named Keith Cunningham, he has a great analogy about this. Keith Cunningham is a business consultant and he has this great little phrase. He says, "Get in line, stay in line." This is his secret to success, business success. This guy's a multi-millionaire. Get in line, stay in line. He says this is the secret to success.
What does he mean by that? He says imagine there's a line. Imagine that you actually have to wait in a line to get to success, to achieve success. So your success is out there in the future and then there's a line of people. There's, just like waiting in a queue, the British call it a queue, we say a line in American English. So there's this big line of people. So you go, oh, my god, look at this long line.
And then there are also lots of other lines next to you. So there's another table with a long line, another table with a long line, another one with a long line. So you walk up and you stand in your line. And you wait and you wait and it moves forward. But your line is moving forward quite slowly. You start thinking, ah, you're getting impatient. I'm never going to get to the front of this line. When am I finally going to get to the front.
And then you look over and you notice, oh another line is moving a little bit faster. So you're about halfway down your line but you notice the one next to you is moving faster so what do a lot of people do? Oh, I'm going to jump out. And then you run over to the next line and you get in that line. But the problem is you've got to start at the back of that line.So now, boom, you're at the back of this line and it's starting…it moves a little faster but it still seems to take forever and it slows down. And then you get to around the middle of that line and then you look over and you see another line that might be moving faster. So you jump to the other line. And by just constantly jumping to the ends of other lines you never do make it to the front.
And so what Keith Cunningham says is you pick one line, even if it's moving slowly, you just stay in it.
And you keep working towards that goal until you get to the front. And he says that is the big secret of success. It's not very complicated but, in his opinion, that's the big secret of success. And he has a point because in many things in life, especially big goals that take a while, that have a lot of steps, usually the thing that causes failure is simply quitting, that we get impatient and we lose hope and we quit.
The difference between a line and real life is that in a line you can actually look and you can see how far you need to go. You can see the end. You know about how long it's going to take. But in real life it's like your blindfolded. It's like you don't know how long the line is. You have no idea. You're not sure if you're in a fast line or a slow line. You're not sure if you're in a long one or a short one. So you just kind of have to have faith and keep going instead of jumping around.
So that's what I want you to do this month is to choose that one thing, that one big dream or goal, whatever it is that you've wanted for a long time, that maybe you've lost hope that you'll ever achieve, and then just keep moving or take one step towards that again, one more step towards that goal. And commit yourself, commit to staying in line. Decide I don't care if it takes 5 years or 10 years or 20 years or more, I'm going to stay in this line. I'm going to keep taking steps towards this goal until I achieve it.
That's essentially what I did with financial freedom. It took me 20 years to figure it out. And I think a lot of people could probably figure it out a lot faster than that, but that was me. The point is, I didn't stop, I just kept moving forward and learning and it felt like I wasn't moving sometimes but I just kept doing it anyway. That's what I want you to do.
So pick your number one dream or goal, especially the one you may have lost hope for that you'll ever achieve and take one more step towards it this month.
Alright, tell us about this on our social site. I want to hear about your big dream, your big goal. And I want to hear about your one step towards it. Okay? See you next time. Have a great day. Bye for now.
مشارکت کنندگان در این صفحه
🖊 شما نیز می‌توانید برای مشارکت در ترجمه‌ی این صفحه یا اصلاح متن انگلیسی، به این لینک مراجعه بفرمایید.