سرفصل های مهم
درسنامه اصلی
توضیح مختصر
بحث و گفتگو در رابطه با راه‌های بهتر یادگیری زبان انگلیسی، و ایده های جالب و جذاب برای زندگی بهتر
زمان مطالعه

32 دقیقه

سطح

متوسط
دانلود اپلیکیشن «زبانشناس»
این درس را می‌توانید به بهترین شکل و با امکانات عالی در اپلیکیشن «زبانشناس» بخوانید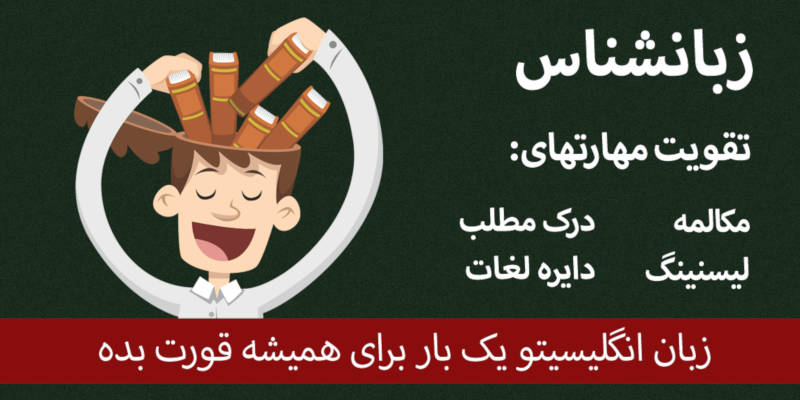 فایل ویدیویی
متن انگلیسی درس
Crucible Experiences – Audio
Hi this is AJ, welcome to this month's VIP lesson. Our topic is crucible experiences. We'll talk about what a crucible is in a minute. First I have a question…
How do you make a big, huge change suddenly, very quickly? There are two kinds of change or growth that I usually talk about and usually I emphasize gradual change, what the Japanese call Kaizen. Kaizen is a method, a system, a technique, a mindset of gradual, small, tiny improvements over time. And, it's really the best way to go about making changes and improvements in general. It's the easiest and most effective. So Kaizen, or constant and never ending improvement, focus on tiny little steps, gradual steps, incremental.
Now, another kind of change, the kind that we all want, the kind that I hear from you all the time is, I want to make a big change really fast. I want my English ability to jump up suddenly and that's called transformation. A transformation is a sudden huge change. It's a big jump up and when I talk to people, usually they say that's what they want, nobody wants to wait and build step-by-step, little-by-little, everyone wants this extreme sudden big change, big improvement.
I've talked about reasons in the past why that's not necessarily the best thing to do, but I give up. You've worn me down, okay this month I'll tell you some methods, techniques, some ways to make a big transformation, a sudden big improvement.
Here we go, transformation requires…
Extreme emotional intensity
The reason this month I'm calling the lesson crucible experiences is that a crucible is like a little bowl, like a little container and then in science, where they mix elements together and usually apply heat, fire and to get a strong reaction going, to create that chemical change. So the idea is that it's a condensed, small, intense, hot environment and this is the idea that you're going to use as well to make a big change. Big changes don't happen in a relaxed kind of way. You need extreme emotional intensity, number one. We make the biggest changes psychologically, under extreme emotional stress.
Now, this could be an ecstatic experience, incredible ecstasy and happiness, something so intensely pleasurable and happy that it rewires your brain and changes the way you think, changes your beliefs, changes your mindset, changes what you see, your awareness. Huge changes psychologically can happen with extreme emotion.
More commonly however, in my experience, is that this emotional intensity comes from painful emotions, from struggle, from suffering, from extreme difficulty and that's our second point.
To have a transformation usually requires…
An extreme challenge
Not a small challenge, not an easy challenge, an extreme challenge, a challenge that pushes you to your limit and beyond.
Element three to create a sudden big change…
Compressed time
This is obvious from the definition of what you're wanting, you want a short, sudden, fast change so then you need to compress the learning, compress the challenge, and compress the intensity of the emotion into a smaller timeframe. This usually means less than three months. It might mean just a few days and in some extreme cases it could just be a few hours that could change your life completely.
Finally, the fourth element for creating intense change, sudden change, a transformation is… 4. It's all consuming, the experience needs to be all consuming
It means you can't get away from it, it's all day long, this intensity. It's all day every day. The reason this is important is that this kind of breaks down your mental resistance to the change.
Let's go into each one of these elements a little more carefully and with a little more detail and examine what we're talking about exactly.
First of all, emotion, it's first because I think it's the most important. Intense emotion rewires your brain. As I mentioned before it can be positive or it can be negative emotions and many times it's the negative ones that really get our attention and cause the biggest changes.
Here's a small example from my past as a social worker. I used to work at a drug and alcohol rehab center. It's a common knowledge, common understanding that with people who are addicted to alcohol or drugs that they need to reach bottom, hit bottom in order to make a change, in order to break their addiction. To hit bottom means to experience extreme suffering.
That's what they're talking about so that, if someone is an alcoholic, if they're going along drinking every day and having some negative consequences, they're feeling a little bit bad.
They're having some problems but they're not extreme, typically, if the person is really addicted they won't change they'll keep on going like that, slowly declining.
It's not until they hit a certain point, often where they lose almost everything. They lose their families. They lose their jobs. They lose their health. It's a huge intense disaster, an extremely negative experience emotionally where they're in massive pain, that's when they make the transformation, the sudden change, it seems sudden. It usually takes a while to get to that point but from the outside it looks sudden and suddenly they decide enough, I'm quitting.
Enough of this and boom, a big change.
So the point is that, the kind of extreme change you want, often is not pleasant. It can be very painful and this is true for something like breaking an alcohol addiction. It can also be true for making a sudden improvement with your English, anything like that requires extreme emotional intensity. If you're not emotional about it, if you're not experiencing some extreme emotion, and often that's pain, then you're less likely, highly unlikely in fact, to make a large change in a short period of time.
Onto our next element. Let's talk about this in more detail… challenge, extreme challenge is necessary.
Because extreme challenge requires you to change your beliefs about what is possible for you.
We all have these mental beliefs, these limiting beliefs about what we can do and what we can't do, and we operate our lives based on those beliefs. If we think it's possible to make a big change in our English ability in a short time, then you're fairly likely to be able to do that, but if you have this idea in your mind, no I can't do that that's impossible, there's no way. Then you're probably going to act on that belief and indeed, you will not do it.
So you need an extreme challenge to break down those limiting beliefs, because in normal life as we go along comfortably we don't typically push ourselves. We don't challenge those beliefs that we have in our head about what we can do. We tend to just go along doing what we think is possible, being comfortable. Nothing wrong with that, but if you really want a big improvement you're going to have to get very uncomfortable. That means an extreme challenge of some sort.
With English that might be, for example, going off to some small town in the United States where people only speak English, no one speaks your language at all and then putting yourself into situations where you absolutely must use English to survive. That would be a big challenge. It would also probably be emotionally intense. In the beginning you'd feel overwhelmed. You might feel afraid. You might feel extremely frustrated. But that experience would likely lead to a much faster, bigger improvement with your English, in a short time.
Another element of a transformation experience is that it's all consuming, as I mentioned before. So what am I talking about? The point of all consuming is that when something is all consuming it gives your brain no escape and no rest. There's no way for your brain to get away from the change. For example, again with someone who's struggling with alcohol, if you put them into an intense recovery program, where 24 hours a day they're around counselors, they're around other people who are trying to break their addiction, there's no way they can get away from that. That can be effective if they're ready, if they've already reached that emotional intensity, it can be very helpful.
But, if you only did it one hour a day, if they just came and chatted with someone for an hour and then went home, it would be less likely to be effective, certainly to make a big huge change. That's why there are these alcohol and drug addiction programs where in the beginning it's very intense and the people actually live there. They're there in that environment 24 hours a day, all the time, they can't escape it there's no escape from it. It's the same for you. With English for example, the extreme example I gave of going off to some small town in the United States, there'd be no escape unless you hid inside your house. Which means, in that situation you would probably want to do a home-stay where you were staying with an American family so that you had no escape from English. Everywhere you went you would be forced to speak English all the time, every minute, except when you were sleeping.
That would be all consuming, because there'd be no escape, no one around you would speak your language. If you really wanted to be serious about it you wouldn't even have an Internet connection, so you would have no connection back to your home or to your own language.
So to create a transformational experience, a sudden big change, you need to combine all of these elements. As you're probably guessing, this is not necessarily fun. In fact, usually not fun at all. It will be very, very uncomfortable. If it's not uncomfortable then it's probably not working. You're probably not going to make a big change if it's comfortable. This is why I usually say that a slow gradual approach is best, because most people can't handle being extremely uncomfortable all the time over long periods of time.
It can also be, as you might guess, extremely stressful. The more you go up with intensity, you go from discomfort and finally to stress and then even to overwhelming, where your brain is fried, it's totally rewired and sometimes you might even break down and get to an extremely emotional point where you're crying and miserable and yet sometimes that's exactly what you need to make the big jump. That stress can be useful but it's not enjoyable. So you need to think seriously about this. People all the time say AJ, how can I make this big change? How can I make a sudden change in my English and I don't think they realize what's really required to do it.
This can be useful to do periodically. So obviously, putting yourself under that kind of extreme emotional distress and intensity and discomfort isn't something you can do month after month after month. You can't sustain it long-term, because you'll burn out. But you can do it every now and then, maybe once a year or once every few years, you can put yourself into some extremely tense situation in order to make a big improvement in whatever part of life you want to make that big improvement in.
Let me end with a short example from my own life. My very first trip abroad, outside the United States, was to India. I was a young guy, never been anywhere else in the world and for some reason I wanted a crucible experience myself. I didn't want to just go travel somewhere that was similar to the United States, I wanted to go someplace totally different, so I went off to Mumbai, India, which at that time was called Bombay. I had an extremely intense experience.
In the first few days I was pickpocketed by a gang of little kids. I was constantly hassled by people, because I stood out.
I don't look Indian at all obviously, so they immediately could see oh, there's a tourist, a foreigner. So constantly shop owners and conmen were constantly coming up to me trying to get money from me, bugging me, grabbing me by the arm and pulling me. I was super stressed out by all of this. What's worse, shortly thereafter I got sick. I got some kind of stomach virus. I was vomiting. I was weak. I ended up in the hospital. It was an extremely stressful, overwhelming experience and yet, it led to a huge change in my life. As a result of handling all those things and surviving them, I made a big jump in my confidence level.
I came back from that trip much more confident. I realized that despite all these terrible challenges and difficulties, I could handle myself. I could handle myself alone in a strange place with all this kind of stress. So my confidence ability jumped up suddenly and in a big way and ever since then I've been a lifelong adventure traveler. Now I've traveled all over the world. I've lived in many different countries and I trace it back to that one experience that totally shifted my life. It gave me the confidence to go and live the life I'm living now.
You can do this too. We'll talk in the commentaries more about how you can do this in your own life and about choosing the area of your life you want to try to have a crucible experience.
We'll talk about it in the commentaries. I'll see you there.
Have a great day. Bye-bye.
مشارکت کنندگان در این صفحه
🖊 شما نیز می‌توانید برای مشارکت در ترجمه‌ی این صفحه یا اصلاح متن انگلیسی، به این لینک مراجعه بفرمایید.