سرفصل های مهم
درسنامه اصلی
توضیح مختصر
بحث و گفتگو در رابطه با راه‌های بهتر یادگیری زبان انگلیسی، و ایده های جالب و جذاب برای زندگی بهتر
زمان مطالعه

42 دقیقه

سطح

ساده
دانلود اپلیکیشن «زبانشناس»
این درس را می‌توانید به بهترین شکل و با امکانات عالی در اپلیکیشن «زبانشناس» بخوانید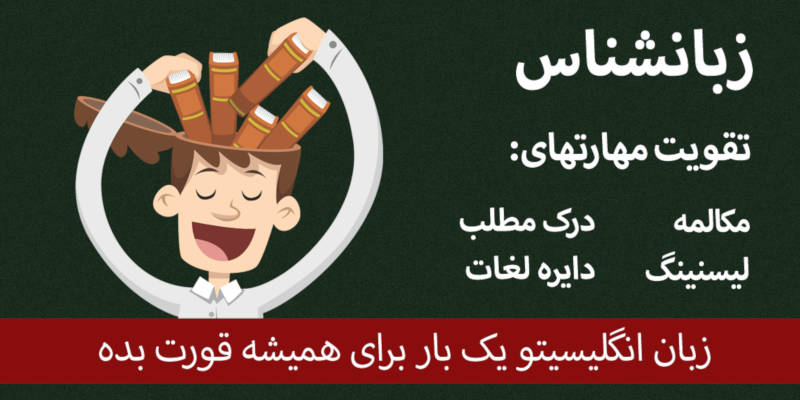 فایل ویدیویی
متن انگلیسی درس
Criticism – Main lesson
I am AJ Hoge, welcome to our next lesson. In this lesson we will discuss perhaps your biggest enemy, one of the biggest enemies of success. This enemy prevents so much success in life. Many people have been defeated by this enemy. People who could have had great success in life but instead were defeated and lived frustrated, unhappy lives. You don't want to be one of those people and so you must deal with this enemy, this obstacle. You must overcome this obstacle. You must defeat this enemy. In fact, all successful people in life, in any area of life, they have all faced this enemy.
In fact, most of them continue to face this enemy. You must also. What is this enemy we're talking about? It's criticism. Specifically, the fear of criticism. We have a slang word for people who criticize a lot, people who are very negative. We call them haters. A hater is someone who is always criticizing, always saying bad stuff about other people. You'll find haters everywhere but especially online. In fact, if you go online and you find any video, any article where they have comments, usually in those comments you'll find haters who are writing terrible things, insulting things or saying they don't like it.
In life in general, wherever you see a successful person, you will find critics. You will find people criticizing them, saying they are not good enough, gossiping behind their backs, saying bad things. Even within our own families we can sometimes see this, where we have some kind of success in life, maybe we're making more money, maybe we're getting really strong and healthy and feeling great, and yet somebody in our family or maybe somebody among our coworkers will start saying bad things about us, usually not directly to us but to other people.
Sometimes they will say it directly, which is even harder to deal with. Critics, haters, how do you deal with them? See some people are so worried about criticism. Some people are so worried about haters that they actually don't even try. They kind of stay quiet. They try to avoid criticism because they are afraid of it but by doing so, they fail to take chances. They fail to go for their dreams, to achieve their dreams and it's a tragedy. It's a tragedy. It's true, criticism and haters are a part of life.
It's also true that as you become more and more and more and more successful, it's more likely that you will attract haters, you will attract criticism. It's true. The people who get the most criticism are the ones at the top. They are the most visible. They stand out the most. The more you stand out, the more some people, haters, will criticize you. That's true. Why do they do it? Why do these people do it? Maybe first we should understand the motivation. What's happening inside the head of these haters, these critics?
Well, I'd say the first motivation for most critics, most haters is envy. Envy, which is basically jealousy. You see, the critics are usually either lazy or frustrated or they have a victim mentality but in general, they are not as successful as they want to be and they are frustrated by this. They're unhappy about this, so when they see someone who is successful, who is more successful than they are, well, they get this feeling of envy, of jealousy and that's when they start to criticize. They try to bring that person down, at least in their own mind and that makes them feel bigger, stronger, less frustrated, less like a failure.
Envy, very common, very powerful among critics and haters. Another reason people are critics or haters is they want to feel superior but without risk, without actually doing work. You can feel very superior or proud by doing great work that everyone sees, but that's a risk because if you do work publicly like if you want to be a writer and you actually write a book and publish it, well it's a risk because maybe people won't like it, so it's a little scary. Critics, what they do, they don't take that risk.
They are too afraid that others will criticize them. Instead, they find other people who do take the chance, who do try to succeed and then they just criticize them and they try to make themselves feel better. They say, "Oh yeah, I'm better than them. I'm smarter than them." Finally, a third reason that people criticize is the fear of something new or the fear of something different or someone new or different. Some people are afraid of differences.
If you act differently, if you look differently, if you speak differently, if you communicate differently, if you try different ideas that they are not used to, they'll criticize you automatically just because they are not comfortable with things that are different or with people that are different. Let me tell you a story from my own life that involves a lot of criticism. Before I started Effortless English, I was a graduate student. I'd already been teaching English for a while but then I started a blog.
I started a blog, a website just to discuss my ideas about teaching, to discuss some of my new ideas about teaching, some of the new techniques I was trying at that time. This was the very beginning of Effortless English but before it was a business, before I had the full system. When I started that website, that blog, my idea in my mind, I was writing for other teachers. I thought my audience was other English teachers, or were other English teachers. That's who I thought were the people I was writing to, but here's what happened.
As I started writing more and more, in the comments I started to notice that lots of students were reading my website, lots of students were reading my blog and they loved it. They loved my new ideas. They loved the new techniques I was trying. They loved my different philosophy about teaching English. On the other hand, most English teachers hated me, hated my ideas and I got lots and lots and lots of criticism, negative comments, even personal insults from other English teachers. They hated that I was being different. They hated that I was getting a lot of great attention from students, from learners. They were jealous. Some of them were jealous.
Some of them wanted to feel superior like they were better English teachers than I was and some of them just feared and hated my different ideas because they were new and different. Here's the point. What if I had stopped? What if I had become really upset by all of the criticism from the teachers and just said, "Oh I'm not doing this. I'm stopping." If I had let the fear of criticism affect me, I would have never started Effortless English. I would have never helped millions and millions of people around the world speak better English, get better jobs, feel more confident.
I would have never heard all the great success stories and gratitude from so many of my students and members around the world. Never would have gotten those great feelings and heard those great stories. I would never would have made those wonderful connections with all of my members around the world. I never would have become fairly wealthy. I would be much less happy. My life would be much, much worse right now if I had listened to the critics. If I had been worried or afraid or sad because of the criticism.
Luckily, I didn't let the criticism bother me and went on to do very well and I'm very happy I made that decision. You must do the same. In any part of life, if you want to stand out, you want to be different, and you do, you must stand out and be different in a positive way. To succeed at a high level, you must do it but when you do it, you're going to get criticism. Even before you do it you might get criticism. How do you deal with it? How do you deal with the haters?
How do you deal with the doubters? People say, "You're crazy. That's foolish. That's stupid." How do you deal with it all? I know it's not easy but I'm going to teach you now some steps to deal with them so that you will get the success you want.
Step one, you must expect and accept the critics. Expect it. Meaning, it's human nature. It's human nature that some people will feel envious. They will feel the emotion of envy towards successful people, towards people who try to be different. They will feel envy. They will feel jealousy. It's human nature. It always happens throughout history. This has happened for thousands and thousands of years. It will continue to happen, so that's the first thing, is just to expect it. It's not a surprise. It's not like, it's nothing about you personally, okay? It happens to all people who try to be different, who try to be successful, so you expect it. Expect it is going to happen so just be ready for it. Mentally and emotionally, be ready. Also accept it. Don't fight against it.
You can't fight against it. You will never ever, ever get rid of the critics. You can never please everyone. This is a common phrase. You cannot please 100% of the people all the time. Can't do it, it's impossible. This is just basic human nature so stop worrying about it. Stop trying. When you get criticism even insults, your first thing is just accept it like, "Yeah, well this is normal. I knew this would happen." It takes some of the power out of it when you accept it and see it as normal and expect it to happen, then when it comes, it doesn't bother you quite as much, so that's the first one. Accept it and expect it.
Step number two, cut off, shut down and block the critics. Block them. In other words, what the critics want … I'll tell you what haters want. They want you to react. They want to see you getting angry. They want to see you getting upset. They want to know that they had the power to make you feel bad. That gives them that feeling of being superior, right? That's why they love it. That's why they do it because when they see you get upset, when they see you get sad or angry, then it makes them feel like they're stronger, they are superior.
Deny them that, don't give it to them, so you block them. Online, I just literally block them. On Twitter, if someone sends some insulting comment, it's usually some English teacher somewhere or some criticism, on Twitter, I just block them. I block their account and then after that they can never send me a message again. Very easy, simple. In regular life, face-to-face, how do you block someone? You cut them out. You just stop talking to them. Just avoid them. I know sometimes you can't always avoid them.
Maybe you're at a job, you're forced to work with them but you don't have to talk to them a lot. You don't have to be so friendly to them. You don't have to give them any kind of time or a reaction or energy. You just push them away, you block them. You get them out of your life as much as possible. Yes, they will continue talking and criticizing you and hating but you just get it away from you so that you're not listening to it or seeing it all the time. Another way to say this is you starve the haters. You starve them. See, they are looking for food, emotional food.
Haters, they feed off of, they eat up, they want your reaction so you give them nothing. First, you block them, you cut them off, you don't talk to them but the main thing is you never react to them. You never respond to them. If they write something about you, just delete the comment but don't reply back to them. That's what they want. If you reply back, then they're going to reply back again, back and forth, back and forth. You're giving them what they want. They get to feel superior. They make you upset. You're the successful person but they are controlling you emotionally so that makes them feel stronger. What you do,is you give them nothing.
You don't respond to their criticism. You don't try to justify yourself. You don't explain yourself. You don't insult them back. You don't criticize them back. You do nothing. You laugh and then you block them if you can if it's online. If it's face-to-face, you just say, "Yeah, whatever," and you just turn away, walk away. You don't engage them in any way. You starve them. Starve the haters, give them nothing. Give them no response at all. Next, focus on people who love what you do.
This is the good part of life, when you are different, when you try to succeed, when you do have some success, yes, there will always be critics, there will always be haters, but guess what, there will also be people who love what you do, so why should you focus on those negative people? Why should you focus on those terrible people? Why should you put your emotional energy into those negative, horrible people who don't love you, who don't care about you? Focus on the wonderful people.
Focus on the people that like you and love what you do. Put your attention on them, put your emotional energy into them. Block those guys, push them away. Give them nothing, no response, but give all your responses, all your energy, all your focus to the people who love what you do and I promise you, there are always people who love what you do. Focus on the lovers. Feed the lovers. Support them. Connect with them. Talk with them. Help them. Listen to them.
Spend your day focused on them and then it's easy to just push aside these other negative guys. "It doesn't matter." You're focused on people who love what you do. That's kind of the first phase of dealing with critics. Phase two is a little deeper. The first part of phase two is to have a gratitude focus and this is for your whole life. It means that in general, focus each and every day on what's good in your life. The critics are trying to tell you what's bad. Let them talk.
Push them away, but you need to focus each day and remember what is good in your life and there are always good things in your life even if you're having a lot of problems you can always find good things. Perhaps you're still healthy and feel good. Well, appreciate that. You need to remember that and appreciate it every day with gratitude because there are people in the world who are not healthy. There are people who are very sick and they wish so much that they were as healthy as you.
Maybe you have a great relationship, a great wife or husband, boyfriend or girlfriend, or maybe you have just a great family, mom, dad, brothers, sisters or great friends or a wonderful best friend, whatever. I know that you must have somebody in your life, probably more than one person that you love and care about. Someone who is very positive. Someone who supports you. Well, remember these people each day. Focus on them and remember with gratitude. Maybe you have a decent job, you're making decent money, you have a house over your head.
You have enough food to eat, so many things in your life are actually going very well. You need to focus on those and remember them. Remind yourself to be grateful for what you have already. When you're grateful each day, when you remember these wonderful good things, "Didn't hear the criticism, doesn't matter so much. Who cares? My life is still quite good. These haters, they are just a small tiny part. A little annoyance, that's all."
Finally, the last, the final and to be honest, the most difficult step is to actually appreciate the haters, appreciate the critics. That seems strange. Why would you appreciate those people, because they are a sign that you are succeeding. See if you do nothing different, if you're a total failure in life, the truth is most people will not criticize you. They don't care. It's the successful people who get criticized most of the time. The failures, people just ignore them, right? The total failures in life, in any area, they're mostly just ignored. The people who are just boring, doing the same old thing, not trying, not succeeding, people just ignore them. They don't criticize them because they get no power by criticizing them.
No, people criticize and notice, those who are succeeding. If you're getting criticism, appreciate it. Actually, see it as a positive sign, say, "Oh, I must be doing something well to get this attention." No, I wish it was positive attention but still I know in life people will be jealous. I know criticism will always come to people who are succeeding, so see it as a good sign. This is how I see it now. Whenever some traditional English teacher sends some nasty comment to me, I laugh and appreciate. I'm like, "This is great." That's the enemy I want. I want them to hate what I'm doing.
It's a sign that I'm being different. If the traditional people love what I do, then I would get nervous because then I would think, "I'm not being very different. I'm not being better than they are. I'm not doing well." But, when they hate me, when they criticize me, actually I smile, I laugh, I love it now because I see, "This is a good sign. It's a sign I'm succeeding. It's a sign I'm being different. It's a sign I'm being creative." And you have to learn to do this too. See criticism as a good sign. It's a sign you're standing out in a good way.
At the final step, it takes a while to get this and first reaction is you want to be angry but eventually by following these steps, you'll be able to actually just laugh and even appreciate the haters. That's powerful. It's emotionally, extremely powerful. Once you do that, you are on your way to great success in life. So, to summarize, in essence, what you want to do is eliminate, push out the haters, feed and focus on those who love you in life and love what you do.
Do this, push away this huge enemy, this huge obstacle to success and you will have amazing, great success in your life. You'll be happier. Everything in your life will work better. Defeat the fear of criticism, you have nothing but success ahead of you.
See you soon. Bye for now.
مشارکت کنندگان در این صفحه
🖊 شما نیز می‌توانید برای مشارکت در ترجمه‌ی این صفحه یا اصلاح متن انگلیسی، به این لینک مراجعه بفرمایید.