سرفصل های مهم
مکالمه
توضیح مختصر
مکالمات واقعی در رابطه با موضوعات تجاری که با آن میتوانید زبان تجارت را یاد بگیرید.
زمان مطالعه

11 دقیقه

سطح

خیلی سخت
دانلود اپلیکیشن «زبانشناس»
این درس را می‌توانید به بهترین شکل و با امکانات عالی در اپلیکیشن «زبانشناس» بخوانید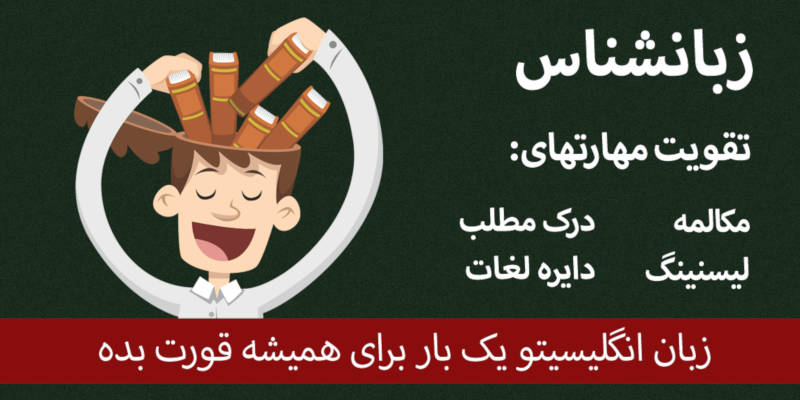 متن انگلیسی درس
BEC : HR -Conversation
AJ: Our topic today is Human Resources or, as I like to say, people. Human Resources, even that phrase is kind of one of these corporate little buzz words. A resource is something that's useful and, of course, human is a person.
Traditionally, this was called Personnel or Staffing. I don't know, there are lots of names that can be used for this area of business, but it's all about hiring people, dealing with payroll and benefits, all the things that sort of surround the hiring and firing of people. That means full-time employees, part-time employees, temps, interns. It could even deal with outsourcing sometimes, all of those things.
George: Human Resources really is nothing more than that part of a business, no matter how big that business is, that's focused on the policies, the practices and the procedures of the company as they relate to people. Every company has its own policies on oh, I don't know, vacation plan, sick day plan, leaves.
AJ: Personal days.
George: Personal days, medical leaves. They have their own policies, practices and procedures on compensation. They have different compensation models.
How much of an increase a person gets when they go from one job to the next. How much they get when they are promoted to a specific level. They have policies, practices and procedures in terms of the medical insurance that the company does or does not provide.
AJ: Maternity leave, that's another one.
George: Maternity leave.
AJ: Some companies even do paternity leave.
George: Yep, maternity leave. In the United States they have, I forget what it's called, but you can take a leave to take care of a sick relative.
AJ: Oh, yeah.
George: I forget what it's called, but all of those kinds of things; anything relating to the people. And, of course, if there's a Human Resources Department, inevitably, they are the ones who act as the advice and counsel to managers on all of these policies, practices and procedures including when a manager needs to fire somebody or when a manager needs to hire somebody.
Now, how much they get involved really depends more on the manager than it does the organization. Well, that's not true. There are some companies where the HR Department is very strong and managers really aren't allowed to do much of anything without going through them. Hopefully, you're not working for that kind of company because a manager needs to be able to be flexible themselves, understand the policies, practices and procedures, get advice and counsel when they need it and act when they have to.
AJ: You know Human Resources I think often they also will do sort of the new employee orientation training. I think of it more as the general new employee stuff. So they don't teach the new employees how to do a specific job, that's going to be their manager or team or something. It's more just about welcome to the company and here are all the rules and regulations and policies of the company. Here's your benefit package and here are your other little perks, etc., etc.
George: Yeah, right. They'll also talk about the company culture, the company history, all of that kind of stuff and, as you say, here's your benefits package, which you may or may not understand, but they're not going to teach you or orient you on your specific job. It's going to be nothing to do with accounting, marketing or manufacturing, whatever your job is. It's all of those people- related things that they're going to do.
In some companies the Human Resources organization is the one that conducts what you call development programs, development training programs. These are ones to maybe help improve certain skills of the people or maybe even develop them towards being managers.
AJ: Kind of more general types of training.
George: Absolutely. It's all geared towards the people aspect, which certainly is important, but it's geared towards the people and not the specific day-to-day task, duties and responsibilities that they have in their job itself.
AJ: You know I have to admit, I have a pretty dim view of Human Resources that may be coming out in our conversation. I tend to see them as bureaucrats.
They're the ones doing all the paperwork and dealing with all the legalities of hiring people, the benefits and all that, but you're not going to get far, for example, on either side.
If you're trying to get a job if you're trying to go through Human Resources first in order to get hired that's a nightmare because they don't really make those decisions usually and if you're a manager, an entrepreneur or someone higher up in the organization trying to hire someone then you've got to deal, again, with HR and all of their paperwork and stuff. So, they tend not to be appreciated very well.
George: I can see where this conversation is leading because I'm of the same opinion. I've worked in a very large corporation that had a Human Resources. In fact, when I started, I mean it's been a long time, it was called Personnel. There were certain rules and guidelines that as a manager I was supposed to follow and by enlarge I did, but by enlarge I tended to like to be able to do something and then tell them afterwards and, of course, that caused some gnashing of teeth and some irritability and a few chewing outs that I got, but hey, I was paid to accomplish a job.
I wasn't paid to canter up to these Human Resource people and, you're right, they are bureaucratic. They get in the way. They've got their policy book, their procedures book and their rules and guidelines and the first thing they do when you ask for is advice is open up that book. They're kind of like working with the government. They've got all the red tape and they're going to make sure you go through it if you get involved with them.
AJ: Yes, I mean even the name Human Resources just annoys me because it's this kind of corporate phrase. I find it dehumanizing. You know we're not going to call it Personnel. We're not going to call it the People Department or the Talent Department or the Recruiting Department, anything that actually would suggest that they're dealing with people. You know Human Resources sounds like they're dealing with pieces of metal or wood or something.
George: Yeah, well that's how bureaucrats look at things, you know, it's a commodity.
AJ: Yep.
George: I don't care what you say, their feelings of compassion, if you will, over these Human Resource issues really are, again, right from the book. Right from the book the policies that the company is supposed to be following.
Another area they get into where sometimes they can be quite helpful is they're usually the ones that know and understand the government policies and government rules in terms of working with employees and people and there are some significant ones concerning wages, hours, working conditions, things of that nature. If you're not a very astute manager you might want to talk to the Human Resources people to make sure you understand all those things because those not only differ from a nationwide basis, but they'll differ state to state to some degree.
AJ: Yeah, sure. In the United States each state can have their own laws and regulations. Not can, they do have their own laws and regulations about employment and then the national government has their own. Yeah, so it can be quite a nightmare.
George: Yes. You go back to when we were talking about the interviewing process and the resume process and we mentioned the fact that sometimes a manager will be forced to advertise a job knowing full well who they're going to hire. Well, that is a Human Resource requirement, which may or may not be because of a government requirement.
AJ: It doesn't matter. They have to interview so many people or have the job posted for a certain amount of time publicly. There are certain regulations about that.
George: It gets down to the level of so many minorities, so many men and so many women, all of that kind of stuff. So, again, a lot of guidelines and I hope everybody understands that guidelines are not rules. Guidelines are a range of possibilities. The guidelines for giving a raise when somebody gets promoted, maybe five to 10% are the guidelines. Well, that doesn't sound like a rule to me. You get quite a range there. There are so, so many guidelines in this Human Resource Department that they'll drive you nuts.
AJ: I think, generally speaking, I recommend avoiding them, avoiding Human Resources. Go around them as much as you can. I do like the 'better to ask forgiveness than permission' approach. You know just do what you're going to do and then apologize later if you have to.
George: Hey, it works if you're good, you know what you're doing and you're willing to take a little bit of a risk.
The End.
مشارکت کنندگان در این صفحه
تا کنون فردی در بازسازی این صفحه مشارکت نداشته است.
🖊 شما نیز می‌توانید برای مشارکت در ترجمه‌ی این صفحه یا اصلاح متن انگلیسی، به این لینک مراجعه بفرمایید.