سرفصل های مهم
در آمریکا چه چیزی را باید درباره مصاحبه ها بدانید؟
توضیح مختصر
زمان مطالعه

16 دقیقه

سطح

خیلی سخت
دانلود اپلیکیشن «زبانشناس»
این درس را می‌توانید به بهترین شکل و با امکانات عالی در اپلیکیشن «زبانشناس» بخوانید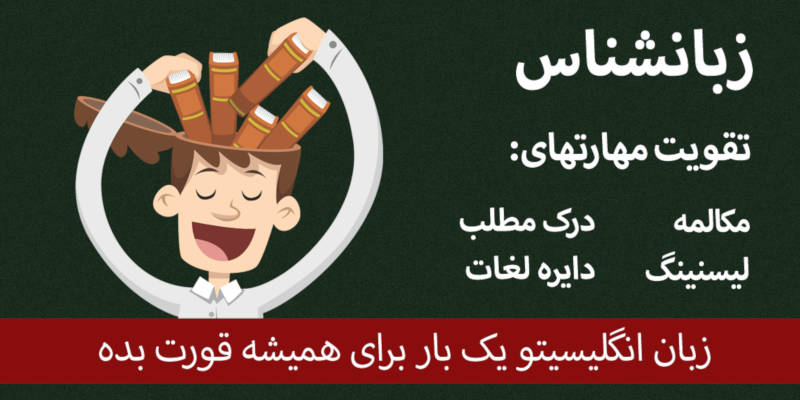 متن انگلیسی درس
What You Must Know About Interviews in the United States
Lindsay: This is an All Ears English Podcast, Episode 232: "What You Must Know About Interviews in the United States."
[Instrumental]
Lindsay: Welcome to the All Ears English Podcast, downloaded more than 5 million times. We believe in connection, not perfection. You'll finally get real Native English conversation with your American hosts, Lindsay McMahon, the 'English Adventurer' and Michelle Kaplan, the 'New York Radio Girl' coming to you from Boston and New York City, USA.
[Instrumental]
Lindsay: Today, you're gonna (going to) meet iTalki teacher, Brad C. and he is gonna (going to) give you a framework to use to ace the behavioral interview in the United States to get your dream job.
[Instrumental]
Lindsay: Are you on our email list yet? Join more than 5,000 other All Ears English listeners and make sure you don't miss any of our amazing All Ears English episodes. Get on our list now and we'll send you a weekly summary of the most exciting and interesting All Ears English moments every week. These episodes are HOT, so go to AllEarsEnglish.com/HOT. That's AllEarsEnglish.com/H-O-T.
[Instrumental]
Lindsay: Hey, guys. Thanks for joining us today. I'm excited because today we have a really interesting guest. Our guest today is an English teacher with real experience in the business world, and sales and marketing, and has an undergraduate degree from NYU (New York University) and has created business English training material for Walls Street Institute. He's been an in-house, business English trainer for large companies like Zeeman's, [inaudible], DHL and EADS (European Aeronautic Defense and Space). Our guest today is iTalki teacher Brad C. Welcome, Brad. How are you today?
Brad: Hi, Lindsay. I'm well. Nice to be with you.
Lindsay: Yeah. Thanks so much for joining us. So we're excited to talk with you because you actually have a real experience in the business world.
Sometimes it's hard to find business English teachers who have actually worked in the business world.
Brad: Well, it was a, (uh), long time coming to the, (uh), English teaching profession. I always thought it was an interesting idea, but I was working and I had, (uh), interesting jobs and I would get transferred to new jobs and new cities and then finally after about 15 years of doing it, I said I've gotta (got to) try this and just get it out of my system. So, I went…
Lindsay: (Uhm).
Brad: …for one year, (uh), in 1997 and was an English teacher in South Korea. And…
Lindsay: Okay.
Brad: …at the end of that year I came back to America and I said, 'Okay, I know I want to do this for the rest of my life now. I've found my true profession, but I need to know how to do it correctly.' So I got my Master's degree in teaching English as a second language at Seattle University. And after that I came to Europe and that's what I've been doing ever since.
Lindsay: Excellent. It's so nice when you find your calling, isn't it Brad?
Brad: Better late than never.
Lindsay: That's right. So Brad, I'm excited to talk to you today about interviewing because I know that a lot of our listeners here at All Ears English, (you know), they're interested sometimes in getting a job in the US (United States) or in the UK (United Kingdom). And I know that you're gonna (going to) let us know about some key difference between an American and a British interview versus a, (um) interview in other parts of the world, right.
Brad: Yes. Lindsay, what normally happens in an American and British interview is that it's focused partly on skills and technical questions about, (uh), what have you done in the past in your job, (uh), with your training. But there's another part of it that's known as a behavioral interview.
Lindsay: (Umm).
Brad: And this is the situation where they are trying to find out what kind of team player you would be and even what kind of potential leader you might be for them because companies make a big investment in their staff, they want to see if there's somebody who could possibly grow with the job and become a manager or more. Now…
Lindsay: Okay.
Brad: …Asians and even most Europeans aren't familiar with this style of interview. They're typically focused in their interviews on education, training, skills, technical achievements and so forth. But these kinds of questions are very often asked, (uh), in (uh) western or at least American (sce-), scenarios and you will find that, (uh), they can be very difficult even for a native speaker.
Lindsay: Yeah. And… oh, that's so interesting. It reminds me of a student that we had in – for my other company who was applying for a job with Google and she was preparing – she had heard about this behavioral interview thing and she was preparing all these responses to these crazy questions.
What kind of questions specifically would they be likely to ask in a behavioral interview Brad?
Brad: Well, I, I grabbed three to share with you because…
Lindsay: Great.
Brad: …these are very difficult. (Uh), here's one: Tell us about the most difficult or frustrating individual that you've ever had to work with and how you managed to work with them?
Lindsay: Ooh. That's a big question.
Brad: Could be a co-worker, a customer, a boss. (Uh), so you have to think about the different kinds of answers there. Another one would be sometimes it is essential that we break out of our routine or normal way of doing things to complete a new task. Give an example of when you were able to successfully develop a new approach?
Lindsay: Oh, wow. L-let's go back to the first question.
Brad: Yeah.
Lindsay: Because I wanna (want to) go through three typical behavioral interview questions and figure what, what the interviewers are looking for so that our listeners could use that strategy when they go in to a behavioral interview. So the first question, Brad, what the… What is the most difficult person or who is the most difficult person you worked with and what did you do? What are the (l-), interviewers looking for here in your response?
Brad: What they're trying to see is that you were able to convince the other person or (pro-) or inspire the other person to rise above the problem that they might have. And it might be a problem with your or another coworker. It might be a problem with the task itself. They feel like it's the wrong thing to be doing or that it's, (uh), impossible to do and they're very afraid that it's going to look bad for them. So the idea is to try to show them that they need to get on board with the team and make this happen despite any reservations they might have and the ideas that you manage them, you influence them, you get them to do what they need to do. Or if it's…
Lindsay: (Uhn).
Brad: …a case of a superior that you find a way to work with him or her so that it doesn't cause a problem for the company.
Lindsay: Okay. So if our listeners are answering that question in the interview, would they want to focus on their process with working with that person, like what they did first once they realized the problem was there?
Brad: Well, actually, I tell everybody to find… use the same approach for all of these questions.
Lindsay: (Hmm). Okay.
Brad: And that's really the secret here is that they need to tell the story in a way that's like a movie. So they need to tell their interviewer about (A) What was the situation and the desired goal. What were we trying to accomplish in this situation? (B) What was the problem with the person or with the task or with the deadline, whatever it may be? And number three: How was it resolved in a way that allowed the project to move forward successfully? So…
Lindsay: Perfect.
Brad: …you have to try to formulate it in this way and try to do it in about three minutes.
Lindsay: Right. Right. 'Cause (because) we don't wanna (want to) talk too much and overwhelm the interviewer. That's a really nice framework that our listeners can apply to all of these common questions. I like that.
Brad: And what they need to do – and this is where the practice comes in and it's actually – I, I tell them to come back after a week and spend that week thinking about their entire job history and reviewing everything that happened in all their different jobs and try to remember difficult situations, projects, people, from all these different jobs and then start to think in these three steps: What was the situation? What was the problem? And then how did we find a way to fix it? And then we practice together with getting them to put it into about one minute for each part so that they can tell the story like a bedtime story, or like a movie and at the end of it you see, "Okay, here's what the problem was, here's how my guy solved it."
Lindsay: I like it. And which part of this framework do your students struggle with the most?
Brad: I think it's the resolution part because they will often feel like it, (uh), wasn't resolved because of them.
Lindsay: (Uhn).
Brad: And what I tell them is that "Take a little more credit."
Lindsay: Right. Especially in an interview, right?
Brad: Exactly. Exactly. (Uh), and [inaudible] whatever steps you (uh) took, whatever contributions you made to solving this problem are worth mentioning.
Lindsay: Yeah, this is a really nice, tight framework and why are these questions not used in different parts of the world? Do you know?
Brad: My understanding from talking, especially to the Asian students, is that those interviewers are very much focused on the CV (curriculum vitae) or the resume and on technical, (uh), experiences and [inaudible] might even give them a test, (uh), to, (uh), (you know), can you do this thing that you say you are trained to do. And then if you're… you can do it, fine, you'll work fine for us. I think…
Lindsay: Okay.
Brad: …again, the Americans and the British are looking more for people that are going to be good team players and are going to be good, (uh), managers down the line. It may be in Asia that people are trained to be team players and it's not so much of a…
Lindsay: (Uhn).
Brad: …of an issue.
Lindsay: Oh, that's interesting. That's interesting. Okay. So, what would be the (s-), one of the, one of the other common questions. You said you had three common questions that our listeners are likely to encounter in an interview. What was the second one?
Brad: The, the second one was about (uh): How do you find a new way to do something when the old way doesn't work.
Lindsay: (Uhn).
Brad: When were you creative in a job?
Lindsay: Okay.
Brad: And the third one was, (uh), an interesting one because it's, it's often asked and that is: How do you go about scheduling your time, prioritizing your time, when you have a very tight deadline, when you have a very, (uh), (you know), quick turnaround for a project, how do you find the time and how do you get the job done?
Lindsay: Okay. And is this another time when we could use that framework that you mentioned?
Brad: Exactly.
Lindsay: For example, describing the situation – so the idea of being super specific is, is what I'm pulling out of this, (right). Going back to an example. Not just saying "Oh, I usually do this" or "I sometimes do this". Brad: Exactly.
Lindsay: It's about telling a story.
Brad: Yeah, you can say – and in fact, "I had a situation like that two years ago where we had to do blah, blah, blah in this amount of time and what I did was I gave some of my work to other people so that I could focus on the task and get it done on time."
Lindsay: (Um). I like that. Oh, this is so useful. I really hope that some of our users have a chance to apply this framework and use it in their next interview. (I mean), some of them might have an interview coming up this week. Who knows?
Brad: Yep.
Lindsay: Is there any aspect of nonverbal communication that, that sticks out in your mind as being different in the US versus the rest of the world? It's kind of hard to generalize, but is there anything that comes to your mind in terms of nonverbals when we're in an interview in the US?
Brad: Well, of course, a lot of that is cultural and I think…
Lindsay: (Uh-huh).
Brad: …that (uh), with (uh), western interviewers, they're looking for, (uh), a lot of confidence, they're looking for people who are leaning forward, not, (uh), (uh), sitting back with their, (uh), legs crossed, (uh), people who are smiling a great deal, and seem…
Lindsay: (Uh-huh).
Brad: …to be eager to answer the question rather than just doing it as (uh), as if they're being – filling out an application.
Lindsay: Yeah, absolutely. Smiling is a big one. Oh, this is fantastic. So as we start to wrap this up Brad, do you have any final points of advice for our listeners about how to attack the interview if they're interviewing in the US?
Brad: Well, I would say that if you can come up with as many of these kind of stories as possible and have them really clear in your head, (re-) – loaded up and ready to use, that the same story can answer many different kinds of questions. It may be a question about a problem wi-with a project. It may be a question about a problem with a person, but it could be the same story. So clearly, the more stories you have, the better you'll be able to answer different kinds of questions.
The nice thing about this Lindsay is that I've always asked these students – 'cause (because) I do a, (uh), a lot of this and I've always asked them, "Tell me what happened in the real interview after you have it and if it was helpful." And consistently they've reported that it… they actually were asked these kinds of questions and they were almost, (you know), happy because they had prepared for it and then, (you know), they have their answers to go and then they get the job.
Lindsay: Oh, awesome.
Brad: Yeah.
Lindsay: Awesome. That's a great testimonial right there and – so for that reason, (you know), we wanna (want to) recommend if you guys wanna (want to) work on this, not by yourself – it's often good to work with a teacher and we know that – Brad, we know you're a teacher at iTalki, right?
Brad: Yes, indeed.
Lindsay: Okay. So guys if you wanna (want to) have a chance to actually work with Brad, if you have an interview coming up, or if you wanna (want to) improve your business English skills, you can work with him on iTalki, but in order to get our special deal that we've worked out with iTalki, you need to go to AllEarsEnglish.com/iTalki – that's i-T-a-l-k-I – and you'll get ten dollars off your second lesson with Brad. And Brad, after our listeners go to that special link, how can they find you after they've registered?
Brad: Well, the easiest way to do it is to type at the top where it says 'search for people' and type my first name 'Brad'. That's…
Lindsay: (Uh-huh).
Brad: …Bravo-romeo-alpha-delta and then a space and then the letter 'c' for 'Charlie' and that's it. And if you hit that, it will bring up my picture and link to my page and then you can look at my special interviewing and, (uh), CV (curriculum vitae)review, (uh), package, (uh), which will allow you to focus just on that with me.
Lindsay: Oh, interesting. So there aren't too many teachers over there who are doing a focused interview package. That's really cool. That's really cool. And I bet a lot of our listeners are gonna (going to) get some use out of that. So, so guy's head on over, if you're preparing for an interview, head on over to work with Brad, and Brad thanks so much for coming on the show today. This is really interesting, this framework. I haven't… I hadn't heard this before, so I really appreciate it.
Brad: Thank you Lindsay. And (uh), I tell you of all the training I do, this is extremely satisfying because you really feel like you've helped somebody improve his or her life by getting a better job. And it's, it's a great thrill for me.
Lindsay: Oh, that's huge. We're glad to hear that. Thanks so much for your work in this field Brad.
Brad: My pleasure. Thank you (ver-).
Lindsay: Have a great day.
Brad: You too. Bye-bye.
[Instrumental]
Lindsay: If you believe in connection, not perfection, and you wanna (want to) put your ears into English more often, please subscribe to our podcasts in iTunes, on your computer or on your Smartphone. And hey, if you liked today's show, please let us know with a review in iTunes. Thanks so much for listening and see you next time.
مشارکت کنندگان در این صفحه
تا کنون فردی در بازسازی این صفحه مشارکت نداشته است.
🖊 شما نیز می‌توانید برای مشارکت در ترجمه‌ی این صفحه یا اصلاح متن انگلیسی، به این لینک مراجعه بفرمایید.