سرفصل های مهم
وقتی به خارج سفر می کنید چگونه با انگلیسی ارتباط برقرار کنید
توضیح مختصر
زمان مطالعه

14 دقیقه

سطح

خیلی سخت
دانلود اپلیکیشن «زبانشناس»
این درس را می‌توانید به بهترین شکل و با امکانات عالی در اپلیکیشن «زبانشناس» بخوانید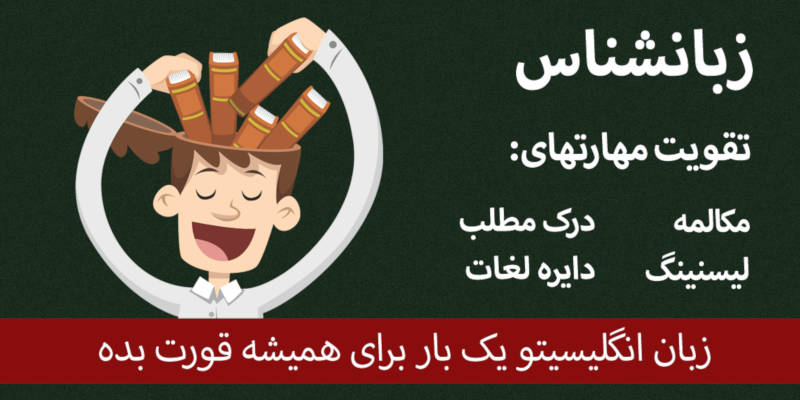 متن انگلیسی درس
Mau Buchler from Tripppin: How to Connect in English When You Travel Abroad
Gabby: This is an All Ears English Podcast, Episode 130: "Mau Buchler from Tripppin: How to Connect in English When You Travel Abroad." [Instrumental]
Gabby: Welcome to the All Ears English Podcast, where you'll finally get real, native English conversation with your hosts, Lindsay McMahon, the 'English Adventurer' and Gabby Wallace, the 'Language Angel,' from Boston, USA.
[Instrumental]
Lindsay: So, Gabby, how can our listeners become insiders with All Ears English?
Gabby: Go to www.AllEarsEnglish.com/100. It's 1-0-0.
Lindsay: What can they get there?
Gabby: That's where you get on our email list, our insider list where we have conversations with you on email and even sometimes on Skype.
Lindsay: But it's not just getting on the list, there's something even more awesome, there, that they can get right?
Gabby: That's right because 100 means 100 most common phrases in the English language, an e-book that we made just for you.
Lindsay: Super useful and up till today, 900 people have downloaded this e-book. So it's awesome.
[Instrumental]
Lindsay: In this episode, Mau Buchler, will give you practical advice to meet friends in English when you travel abroad.
[Instrumental]
Gabby: Hey, Lindsay. How's it going?
Lindsay: Hey, Gabby. Doing great.
Gabby: Well, today we have an awesome guest, Mau Buchler is here. Mau, what's up?
Mau: It's all good ladies. I'm very happy to be on your show.
Gabby: Yeah, we're so excited. (Um), Mau, you're working on this website. Well, you have it ready. It's trippin. That's three w's. So, www.tripppin – with three p's and no g, .com. This is a super cool website. I'm sure you'll tell us more about it at the end of this episode, but what we wanted to talk to you about is tips for learning English through traveling. Because you know to take a trip, tripppin, that's traveling, right and I think you're kind of an expert in this area, so we wanted to talk to you and get some tips for, you know, if we're traveling. How can we incorporate some English learning into this so, what do you think?
Mau: All right. Well, (uh), I think it's the best way to learn English, (you know), get out, get out of the house.
Gabby: Yeah.
Mau: But the truth is, (um), I mean just getting out of the house and going, it's not easy, you know what I mean, it takes, it's difficult people have to
prepare for it and so before you actually leave the house and start, uh, going on an adventure around the world learning English you should prepare. So, I have to say one of the best ways to go about this is online. All right. Online everything's available at your fingertips. I've got to talk about tripppin, since it's the best way to go. I wouldn't be honest if I didn't. So basically because it's the idea of culture and English. So first thing you gotta (got to) do- get yourself on Tripppin, so that you can learn about all these different countries and the culture and the language that supports them.
Gabby: Okay, cool. So that's great background knowledge. (Um), and then I imagine, (you know), for like the logistical things about travel, where to stay, where to go, (like) sightseeing, (you know), maybe connecting with people. There are different websites for that, right? Like there's…
Lindsay: Meetup. What else?
Mau: I think all of them, airbnb, couchsurfing, and meetup. Those are your main tools.
Gabby: Great way to connect with people.
Lindsay: Fantastic ways.
Gabby: Yeah.
Mau: Yeah, 'cause (because) if you want to learn English, if you're going abroad and you want to learn English I mean you gotta (got to), you got to stay with real people. Don't go to big five star hotels. Stay away from that.
Gabby: Stay away.
Mau: You know you have to, you have to go to people's houses, people's homes. You know, I worked in Australia as an English teacher for eight years and I dealt with people from all over the world who were coming over to learn English. And many of – most of them stayed in homestay situations and they were a bit apprehensive about it. They were like, "Oh I don't want to be in someone's house. I don't want to bother someone. I don't want
people to bother me." Get over it. That's where you learn. And people – it's their town. They know what's going on, they know what's good. You know what I mean?
Gabby: Well, language learning is all about pushing yourself out of your comfort zone. So if you're too comfortable, you're probably not going to learn English.
Lindsay: Yeah. You have to sacrifice your comfort for a higher goal, right?
Mau: Definitely. That's the whole point here. You really, really – and that's how you internalize the language, you know. People who study English, they have, they always have similar problems. You know, no matter where you're from in the world, "Aw, I can't remember all these vocabulary words. I don't know really how to use present perfect as opposed to simple past and you won't until you really put yourself in situations where you can see the difference for real for yourself.
Gabby: And if it's a little scary you know maybe that'll help you remember.
Lindsay: Exactly. That's a good thing.
Gabby: Yeah. Very cool. All right. So, so preparation online and using those sites to connect with people. That's a great tip. What, what else can we do when we're traveling to help us with English.
Mau: Volunteer, volunteer work. I find that that is the cheapest and the most effective way to get some English practice. Like, again, when I was a teacher in Australia, most of my students would be looking for jobs, you know what I mean? So they could actually make money, but also (you know) deal with real situations to improve their English. Now, if you're on the road, you're not actually living somewhere, let's say you're spending a week, like I did. I spent a week in New Zealand, I was in between flights. I just wanted to see stuff, but I didn't have any money so I went to the harbor and there was this cruise that went out to the islands surrounding, (uh), where was I? Some city in New Zealand. I can't remember which one it was, but, you know, they took you on cruises, they fed you and they did
a tour of the island because you were there to plant trees. So I mean how cool was that? You plant a tree, you get fed, you've seen parts of the, parts of the city, parts of the country that you normally wouldn't and people treat you really well because you're doing them a favor. You're working for free.
Gabby: That's amazing. I think it takes a little bit of research to find a great program like that because I think, (you know), if you just, (like), Google, (you know), volunteer in the US, you might find (like), some program where you actually have to pay to volunteer.
Lindsay: Right.
Gabby: I'm not saying that's always bad, but it might not be what you're trying to do if you're, (like), if you said (like), (like) you were in a situation where you didn't have any money. So I think there's a lot of different options for finding volunteer work
Mau: Yeah there are.
Lindsay: I was just gonna say, there's something to be said for just showing up and it sounds like you didn't plan ahead with that at all so when you do show up those opportunities tend to arise.
Gabby: Yeah.
Lindsay: (You know).
Mau: Exactly. Go out – it's like you said before, you have to go out of your comfort zone, you have to really expose yourself. Think of it this way, you've already got all the "No's" in the world. You know, everybody's all and before you ask, you already have a no, like can I jump on this boat and go plant a tree on that island? "No, you haven't asked yet." So if you ask, (you know what I mean), then (uh) the chances are you'll get a yes. You might get a no, but you already got that no. So, (you know), who cares?
Gabby: Yeah, and there's some saying, (Iike), "Every 'no' brings you closer to a yes." Right?
Mau: Yeah, yeah exactly.
Gabby: Keep going.
Linday: A "no" is a good thing sometimes.
Gabby: Yeah, that's right. Great so volunteer and, (uh), did you have any other travel and English learning tips?
Mau: Well, I find that going to internet cafes really, (you know), (uh), you find (uh), you find a lot of people who are really willing to socialize, really willing to make friends at internet cafes. So you're going to unless you're tra- traveling (you know) with your laptop or with your tablet, even then, (you know), getting free Wi-Fi, you'll usually have to find a McDonald's you know, McDonald's, anywhere in the world will give fry, free Wi-Fi and a toilet.
Lindsay: Good tip.
Mau: You know I don't know….
Lindsay: Two essential items.
Mau: But that's the thing. And you find other people who are on the road, other people who wanna speak, wanna meet, and so yeah go to internet cafes. Keep your ears open (you know), be, be helpful, be social even if people ask you questions that you don't know the answers to, you know what I mean, you can offer to help, (you know what I mean), you can go out and see if you can find something, (uh), with people, people who are looking for, (you know), (uh), a specific street, (uh), a specific address go with them. Chat along the way.
Gabby: And you can ask people questions too, (you know), even if you know the way you're going, why not just pretend you don't and ask for directions, right.
Mau: Definitely.
Gabby: Very cool, very cool. I never thought of that with internet cafes. (Um)…
Mau: Yeah, I made a lot of friends in internet cafes. (You know), I really – I sort of, I do what I got to do, but after a while, you have Skyped with this person and (you know), you've Facebooked as much as you can, you're basically just killing time, (you know). So have a look around, (you know what I mean). (Uh), buy people chocolate bars. Everybody likes a chocolate bar and it doesn't look like a come on. I've met several people, you know buy chocolate bars for everybody, (you know) those mini Twixes. MM's but MM's and put one M and M next to each person, (you know what I mean). The worst thing you'll get is people looking at you like, "Oh, mommy told me not to take candy from a stranger."
Lindsay: That's right. That's right.
Gabby: Hey, we're adults. You can decide who you take candy from.
Lindsay: That's awesome.
Gabby: Why not do something a little different?
Lindsay: A little of the wall.
Gabby: You know, a little off the wall.
Lindsay: That's great. I like that. I like that.
Gabby: Awesome. All right. So, (um), just to kind of recap. You're, you're saying before we travel, research online, check out Tripppin, learn about the culture, learn about the language and then figure out where you might volunteer. That's not something you have to figure out before you get there. (You know), you could just get to your destination and then ask around. (You know), see, see what volunteer or kind of volunteer activity speaks to you right? And then internet cafes.
Linday: There you go. Awesome.
Mau: Airbnb. I think that's the biggest ticket. I only use Airbnb. I just stay in people's homes and once you get in touch with them, if you tell them, "All right, yeah we got the dates set. I'll see you in a week, month, or
whatever. Oh, yeah, so by the way, I really want to help out with whatever, (you know), volunteer if you know of anyone, you know." That's a lot easier than trying to find, like you said, 'cause there are a lot of volunteer jobs that people want you to pay to do, which is an absolute contradiction in terms.
Gabby; Well I mean they're working to organize things for you, so I think that's where the fee comes from. But I think you can kind of cut out that middle man, by asking just, you know, this person on Airbnb but just asking, do you know of something, do you know of someone, do you know of an organization, do you know, and maybe you're affiliated with something already, like through your – I don't know religion or like (um) some other hobby you have. So you could ask specifically about that and how you might help with that kind of volunteer (uh) type thing.
Lindsay: Yeah.
Mau: Yeah, people really have to get out. It's like, it's like we've been saying, (um), mostly Asian students in general, not to I mean stereotype anybody, but in general, Asian cultures will be a bit more, will be a bit more timid about asking questions, about going out there. Do not be shy. I know it's a hard ask. It's a cultural thing, but you really, really have to understand that asking questions, it's not offensive, it's not insulting, it's not even bothering anybody. It's part of being social. People like it when you ask them questions.
Lindsay: Engaging with people.
Gabby: Totally.
Lindsay: Yeah.
Both: Awesome.
Gabby: Yeah, those are good tips. Now I want to go somewhere and practice some language and learn a new language again. Yeah, well tell us for our listeners where they can find you, where would you like to connect with our listeners?
Mau: Well, the best way to find me is going straight to Tripppin. So I'm going to say it slowly. All right. It's three w's. T-r-i- 3 p's- i- n, and then .com. so it's Tripppin without the "g" and three "p's". All right? and I, and I say that's the best place to meet me because besides all the English learning, which is too much to be described right now, suffice to say that it's like nothing you've ever seen before and you're going to learn it. On top of all that, there's the whole community. We've got teachers and students and English speakers from all around the world in the community. So if you're looking to travel anywhere around the world, chances are, you'll definitely find someone on Tripppin, that'll be able to help you out.
Gabby: Awesome.
Lindsay: Cool.
Gabby: That's so great. Mau, thank you.
Mau: And if nobody else is there, I'll be there.
Gabby: Awesome. That's where we can find you. That's so great. Thank you so much for joining us today, Mau.
Lindsay: yeah, it was great to meet you.
Mau: It was my pleasure. If you want me on any other time, I'm always available
Gabby: Cool.
Lindsay: Okay. Thank you.
Mau: Yeah, being part of a show like yours is an honor
Gabby; Well, we're honored to have you. Our pleasure.
Mau: All right. So have a great time ladies. I hope everyone who's listening, (uh), yeah found this helpful, yeah, if you need me, you can always find me at Tripppin.com.
Lindsay: Thanks.
[Instrumental]
Lindsay: If you wanna (want to) put your ears into English more often, be sure to subscribe to our podcast in iTunes on your computer or on your smartphone. Thanks so much for listening and see you next time.
مشارکت کنندگان در این صفحه
تا کنون فردی در بازسازی این صفحه مشارکت نداشته است.
🖊 شما نیز می‌توانید برای مشارکت در ترجمه‌ی این صفحه یا اصلاح متن انگلیسی، به این لینک مراجعه بفرمایید.