سرفصل های مهم
چرا برای شما برند شخصی مهم است؟
توضیح مختصر
زمان مطالعه

13 دقیقه

سطح

خیلی سخت
دانلود اپلیکیشن «زبانشناس»
این درس را می‌توانید به بهترین شکل و با امکانات عالی در اپلیکیشن «زبانشناس» بخوانید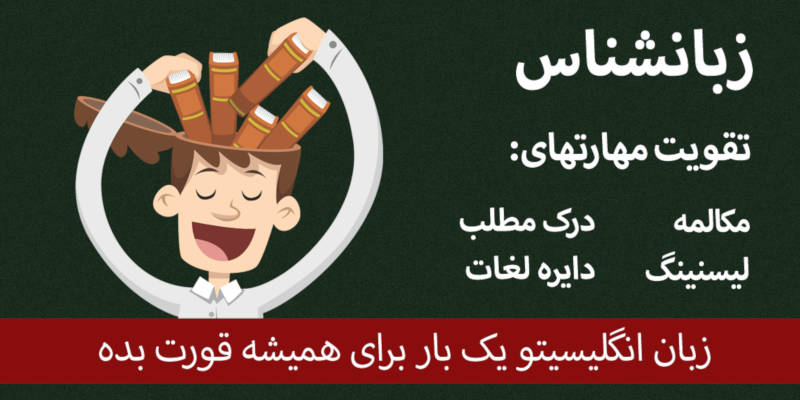 متن انگلیسی درس
Why Personal Branding Matters for You as an English Speaker
Lindsay: This is an All Ears English Podcast, Episode 96: "Why Personal Branding Matters for You as an English Speaker: An Interview with Peter Sterlacci." [Instrumental]
Gabby: Welcome to the All Ears English Podcast, where you'll finally get real, native English conversation with your hosts, Lindsay McMahon, the 'English Adventurer' and Gabby Wallace, the 'Language Angel,' from Boston, USA.
[Instrumental]
Gabby: In this episode, personal branding expert, Peter Sterlacci shares two practical, free personal branding tools that you can use online now.
[Instrumental]
Gabby: Hey, Lindsay.
Lindsay: Hey, Gabby.
Gabby: How's it going?
Lindsay: Okay. How about you?
Gabby: Great. (Um), we're here with my friend and colleague, Peter Sterlacci, consultant and coach for personal branding. (Um), he's based in Japan.
(Uh) Peter, how are you doing?
Peter: Great, Gabby. How are you? Hi, Lindsay.
Lindsay: Hey, Peter.
Gabby: Maybe you could tell us what a personal brand is.
Peter: (A) Personal brand, the simplest definition of it that I use, is it's your unique promise of value. And so like any brand that's out there, whether it's a product like Apple, or a place like Boston, or a person like, (you know), you guys and me. We, we all have a value, a value that we promise to the world around us. And we know, for example, that Apple promises innovation. (Um), Boston, I'll ask you guys, what is, what is the brand promise for Boston?
Gabby: It's education.
Lindsay: Yeah, education and maybe also some traditions. It's sort of a traditional city.
Gabby: Sports, too.
Lindsay: Yeah, yeah, a few different things.
Peter: Exactly. So that's the message, that's the brand message that Boston provides. And, (you know), Lindsay and Gabby and me and all of your listeners, every single one of us even as a person, we have a promise of value that we offer. There's something unique about us. There's a unique strength, unique value that we deliver to the people around us. And so that, that uniqueness is your personal brand and it's what really separates you from anybody else around you who might be doing the same thing, or comes from a similar background. But it is that promise of value that, that we, we provide and more in today – in today's world, we need to really differentiate ourselves because we do live in (uh), in an economy that's always changing, but your personal brand is the one constant thing that you can always rely on. So, that's what I help people to do, is to uncover really what that – to get clarity on what that unique promise of value is and then using that to deliver the greatest value to your career and to your life.
Gabby: Wow.
Lindsay: And, yeah, that's, that's interesting. And where in the world is personal branding really popular and where is it less common?
Peter: All right, well, personal branding I would say in the last (um) four or five years has grown tremendously. And it's – now it's probably today's, one of today's hottest (uh) career development topics. (Um), (uh), in the United Sates it's, it's, it's quite big (um) and culturally we would expect it to be because it is a culture that really values kind of differentiation and, and (uh) individuality. But even here in Asia you're starting to see the value of personal branding and (uh) in cultures like Japan and other Asian cultures where there are more group cultures (um), there still is the value of understanding what your strengths are because you, you use those strengths in the benefit of the group as well. It's not just to separate yourself. You're not isolating yourself from the group. You're using that unique promise of value to benefit the group…
Lindsay: Oh.
Peter: …or the organization. So even in Asian cultures, it is starting to take ground as well…
Gabby: Yeah.
Peter: …probably a bit more slowly than other places but it still is.
Lindsay: (Huh).
Gabby: Yeah.
Lindsay: That's a good way to look at it.
Gabby: Well, and it's – it's so cool thinking about, (you know), the background we came from professionally like teaching English to international professionals or, or Japanese people who are working with people from all over the world, English speakers. It's really important to, (you know), get this concept and be able to, (you know), use it to, to your benefit and to help the group and, (you know), if, if you're (uh) an English speaker and you wanna (want to), you wanna (want to) work with Internationals, I think this concept is really important. It's just really important these days.
Yeah.
Peter: Absolutely, absolutely.
Gabby: So, we were talking about (um) some tips that you wanted to share with our listeners. So maybe we can…
Peter: Sure.
Gabby: …dig right into those.
Peter: Well the first thing (um) (uh) the first tip I wanna (want to) give is that (um) we – you really need to get feedback about (um) how people see you. (Um)…
Gabby: Ah, yeah.
Peter: …and your personal brand is basically held in the hearts and minds of those around you. And so one of the things you can do, a very informal way of doing this, is sit down with a piece of paper and, and write down five words that you would use to describe yourself. And then circle that – out of those five words, circle one word that you wanna (want to) be known for. (Like), let's say you wanna (want to) be known as passionate.
Gabby: Okay.
Peter: (Like) that's the word that defines you.
Gabby: Right.
Peter: That's the most important brand attribute that you think is important to you. Then go around and ask people who know you: friends, family, colleagues, co-workers, to do the same thing, to pick five words they would use to describe you and to circle the one word that they, they think is the one word that is you. And look for the similarities and the gaps and differences and, and see where, where they are. And that is the beginning of understanding really your brand attributes.
Gabby: I'm guessing…
Peter: So that's a very informal way of doing it.
Gabby: I'm guessing you want to describe your character and not so much (like), "Oh, I have curly hair "or "I'm tall," right?
Peter: Right.
Gabby: Okay.
Peter: Exactly.
Lindsay: Yeah, yeah.
Peter: Even from a, from an English learning standpoint, let's just say, adjectives that you would use to describe yourself like passionate, (you know)…
Gabby: Responsible.
Lindsay: Yeah.
Peter: Responsible, international, things like that.
Lindsay: Okay. Gabby and I have been talking a little bit about the book called "Strength Finder 2.0." Are you familiar with that book?
Peter: Yes.
Lindsay: Yeah. Do you point clients towards that book sometimes to figure out what those things are or is that more of a…?
Peter: Absolutely, and actually one of the websites I wanna (want to), I wanna (want to) give your listeners (um) is (uh), a more formal tool that you can use (uh) that's similar to "Strengths Finder." It's called the "360Reach Personal Brand Survey." It's the only survey that you can take (uh) online that actually is designed to understand your personal brand. And if your listeners go to 360, so 3-6-0-reach, r-e-a-c… r-e-a-c-h.me, so 360reach.me, you can get a free 15-day trial of the survey. And you can set – what you do is you send this out again to people who know you well…
Gabby: Yep.
Peter: …and they will anonymously – so you, you will not know who sends it back to you – give you feedback about your personal brand.
Gabby: Yeah.
Peter: And it's really the beginning point and (um), and it's a great free tool to use in the beginning (uh) (uh) and then listeners, if they want to really expand upon it and get the premium tool they can look at that, too. But, but that's a really great starting point.
Lindsay: Very helpful.
Peter: And "Strengths Finder" and the "360Reach" tool (uh) actually correlate really well.
Lindsay: Oh, interesting….
Gabby: Great.
Lindsay: …interesting. Yeah, I was really impressed with "Strengths Finder". I took it over the summer and I was (like), "Oh my god, this is so accurate."
Gabby: Yeah, it's very helpful.
Lindsay: And it's so amazing to get a set of strengths, things that you really do well and that you might not recognize that you do so well.
Peter: And, and I think the key thing to remember here is that the benefit of "Strengths Finder" is, is awesome in the sense of you understanding what your core strengths are.
Both: Yeah. Peter: (Uh) what 360Reach personal brand survey would give you is the external feedback.
Gabby: Yeah. Okay.
Peter: So it's both self-awareness as well as external feedback which is so critical for the personal branding side as well. So, it's…
Gabby: Absolutely. Cool.
Lindsay: What a great tool.
Peter: It's a really good tool. The other thing, the other tip I wanted to give you guys is (um) a big part of personal branding is your online identity, your reputation in the worldwide web.
Lindsay: Yep.
Peter: (Um), and (uh) that's really critical as we know today to be present online and what we often say, if you don't show up on Google, you don't exist.
Lindsay: Ooh, yeah.
Gabby: Oh, that's tough.
Peter: And, and nowadays, it's, it's, it's imperative that we have an online presence. And so…
Gabby: Right.
Peter: …a lot of people don't know what their online presence is right now. So another free tool that you can go to is called the onlineidcalculator.com.
(Uh) that's a mouthful, but onlineidcalculator.com. And this is another free tool…
Gabby: Great.
Peter: …where it'll ask you to Google your name and then you'll answer some questions about it and then it'll tell you what your online identity is (uh) based on a…
Gabby: Wow.
Peter: …scale that it used. (Um), and it'll tell you whether you're (uh), have a very big online presence or you're invisible online or what have you.
Gabby: (Huh).
Peter: I think it's another really cool way of understanding how the world sees you because that's how we see each other now. It's on Google.
Gabby: Yeah, (I mean) even if you don't have like a, a business or a website or something, if you're applying for a job (like) at an international company, usually the first thing they're gonna (going to) do in HR is Google your name, right?
Lindsay: Right.
Peter: Yes. Well, the statistics will tell you now that now it's close to about 90% of companies are going to Google, to Google your name to find out more information about you. (Um) and this is the reality of the working world these days is that, is that it's, it's well beyond your resume. While your resume will never disappear, it'll always be there. (Uh), employers are going online, they're trying to see how professional you look, (um), (you know) they're going into your Facebook page (um)…
Lindsay: Yeah, yeah.
Peter: …and so it's really important that I think (uh) especially for students to be aware of, of how critical it is to, to, to be presenting yourself in, in a way that will be beneficial to your future career.
Gabby: Yeah, absolutely. Sometimes when you're (like) what, 17 years old, you don't think about that but it's so important if you're applying to college, if you're applying for a job, they're probably gonna (going to) Google you so that's a really good point.
Peter: Definitely, definitely. So it's a good idea to go to, (you know), the onlineidcalculator.com, get a sense of what your current online reputation is…
Gabby: Yeah.
Peter: …and then just stay on top of it. (I mean) (uh), (you know), Google yourself (uh) you can set up (uh) Google (uh) alerts (uh) where Google will tell you whenever you show up on (uh) (uh) online and then you can manage your online personal brand as well.
Gabby: Yeah, that's handy.
Lindsay: Cool. Good tip. I like that.
Gabby: Those are two…
Peter: Sure.
Gabby: …really practical websites. Great tools.
Lindsay: Thank you for that.
Gabby: Yeah.
Peter: Oh, you're welcome.
Gabby: Great. So (uh) when our listeners wanna (want to) find out more about you Peter, when they wanna (want to), (you know), connect with you, where can they go to do that?
Peter: (Uh), the best place is (uh) directly to my website, which is petersterlacci.com (um) p-e-t-e-r-s-t-e-r-l-a-c-c-i.com. (Um), and then on my website they can – people can connect with me. I'm on Twitter. I'm very active on Twitter (um) that's my main social media tool. (Um), but you connect with me on Twitter. And also I would recommend for people to (uh) subscribe to (uh) my newsletter (um) that I released. (Uh), you can also download for free (uh) two e-books that I have, one on (um) personal branding across cultures and I think that would be very interesting.
Gabby: Yeah.
Peter: (Uh), and then another, another one which is basically – actually, Gabby, I think you're in that one. Lindsay: Sweet. You're famous.
Peter: Yes. Gabby, Gabby is actually in my other e-book which was a 30-day event that I did.
Gabby: A blogathon, yes.
Peter: Writing about personal branding and, and Gabby did it from a, from a language learning perspective. So…
Lindsay: Nice.
Gabby: Nice, yeah. And I'm subscribed for your newsletter so I know it's helpful, it's practical, I would recommend that for sure.
Peter: Cool.
Gabby: Yeah. All right. Well, thanks Peter for joining us and thanks for the, the practical tips. Thanks for connecting with us. It was really great.
Lindsay: Yeah, thank you so much. That was fun.
Peter: Thank you very much. It's been a pleasure and (uh) I enjoyed it a lot.
[Instrumental]
Gabby: If you love All Ears English and you want to seriously improve to the advanced native-like level of English, we made a premium subscription package for you with more support. What do you get? You get audio and text transcripts of each new episode when they're released. You get practical learning tips every week. You get an exclusive subscriber's version of our e-book, "How to Improve Your English with a Podcast," and you get all the previous text transcripts, Episodes 1 through 88 and you guys can ask direct questions. You can communicate directly with Lindsay and myself, Gabby, to ask any question about English. So it's a huge value.
You can find that subscription package on our website at allearsenglish.com/conversations, that's c-o-n-v-e-r-s-a-t-i-o-n-s. See you there!
[Instrumental]
Lindsay: If you wanna (want to) put your ears into English more often, be sure to subscribe to our podcast in iTunes on your computer or on your smartphone. Thanks so much for listening and see you next time.
مشارکت کنندگان در این صفحه
تا کنون فردی در بازسازی این صفحه مشارکت نداشته است.
🖊 شما نیز می‌توانید برای مشارکت در ترجمه‌ی این صفحه یا اصلاح متن انگلیسی، به این لینک مراجعه بفرمایید.