سرفصل های مهم
یادگیری انگلیسیتان را با ران از انگلیس فانکست لذتبخش کنید
توضیح مختصر
زمان مطالعه

8 دقیقه

سطح

خیلی سخت
دانلود اپلیکیشن «زبانشناس»
این درس را می‌توانید به بهترین شکل و با امکانات عالی در اپلیکیشن «زبانشناس» بخوانید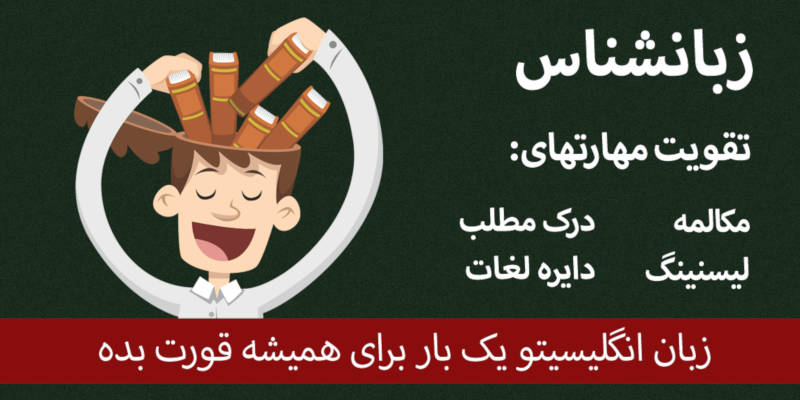 متن انگلیسی درس
Spice Up Your English with Ron from English Funcast
Lindsay: This is an All Ears English Podcast, Episode 36: Wisdom Wednesday, "Spice Up Your English with Humor and Learn a Joke."
[Instrumental]
Gabby: Welcome to the All Ears English Podcast, where you'll finally get real, native English conversation. Now here are your hosts, Lindsay McMahon, the 'English Adventurer' and Gabby Wallace, the 'Language Angel,' coming to you from Boston, Massachusetts, USA.
In today's episode, we have a super special and funny guest.
[Instrumental]
Lindsay:
Okay, so today we're here with Ron from the English Funcast and we're so happy to have you here. Thanks so much for joining us today Ron.
Ron:
Thanks for having me.
Lindsay:
All right. Great. So we're, we're really excited to have you here and we'd love to kind of ask you a couple of questions about your, about your podcast, about what you're doing over at English Funcast.
Gabby: Yeah.
Ron: All right. Sure.
Lindsay: All right. Cool. So Gabby, you wanna (want to) ask a question?
Gabby: Yeah. So just tell us a little bit about you and about the Funcast. (Um) tell us about what you do.
Ron:
All right. So I'm originally an English teacher. I taught in China for a few years and then I came back to Canada and I'm teaching here at (like) a private high school. And in my spare time, I like to do comedy. I do a lot of stand-up comedy. I go to different bars in Toronto and I tell jokes. And what I did was I created the English Funcast Podcast where it's a method where I can (like) tell jokes and at the same time teach English, because when you like learn from jokes, if you laugh at a joke in English, it means you actually understood the joke. There's (there are) a lot of puns you can learn and (like) homonyms and stuff like that.
Lindsay: Excellent.
Gabby: That's so cool.
Lindsay: I like that.
Gabby: Yeah. I love stand-up comedy.
Lindsay:
Yeah. That's great. Do you sometimes get some of your listeners to come and listen to you in Toronto doing the comedy?
Ron:
(Um) no, not really. I never got any listeners to come to Toronto. I was in Europe actually last year and I had some of my listeners come to see my show there, but they didn't really understand my jokes. I think my standup that I do in bars is much different than the ones I do on my podcast.
Lindsay:
Absolutely. Absolutely.
Gabby:
I could see that.
Lindsay:
Yeah. That's great. So (um) what do you think is the benefit of sort of learning English with humor? What would you say?
Ron:
I guess it's exciting. (Like) it gets (like) (um) the listeners, (like) the learners focused and (like) when you start reading it, if you read it over and over again, once they understand it they'll actually start laughing and this way they know that (like) they understood what they just read.
Lindsay:
Yeah.
Gabby:
Right.
Lindsay:
Yeah. Probably really helps people relax.
Ron:
Yeah. I was actually teaching a class today. Do you guys know who Rastamouse is?
Lindsay:
No, I don't think so. Do you know who that is? No.
Ron:
Have you heard of Rastamouse? - this show in Canada. I think they sold it to the US. It's like a Rastafarian Children's Show for Learning English. But all they do is they speak (like) Jamaican slang and it's hilarious.
Lindsay:
Interesting.
Gabby:
That's different.
Lindsay:
Yeah.
Ron:
So (like) I made, I made my students watch it today, so it's (like) they speak (like) [in Jamaican accent] "Me want to go eat the cheese man. Who be eating the cheese?" Gabby:
That's great. You sure you're not Jamaican?
Ron:
No. I'm definitely not. But it was – they were confused because I had the captioning on. (Uh) it's on Netflix and I made them read the captioning and they have (like) completely wrong spelling. So they spell (like) "me" (like) "m-i" or (like) instead of "this", t-h-i-s, it be like d-i-s.
Gabby:
Oh, okay.
Ron:
So I teach them (like) the difference how (like) this is not (like) real proper English, but it's more of a slang English.
Lindsay:
Interesting material. I bet that was fun for your students.
Ron:
[Jamaican accent] Yeah man, they had a blast.
Lindsay:
Oh that's fantastic. That's great. So what do you see as the vision for English Funcast in the future in terms of your students? Like whaddya (what do you) want them to be able to do?
Ron:
I just want them to, (you know), improve their English and have a good time while doing it, right? (Like) I think the most important thing when (like) studying a language is to be able to motivate yourself, right? Like there (there are) many different methods out there and people have to find the best method for themselves. And if they like to laugh and learn, then maybe that's a method that they'd enjoy.
Gabby:
Awesome. Awesome.
Lindsay:
Yeah. Well everybody likes humor. I think like 99% of people, right, like humor.
Gabby:
Right. Right.
Gabby:
So it seems like a great motivator to learn.
Lindsay:
And we know that people are looking for a different way to learn English.
Gabby:
Yeah. You know I think it can be difficult to, to learn humor and to have a sense of humor in a second language because there's (there are) so many (like) double entendres or double meanings or (like) cultural references, so how do you help English learners to get there, to understanding some of those, like the puns or the double meanings, or cultural references.
Ron:
(Um), I read jokes. Here's a joke. I have a joke right now. Can we do a joke right now?
Gabby:
Definitely.
Lindsay:
Yeah. Let's hear it.
Ron:
So here's the joke I have. It's not the greatest joke, but it's okay. (Um) it's: Last night I went to a 24-hour grocery. When I got there the guy was locking the front door. I said "Hey, the sign says you're open 24 hours." He goes, "Not in a row." That was an okay joke. But what's good about that joke is that they learn (like) I can (like) talk about (like) how there's (there are) different (like) (um) grocery stores, I guess in Canada and the US it's 7/11 and they're open 24/7, right? Some countries, I guess, you don't have that and (like) the meaning of "not in a row" right? So "in a row" it means continuous. But "not in a row" means that there's (there are) (um) breaks. Like when you go to work, you don't always work eight hours in a row, you can say, I work maybe four hours and then I'll go on break for lunch and then I'll continue, I'll work four more hours in a row.
Lindsay:
Oh, interesting. That's really key information to understand if people are living in Canada and (you know) trying to get around.
Ron:
Yeah. Definitely.
Gabby:
Yeah, so you just, you break down the joke and make sure that the key parts are understood.
Lindsay:
Great. Well this has been great. Ron, thanks so much for coming to talk with us today. And it's been really exciting to, to meet you. So can you let our listeners know where they can find you online?
Ron:
So you guys can find me online at englishfuncast.com and on Facebook at Learn English Funcast. It's a fun page.
Lindsay:
All right. Cool. Well thanks so much.
Gabby:
Yeah. Thanks so much.
Ron:
Thanks for having me.
Gabby:
All right. Take care.
Ron:
All right. Bye-bye.
[Instrumental]
Gabby: Hey Lindsay. So I've heard some of your students have been using the premium transcripts for this podcast. Tell me about that.
Lindsay:
Yeah. (You know) this podcast is just, is fantastic if you wanna (want to) have some fun and you wanna (want to) learn a little bit, you wanna (want to) get a little bit of motivation for your English. But (you know) my students are actually really, really serious about improving and I'm, I'm excited about that. That's why I'm working with them. And so, so for them, the way for them to actually really improve is to use the premium transcripts. So we've been using those in class together (um) and they've been able to learn a ton.
Gabby:
Yeah. Actually my students, too, (uh) they read the transcripts. You can read them out loud. You can do (um) some shadowing with the transcripts as well. You can look up vocabulary. You can do a lot of things. I don't want to go on and on, but the premium transcripts are super helpful and we want to encourage those of you who are serious about improving your English this New Year to try them out. You can find them at allenglishears.com/conversations.
Lindsay:
All right. So please check it out. Thanks guys.
Gabby:
Thank you.
[Instrumental]
Lindsay: Thanks for listening to the All Ears English Podcast. We're here to help you learn English and you can help us by leaving a five star review on iTunes. See you next time.
مشارکت کنندگان در این صفحه
تا کنون فردی در بازسازی این صفحه مشارکت نداشته است.
🖊 شما نیز می‌توانید برای مشارکت در ترجمه‌ی این صفحه یا اصلاح متن انگلیسی، به این لینک مراجعه بفرمایید.