سرفصل های مهم
درسنامه اصلی
توضیح مختصر
بحث و گفتگو در رابطه با راه‌های بهتر یادگیری زبان انگلیسی، و ایده های جالب و جذاب برای زندگی بهتر
زمان مطالعه

34 دقیقه

سطح

متوسط
دانلود اپلیکیشن «زبانشناس»
این درس را می‌توانید به بهترین شکل و با امکانات عالی در اپلیکیشن «زبانشناس» بخوانید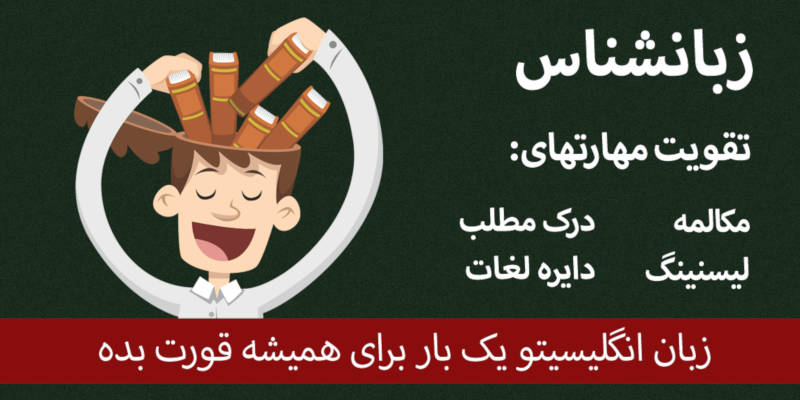 فایل ویدیویی
متن انگلیسی درس
Persistence VIP
Hello, this A.J. and welcome to our lesson this month. The topic is Persistence, one of my favorite topics, one of my favorite values and perhaps our most important value in our program.
We have a list of values for our program. In many ways I think of persistence as the heart of it all. The reason it's so powerful is that it's a strategy that anyone can use. It's a strategy that every single successful person in anything uses and has used.
What does this word persistence mean? It's very, very simple. It just means don't quit, keep going, continue. That's the core of it. It's not complicated. It's not sophisticated. It's just a raw determination to not be defeated, to keep going and going and going. Just keep going.
Let me give you the simplest and the most powerful example that I have for my own life.
I have many examples of this from my own life but this one's very clear because it's a physical example.
Sometimes I talk about that I have run some marathons in the past, which is a very long running race. A marathon is a good metaphor because it's a challenging, tough race. It's very long. It's 26 miles – I can't remember what that is in kilometers – and it's quite tough.
The first one that I did, I trained for it of course but the memory that I have of that race was that it was the Atlanta Marathon and it was kind of chilly. It was in November and I kind of remember the beginning of the race, the first half, but not so clearly.
What is stuck in my brain, the strong memory that I have of that race is the last six miles. It's 26 miles total but the last six is the memory that I have in my mind. It sticks in my mind, a very clear picture, a very strong emotional memory. Why is that? It's because it was right around 20 miles that I really struggled.
The first 20 miles were really not so bad. I was running along and I had a nice pace. I'm excited by the race and there are other runners there and it's my first marathon. Of course, little by little I'm getting more and more tired.
A lot of marathon runners will talk about this. They call it hitting the wall. It's this idea that you're going along and suddenly you hit the wall. What are they talking about?
When runners say you're hitting the wall, it means suddenly your body starts having a lot of trouble. Suddenly you're really tired. Your muscles become really painful and tired.
Your energy drops because you've used up all the sugar in your muscles, so you feel this big drop in energy in your muscles.
That happened to me. It was around 20 miles. I'm going and suddenly for me it was my legs and all around my knees. The tops of my legs and my knees were just killing me. It was so painful and became really stiff. It felt hard to bend my legs.
Those last six miles felt just as long as the previous 20. What started happening is I'm running and suddenly my neck was hurting too and my shoulders, but especially my knees. I started running slower, and this is the point in the race where you want to quit because suddenly it's not this fun adventure anymore. Now it's painful. You're exhausted and you feel a whole lot of pain.
My legs had a lot of pain. My energy was gone. It was hard to focus my mind because my mind wasn't really very clear. At that moment, what could I do? I wanted to finish that race. No complicated running techniques would help me. There's only one thing that got me through and that's persistence.
It's just this one single thought that I kept saying to myself again and again. Just keep going, just keep going, just keep going, don't stop, keep going. Almost like a crazy man, I was kind of talking to myself, saying this to myself not very loudly. I started saying it in my mind first, and then after a few miles I was actually saying it out loud a little bit – just keep going, just keep going, don't quit, just keep going.
I stopped thinking about the finish line. I stopped thinking about everything. I didn't have goals. I didn't have strategies. I didn't have techniques. There was nothing. It was just persistence – I will not quit.
I didn't worry about my time anymore. I didn't worry about anything else. I did finish and I actually did achieve my goal. I finished the race in under four hours, which was my goal. The powerful thing about this is that persistence is kind of like your last most powerful value or quality. It's like the last possible thing you can rely on.
When everything else fails, when you can't do anything else, when you're too tired to do any new strategies and you can't figure out a new solution, when nothing is working or your luck is terrible and everything is going wrong, when you can't even do any little micro goals because you're so exhausted or you have so much doubt or worry or you're so stressed or distracted, when everything is falling apart you have this one anchor, this one thing.
Persistence can get you through those hardest, toughest and most difficult painful times. You go back to this little center of strength and it's just that one thought – I will not quit, keep going, keep going, keep going, keep going.
You can chant it like a mantra. Keep going, keep going, just keep going, just keep going, just keep going. It's almost like a crazy person if things are really, really tough. That's the thing. Let's say you're trying to climb Mount Everest or some huge mountain. You're exhausted, you're tired and nothing else is working. You just keep taking the next step.
Just keep going.
That's the power of persistence. It's just raw determination and you can train it. You can develop it within yourself. That's why it's powerful. It's not something that you just get magically from Heaven. It's something that you develop.
In fact that marathon really helped me develop my persistence because since that marathon I have been a much more persistent person. I constantly use that marathon as a metaphor in my life.
Anytime I'm facing something and nothing's working and I can't think of an answer, I'll remember the marathon and I'll use that as a metaphor. I'll think this is just like the marathon. I'm just going to keep going. Maybe I'm going to keep failing but I don't care.
I'm not going to stop. I'll keep going and keep going.
Quite obviously mastering spoken English is a marathon. It's a long, long race. If you really want to master it, then it's a lifelong race, so it's years and years and years. What you do in one week or one month is not so important. What is super important for your English obviously is don't quit, keep going, keep going, keep going.
Yes, some weeks will be very difficult. Some months will be very tough. There will be months and maybe there will be periods of three months or six months where you might feel very frustrated, bored, nothing's working and you don't seem to be improving. We call this a plateau.
A plateau is a flat area. It's kind of on top of a mountain. When you're going up, up, up and you're improving, you feel great of course, but sometimes it's natural in learning anything that you hit a plateau where you kind of stop improving. You don't get worse but you don't get better. Those plateaus might be a week long or a month long. It could even be a whole year long.
A lot of people will quit during the plateau. They get frustrated, they quit and they drop out of the race, so they never finish. Persistent people will keep going, keep going, keep going. They just keep fighting and talking to themselves – keep going, keep going, keep going.
Eventually, I promise you, the plateau always ends and you start going up again. It's almost like it's some kind of spiritual or psychological test that we all must pass in our lives.
This is true not just in learning English and not just in running marathons, but in most areas of life you'll be tested. Eventually we'll be tested to the point where only persistence will get us through.
Successful people are persistent. They keep going when they're tired, when they're bored, when they're frustrated. They keep going through the plateaus. People who don't keep going and people who don't have that persistence, they're the ones who fail.
I've seen this in my own life on both sides. In the things I've succeeded at very well, persistence was probably the thing that kept me going the most. I've learned all kinds of interesting techniques and methods that I teach you every month. They're all helpful and they're all powerful, but persistence is kind of the thing that's underneath them all.
If you quit, none of the other stuff is useful. None of the other stuff will help you. If you quit, you're done, so just keep going. That raw power has helped a lot of people, a lot of people who maybe have had less intelligence than you or who had less opportunity than you, but they had one thing. They did not quit. They kept going and going and going, and those guys succeed eventually.
Finally, I want to point out that you have to choose your battles with persistence. It's not actually healthy or wise to be persistent in everything that you do. Sometimes quitting is good. Sometimes there's an attitude in a lot of cultures that quitters never win and you can never quit anything. That's just stupid because some things should be quit.
I've quit a lot of things in my life and I'm very happy that I quit them. I've had past jobs in my life that I didn't like, that weren't good for me, that I wasn't happy at. I'm glad that I wasn't persistent and didn't continue in those jobs year after year after year. I'm glad that I quit.
What you need are priorities, obviously. In your life you have to choose what are the most important things? If you're in this program, English must be very important to your life somehow.
English is an area where you want to develop persistence and not quit, keep going and going and going just like you're in that long race. Even when you're in pain and it's tough, you keep going – with your family, with certain relationships, if you have a business – I don't know, with your health.
There are certain areas in my life where I'm going to be persistent. I'll never quit. I'll keep going, going and going as long as I'm alive. There are other areas of my life that are less important where I may be just trying something new or I just don't care about it as much.
I'll give you an example of that. I had this idea that I wanted to learn how to play the bass guitar. I would kind of play and practice and study it for a few months at a time.
Sometimes I seemed very motivated, but then always when I would hit a plateau, I'd reach a point where I would kind of lose all of that and I just wouldn't be persistent.
I would just put it away and kind of quit. Then sometimes I'd come back to it but then that same pattern happened again and again. Eventually I just realized that while I love the idea and the image of being a musician and playing well, the actual practice of it was not enjoyable to me. I just really didn't enjoy practicing it.
I enjoy practicing teaching. I enjoy practicing public speaking. I started playing golf and I really like just practicing it. I could just swing the club and hit the ball 200 times not even playing the game and I like it. It feels good. It's just enjoyable to me.
The process of playing the bass guitar for me in the end was not enjoyable, and so eventually I decided not to be persistent. I choose my battles, the things that are important to me. I'm like a bull dog. I'll be persistent and never give up. Other things I'm quite relaxed about and I encourage you to be the same.
People who are too tight and persistent about everything have no relaxation or fun in their lives. They've got to be high achievers in everything they do. That's not very fun.
Sometimes you want to relax and play. You want to just try some things and maybe just enjoy them for a little while and then you don't do them anymore. It's okay.
Here's what I want you to do this month:
Choose something in your life that's very important.
It might be English, it might be a relationship or it might be your health, but choose something that is clearly important to you for your life, something you know you must be persistent in this area.
Choose something that's tough for you right now.
Don't choose something that's really easy for you at the moment that's going well and you're improving quickly. You don't need persistence for that. That's automatic. Choose something that's important and also choose something that you're struggling with, that you're having a tough time with.
I want you to stop worrying about finding solutions for that. Stop worrying about trying to make changes in that area. Stop worrying about having any kind of goal at all for that tough thing.
Just for this month – and you'll change this later – I want you to focus only on being persistent in this area. In other words, you're just going to say one thing to yourself again and again – just keep going, just keep going, do not quit, just keep going, continue, continue, continue. I will keep going. Just keep going.
You're going to say that to yourself again and again every day, thinking about this tough topic, this tough goal, this tough thing that you're working on. That's it. Just keep going and going and going.
Persistence is powerful. It's hard for me to explain how powerful this is, but when I look at the big successes in my life, I see that that is like a core central thing every time. In every big success I had, there were many opportunities to quit.
There were many times that I wanted to quit and I didn't. Because I didn't, I got through the tough times and then I started to improve again, and things got better and better and I achieved a really big success. This happened in my business and this has happened in other areas of my life. It happened with the marathon and it will happen with you too.
This month choose your tough topic, focus only on persistence and nothing else just for this month, and then go to our social site and share your stories of persistence.
They're inspiring. Share it with other members and read what other members are saying about their own stories of persistence. This way, together we make ourselves stronger and stronger together as a community.
I will see you next time. Be strong, be persistent and just keep going.
مشارکت کنندگان در این صفحه
تا کنون فردی در بازسازی این صفحه مشارکت نداشته است.
🖊 شما نیز می‌توانید برای مشارکت در ترجمه‌ی این صفحه یا اصلاح متن انگلیسی، به این لینک مراجعه بفرمایید.