سرفصل های مهم
درسنامه اصلی
توضیح مختصر
بحث و گفتگو در رابطه با راه‌های بهتر یادگیری زبان انگلیسی، و ایده های جالب و جذاب برای زندگی بهتر
زمان مطالعه

46 دقیقه

سطح

ساده
دانلود اپلیکیشن «زبانشناس»
این درس را می‌توانید به بهترین شکل و با امکانات عالی در اپلیکیشن «زبانشناس» بخوانید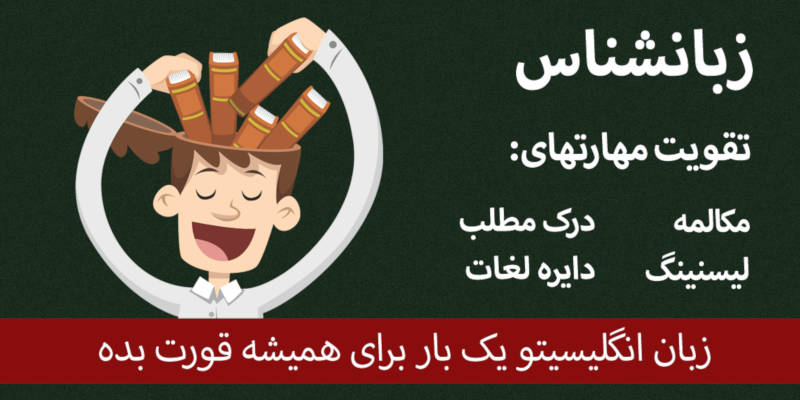 فایل ویدیویی
متن انگلیسی درس
Enthusiasm VIP - Audio
Hi, this is A.J. Hoge and welcome to this month's lesson. This month I'm going to teach you another meta-strategy, or you might call it a meta-value. What does that mean? In the past I've talked to you about a meta-strategy or a meta-value called persistence.
This time I'm teaching you a meta-value or a meta-quality or a meta-strategy called enthusiasm. Let's first talk about what I mean by meta-value or meta-strategy. When we talk about a meta-strategy, meta has the idea of comprehensive or complete or this idea of something that is applicable or true in many different areas.
We take this idea of big, complete and comprehensive – a comprehensive strategy, a big strategy, a strategy that's applicable to many different areas. What that means is that we might have, for example, a very specific strategy. Maybe I want to teach you how to pronounce a certain word in English and I teach you a method or a strategy, maybe using your tongue or your mouth or something.
That's a very specific strategy. That strategy will help you to pronounce that word. That strategy will not help you play golf better. That strategy will not help you develop more physical fitness. That strategy will not help you in your relationships. It's a very specific strategy. It's specific to one area, to one problem or to one goal.
A meta-strategy is actually the opposite of that. A meta-strategy is a strategy that you can use in many, many different areas of life. In fact, in some cases in almost all areas of life, this one strategy will help you get more success, achieve more, be more happy or whatever it is in many different areas.
That's what we're talking about this month – enthusiasm. Enthusiasm is a metastrategy. Enthusiasm will help you be more healthy. Enthusiasm will help you get stronger and be more fit. Enthusiasm will help you achieve business success at a higher level. Enthusiasm will help you speak English more powerfully, more confidently and more accurately.
When you increase your enthusiasm, this value, this quality, this strategy affects everything else in your life. Everything else gets better, just like persistence, which I talked about in another lesson in the past. It's the same thing.
When you apply enthusiasm, when you develop enthusiasm – and it's something you can develop – then all areas of your life go up. That's why it's powerful. That's why meta-strategies or meta-qualities or meta-values are very, very powerful. It's because they affect everything.
Let's talk about this one – this enthusiasm or enthusiastic quality or strategy, why it's powerful and how you develop it. What is enthusiasm? You may know already but you may not. If you don't know, I'll define it now.
Enthusiasm is a kind of energy or excitement, but it's more than just excitement. We all get excited about stuff. We see a cool new product and we say oh wow that's cool, or there's a movie that comes out and we get excited. Excitement is a passing emotion.
Excitement comes and we feel really excited and then it goes and we kind of forget about it.
Enthusiasm is much deeper and prolonged. Enthusiasm is really more like love, like a deep love for something. It could be something very general like life itself, or it could be for a certain field or area in your life. It just depends. It's kind of a deep love and excitement. It's a mix of those two – love and excitement.
When you mix those together at a deep level and they grow stronger and stronger, you get this kind of energy. I like to call it an energy tsunami. It's like this tsunami of energy that nothing can resist.
It just crashes through everything. It destroys everything in its path, every problem and every obstacle. If you have enough enthusiasm, you can just crush right through it and keep on going. That's the power of enthusiasm. It's that sustained, deep excitement and love for something. It's very powerful.
Let me contrast this with discipline just by giving you an example of some past students that I've had. In my teaching career, I've had a lot of serious disciplined students who did not have enthusiasm. I've also been lucky to have a lot of enthusiastic students.
Especially now with Effortless English, I have a lot of enthusiastic students, so I can compare the two.
A disciplined student is someone who's very serious. They listen to the lessons every day. They study English for one hour, two hours or more every day. They have a very strong mind. They're very persistent. They don't quit. They keep going. They're intelligent, focused and determined and that does help them improve. They certainly improve with those qualities.
However, I've noticed something. They improve more slowly than my enthusiastic students and they enjoy it much less. Everything is more difficult and tougher for them.
That's why they seem to go much more slowly.
Discipline and that kind of attitude without enthusiasm – usually there's a kind of fear in there. It's based on some kind of fear, a fear of failure usually. My very disciplined students, although they're working hard and they're very focused, usually deeper down there's some fear motivation – I've got to pass this test and if I don't pass the test, then I fail. I won't get the job that I want or my parents will hate me, or I'll just be a stupid failure.
There's some deep little negative thing back there usually with students who lack and do not have enthusiasm. I believe that's why they learn more slowly and improve more slowly.
Number one, there's a fear or some kind of negative emotion in the back of all of that motivation, and number two, because of that they're not enjoying it. There's no fun, no excitement and no pleasure.
On the other hand, my absolute best students – and when I say best, I mean the best performing students, the students who learn the fastest, improve the fastest and ultimately speak the best – they are almost always the most enthusiastic people, the most enthusiastic students.
They start by being very enthusiastic about English, but I also notice that they tend to be enthusiastic about many things in their life. It's a meta-quality. It's a quality or a value or a strategy that they use in a lot of areas in their life.
They may start by doing it with English and getting really excited and passionate and enthusiastic about English, but then this energy and enthusiasm start to affect lots of other areas in their lives too.
They start feeling that, and the good thing about enthusiasm is that as it grows it gets stronger and stronger. It feeds itself and you get more enthusiastic, more excited, more enthusiastic and more excited.
It's like a rocket. First they start off kind of slow and then they start improving faster, faster and faster, and then they just take off. We've got a few superstar VIP members like this that you'll see on our social site. They're the ones who are writing all the time.
They're the ones you see there week after week writing, and they're always so excited.
When I talk to them in teleseminars, guess what. They have the best English. They didn't start that way. I remember talking to some of them several months ago or a couple years ago and their English wasn't quite as good.
Now they're just fantastic, great pronunciation but more importantly great communication – clear, accurate, powerful use of English. They're the most enthusiastic. Typically their improvement kind of starts slow and then it's like a rocket.
That's what enthusiasm gives you. It's like that rocket ship power.
Like I said, enthusiasm is a meta-quality. It's a meta-strategy. It affects so many areas.
Yes, it will improve your learning speed certainly. Another key thing that enthusiasm gives you is influence. It's the ability to persuade people, to influence people, to lead people without any kind of technique, without any kind of leadership training at all.
In fact, for most of my career in life, my leadership strategy and my leadership skill was basically enthusiasm. I was just so excited and enthusiastic about what I was doing, about my teaching, about my business, about Effortless English, about my class at the time or whatever I was doing.
I was just so excited and so enthusiastic about it consistently all the time that it started to affect the people around me. They couldn't help it. They would start to feel more energetic and more enthusiastic too.
It's contagious in a good way. It's like a cough or a sneeze. It spreads out and then other people catch it. That's not such a good thing when it's a disease, but it's a really great thing when it's enthusiasm. I didn't need to try to use some clever leadership psychological techniques to get people to do things. I don't generally need to do that.
Mostly what I do is I'm just excited and energetic and enthusiastic about my subject, about what I'm talking about, and that energy gets into them and it convinces them, it persuades them and it influences them.
This is a natural form of leadership that requires no kind of manipulation or anything like that. It's a very natural emotional kind of leadership. Enthusiasm dramatically and powerfully increases your ability to lead people, to influence people, to persuade people without even trying. It's very, very powerful.
Again, this is a very powerful meta-strategy. It's something to develop. Let's talk about how you develop it now. If you're already enthusiastic, this will be very easy for you. All you need to do is focus in on English first and then make it stronger and stronger, but some people don't naturally have this enthusiasm.
I think I've been more of a naturally enthusiastic person my whole life. I've always gotten excited about things, so it's been fairly easy for me but I know that for some people it's not. Yet, I also know that people can develop it, so I've helped people develop this, students who started off with seemingly no enthusiasm. I've helped them to develop it to a very high level.
What can you do? Let's first talk practically about why you're here mostly, which is English. Let's focus first on developing more and more enthusiasm for English. Again, you want to imagine this as a tsunami. A tsunami doesn't just happen immediately. It builds and builds and builds. It gets bigger and bigger and bigger.
That's what you're going to do. You're going to build it step by step by step. First it feels like it's building slowly, but you keep working on it and then it creates this amazing tsunami of energy and power that nothing can stop.
Focusing on English, what's the first step?
You must now eliminate all of your shoulds about English.
What do I mean by that? I mean you probably have a list of shoulds – I should study one hour a day or I should get a better score on the test. You might even have some musts – I must pass the test. I must do this. I should have better grammar. I should improve my pronunciation.
You're going to get rid of all of that. Enthusiastic people don't have a long list of things they should do because that word should feels like it's an obligation. It feels like something that you have to do and it has a negative feeling to it. It also has the feeling that you really don't want to.
I don't need to say to myself I should go kitesurfing, I really should go out into the ocean and play in the water, I should do this, I've got to do it, I really have to do that.
I don't need to do that. I love doing it. It's fun. I want to do it. If I'm near a beach or I'm on the island of Maui, I'm going to do it. I don't have to make a list to do it. I don't have to tell myself that I should do it. It's automatic. I want to do it. I love doing it. I'm enthusiastic about it. You can't stop me from doing it.
You don't need to say I really should spend time with this person that I really love. If you're really enthusiastic about them and you love them, then you want to see them. If you have this list of shoulds about English, it's kind of showing that you have some negative feelings about English. You're trying to force yourself to do it and eventually that just doesn't work. Get rid of all of that.
Focus only on the fun, the pleasure, the great things you will do with English.
I don't mean passing some test. Who likes that? Nobody does. Think about the actual fun, interesting things. Let me tell you what our best students, our best members do.
They focus on things like talking to other members in other countries and making international friends.
They get really excited about that. Oh I made a new friend. I have this friend now in Japan. Now I have a friend in Korea. Now I have a friend in France. Now I have a friend in Italy. Now I have a friend in Brazil.
They get really excited about that. It's fun and they talk on Skype sometimes together, or maybe they just email or maybe just on our social site, but they get excited about learning from that other person, learning about different countries and having an international group of friends and connections.
That's exciting for them and they're enthusiastic about it. Some of them get very excited and enthusiastic about learning certain things in English because English is an international language. Because there's kind of a certain culture in North America especially for self-help and psychology and these kinds of powerful positive topics, they can learn about things that maybe in their own language are less common.
Maybe there aren't so many books about these topics, not so many audios about these topics or not so many speakers about these topics, but in English they can find a lot of them, so they get very enthusiastic and excited about learning about those things, listening to those things and using them in their lives.
Again, they're focusing on something fun and pleasurable and amazing, and they get really excited about that. Then English just happens automatically.
Think about something in your life that you're already enthusiastic about.
There must be something. I'm sure there's something in your life that you're already enthusiastic about, something that you already love deeply, something that you feel excitement about.
Maybe you're not like me and you don't jump around about it, but when you think about it or you do it, you feel this wonderful feeling of happiness and pleasure. It might be more relaxing instead of exciting, but it's that same pleasurable warm feeling.
For example, for my dad it's golf. He loves golf. He's been playing golf his whole life. He just loves getting out on the course. He loves the sun and the trees and talking to people. He's very enthusiastic about it. If you start to talk to my dad about golf, he can talk about it for a long time.
If you have something like this in your life, that's how you know because it's something that you love to talk about and love to do, and it's that feeling of love and energy that comes up. You don't need to force yourself to do it. You love doing it. You want to do it.
It's hard to stop doing it. That's enthusiasm.
Find those things in your life and look at them. What's common about those things?
Why are you so enthusiastic about them? For example, I'm enthusiastic about teaching English. Why? Is it because I love verbs, grammar and vocabulary? No, it's because I'm excited about connecting with people around the world.
I love travel. I love visiting other countries. For me, English is the tool for connecting and communicating with other cultures and other people. Teaching English helps me to help other people do that thing, which I also love.
I'm hoping to help you do that too. That's why I'm so enthusiastic about it. What are the things at a deeper level that you get excited about? Then find those things in English and focus on those things.
During the next year, do not focus on vocabulary. Do not think about or worry about grammar. Do not think about or worry about or focus on
pronunciation, nor verbs, nor any other piece of the language, no other linguistic topics.
I want you to just totally forget about all that. I mean totally. No more list of words, nothing. Put it all aside for one year. You can come back to it in a year if you really want to. You probably won't want to. Just push it all aside and you're kind of done with that.
You've already spent years doing that in school. Just push it aside. It's enough.
Instead, focus on these pleasurable things and just get excited about them. Maybe for you it's travel. I don't know. Maybe it's international business for you. Maybe it's both.
Maybe it's making international friends.
Maybe it's learning certain cool interesting things that you can get in English that are harder to get in your own language. I don't know what it is, but find it and just focus only on that. That's it.
Finally, the last thing, and you may notice that I've been doing this the whole time: 5. As you think about English, and specifically as you think about these pleasurable and exciting things connected to English, start using your body to increase your physical energy too.
That mental enthusiasm, that mental excitement and energy is connected to your physical energy, so when you move your body and you make excited energetic movements and then you think about what you're enthusiastic about, you think about this topic and you get yourself mentally excited and then you move physically too, they make each other stronger.
In other words, physically you start feeling more energetic, and then mentally you get more and more enthusiastic and excited. They feed each other, each one getting stronger and stronger and stronger.
When I teach English, for example, I'm thinking about connecting with my students. I'm thinking about traveling to cool countries and talking to people there. I'm thinking about having a teleseminar with VIP members and talking to these wonderful people.
Many of them are now becoming my friends. I've connected to them and they're in all these different countries. I'm thinking about the exciting interesting topic that I'm going to teach them.
As I'm doing that, I'm usually standing up and moving my body. Maybe I'm practicing my speech, so I'm physically getting more and more and more energetic. That makes me mentally, psychologically and emotionally more and more and more enthusiastic, which then gives me even more physical energy and up and up it goes. When you do this habitually, when you train yourself in this daily, it becomes a habit. That's how you develop enthusiasm.
Even it's quite small in the beginning, by doing these steps, by changing your focus, getting rid of all those shoulds, getting rid of all the vocabulary and grammar and that kind of stuff, focusing instead on things that are very exciting to you that you're enthusiastic about and then increasing your focus on those things, increasing your mental energy and excitement about those things and then using your body to get physically energized as you think about those things, and then doing it day by day, that energy starts growing and growing, building, building, building until you develop that tsunami of enthusiasm.
When you get to that level, nothing can stop you. Get on our VIP site. It's very obvious who these people are that I'm talking about. You're going to see it in them. They just can't be stopped. At this point in their English learning, they're just learning so much and they're so enthusiastic about.
Now I can see it with many of them. It's affecting all areas of their life. They're starting to have more success in their businesses and in their lives in general. They're becoming more and more enthusiastic about everything, and that's getting them more and more and more achievement.
You can see too they're the leaders in our group. They're the leaders in our program. It's all coming from their enthusiasm, so develop, focus on it, work on it, do the steps I just said and build this enthusiasm step by step by step until you've got this tsunami of energy that cannot be stopped.
I'll see you next time. Have a great day. Bye-bye.
مشارکت کنندگان در این صفحه
تا کنون فردی در بازسازی این صفحه مشارکت نداشته است.
🖊 شما نیز می‌توانید برای مشارکت در ترجمه‌ی این صفحه یا اصلاح متن انگلیسی، به این لینک مراجعه بفرمایید.