سرفصل های مهم
مکالمه
توضیح مختصر
مکالمات واقعی در رابطه با موضوعات تجاری که با آن میتوانید زبان تجارت را یاد بگیرید.
زمان مطالعه

13 دقیقه

سطح

متوسط
دانلود اپلیکیشن «زبانشناس»
این درس را می‌توانید به بهترین شکل و با امکانات عالی در اپلیکیشن «زبانشناس» بخوانید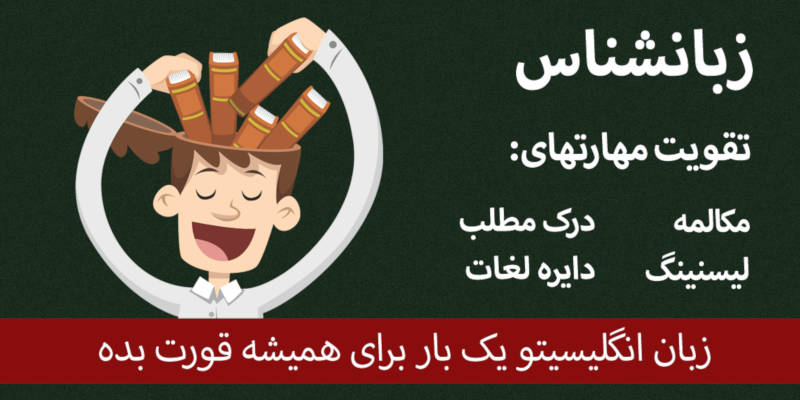 متن انگلیسی درس
BEC : Sales Conversation
AJ: So sales, of course, is an important area of business. It's a common area.
Most every company has a sales department or a sales person and this can be one of the more intimidating jobs in business sort of for the same reasons that presentations are scary, but sales can be even more scary or intimidating or seem to be as difficult because sales people typically depend on performance in order to get their paycheck.
In other words, most sales people work on a commission. A 'commission' is like a percentage, so they only get paid well if they make sales --if they get out there and sell stuff - and if they sell something then they get a percentage of the price of the sale. That's usually how it works. So there can be a lot of pressure on sales people because if they don't perform, if they don't get out there and sell, if they don't actually sell things then their income could be very, very low. It's an area that really requires a lot of motivation and knowledge and drive in order to be successful.
George: Yeah, very much so. You're right about the intimidation factor. The first and foremost intimidating factor I think is that these are the people that are really on the front lines for the company. They're the ones that are face to face with the customers, the people who buy the products, pay the money and, as we talked about in earlier lessons, they're the ones that keep the company going.
So the salesperson has got to be very knowledgeable about the products, has to be a very confident person and, as I say, they've got to be able to persuade, convince, whatever word you want to use, somebody to buy something. Not only for the good of the company, but as AJ said for the good of themselves.
People who work on a commission very rarely get a salary. In other words, a secure paycheck or if they do it's very, very small and probably not enough to live on. So their livelihood depends totally on making the sales, getting the commissions, getting the bonuses, all of the things that go with selling to make some money. Obviously the good ones make a lot of money, but there are a lot of people that just don't have the skills to do that face-to-face presentation, if you will, close the deal and get the customer to sign the contract.
AJ: Yes and the sales process, again, it is linked to presentations and it's linked to all the things we talked about with interviewing and job searching. I mean sales is really the face-to-face part of it. It's kind of like the interview stage of a job search.
The sales process tends to be similar in all companies. Usually it starts with some kind of marketing or advertising, letter campaigns, whatever, something to generate leads, generate leads. So once leads are generated, the leads are given to the salespeople, divided up among the salespeople, then the salespeople follow up on the leads. That's usually a phone call or maybe even a direct face-to-face visit to their prospects. Then, of course, that's called a sales call and during the sales call the salesperson tries to sell their product and then if they're successful, of course, they make the sale, they get a commission and they're very happy. If they don't make the sale then they have to go on to the next lead - the next prospect - and go through the whole thing again.
During that process they always have to deal with objections. In other words, when they're talking to people and trying to make a sale the person they're trying to sell to usually, I shouldn't say always, but usually is going to object to certain things. They might say oh, the price is too much or oh, your product doesn't do exactly what I want.
There can be all kinds of objections so salespeople have to be able to deal with that too, deal with someone objecting to something or even rejection, meaning that the person just says no, I don't want it. Percentage wise, most people don't buy so that's another big part of sales is dealing with rejection because if you go and talk to 10 people, more than five of them most likely will say no.
So the salesperson has to be able to handle that psychologically and then go to the next person and still be motivated, still be strong and still make a strong sales presentation. Then that person might say no and they have to able to handle that rejection and then go to the next one and still be strong and still be confident. So that's the really tough part emotionally of being a salesperson.
George: I agree. I think those two factors, dealing with objections and dealing with rejections, are what make the difference between truly good salespeople and, quite frankly, the rest of us. To think about it yourself and your friends and anybody you know, dealing with objections and dealing with rejection and when somebody says no, I don't want to buy your product or no, I've bought somebody else's product or just go away, I don't want to talk to you anymore, I mean that's a rejection.
That's not a type of thing, generally speaking, that the human being likes and a lot of us don't deal very well with it. It's difficult to accept. All kinds of fears and thoughts about yourself come into mind when you're constantly rejected and AJ is right. For every 10 sales calls if you make one sale you've probably done pretty well, but that means you've been rejected 9 times. That's a tough emotion for a lot of people to overcome.
I will tell you quite frankly that's why I never got into sales. I just couldn't handle constantly banging on the door and rejecting and rejecting and rejecting because it makes you start wondering. What am I doing wrong? Why can't I do this? Why can't I get these people to listen to me? Well, a good salesperson for some reason or other that doesn't affect them. They're persistent and they're persuasive. They go about their business and those rejections are just part of the job. That's the kind of person you want if you're going to hire a salesperson.
AJ: Yeah and there are different approaches to selling. I'd say kind of the old- school approach is this idea of closing. Always be closing. Watch the movie 'Glengarry Glen Ross', it's a great movie about sales. A kind of famous line from that movie is always be closing, A, B, C. 'Closing' means finishing the sale, actually getting the commitment, getting the person to sign.
So this kind of old-school idea of selling is a very high-pressure approach where you're really pressuring the person to buy. You're always trying to get them to sign that contract right away. That's super stressful and I never liked it. I actually had a few jobs where I kind of had to do that and I really hated it.
I always thought I hated selling.
But, kind of a newer approach or another approach is really based more on really getting to know the prospect, really finding out what they need and then just kind of taking a problem-solving approach where you're working with them and really have their best interests at heart so that you're not trying to pressure, pressure, pressure them. If, in fact, your product is not the best for them then you don't try to sell to them. You actually tell them the truth and say you know our product is not really the best for you. You might want to try something else.
If you really, really, really believe powerfully in what you're selling and then you take that mindset, that attitude that you're there to help people solve their problems and you're really trying to work with them and you start by asking lots and lots of questions and getting to know what they need and what they want and how they think very, very, very well, if you take that approach, which is a much more kind of human approach, I think selling can actually be a lot of fun.
I enjoy it now. I enjoy it quite a lot, but that's the approach that I take and it's a much more effective approach, at least for me and for a lot of people. I think it's a more honest approach in a lot of ways too. It doesn't have to be kind of the movie idea of super high pressure and pushing people and all of that. I think that's what gives sales kind of a bad reputation among a lot of people.
We've all gotten the phone calls of people trying to sell us stuff. It's really irritating, but taking a more honest approach and it starts with really getting great leads. It means you don't try to sell to people who don't really need what you're selling. So if your leads are bad, if you're contacting people who really aren't appropriate then that's going to become a very difficult situation.
It's very hard to sell those people.
On the other hand, if the marketing is good, if you get leads, if you get prospects that really, really, really are interested in what you offer and really need what you offer and they have a high-level of interest and desire for at least the kind of product you have or the kind of service that you do, the selling becomes so, so, so much easier because then you already agree they need help. They need what you have and you're just trying to work with them to figure out whether your approach is best for them, if your service is best for them or your product is best for them. So when you approach it that way and your marketing is really good and the leads are really good, sales can actually be quite pleasant and enjoyable.
George: Yes. As you say, the salesperson or the sales process has evolved greatly, even to the point that a lot of companies no longer refer to their customers as customers but their clients. They're no longer customers they're the company's clients. I don't know the significance in the difference of the word, but client sounds a lot better than customer. They also use partner. We're a partner with this company.
That's nothing more than an evolution of the sales process of using what has always been there in the background of the older salesmen. I'm talking about people who were selling back in the time when I was in the business world.
That's to get an understanding of what your customer really wants, needs and help them determine what kind of product you have that can help resolve their problems. That's what the whole selling process is all about today and I think that's a tremendous approach.
AJ: Yeah, I think the idea is find their pain, find their difficulty, find their problems and then help them ease those problems. Solve the problems, ease the frustrations or pain that they're experiencing, hopefully with your service or your product. If not, then you're honest about it and you help them find another way.
The End.
مشارکت کنندگان در این صفحه
تا کنون فردی در بازسازی این صفحه مشارکت نداشته است.
🖊 شما نیز می‌توانید برای مشارکت در ترجمه‌ی این صفحه یا اصلاح متن انگلیسی، به این لینک مراجعه بفرمایید.