سرفصل های مهم
مکالمه
توضیح مختصر
مکالمات واقعی در رابطه با موضوعات تجاری که با آن میتوانید زبان تجارت را یاد بگیرید.
زمان مطالعه

14 دقیقه

سطح

متوسط
دانلود اپلیکیشن «زبانشناس»
این درس را می‌توانید به بهترین شکل و با امکانات عالی در اپلیکیشن «زبانشناس» بخوانید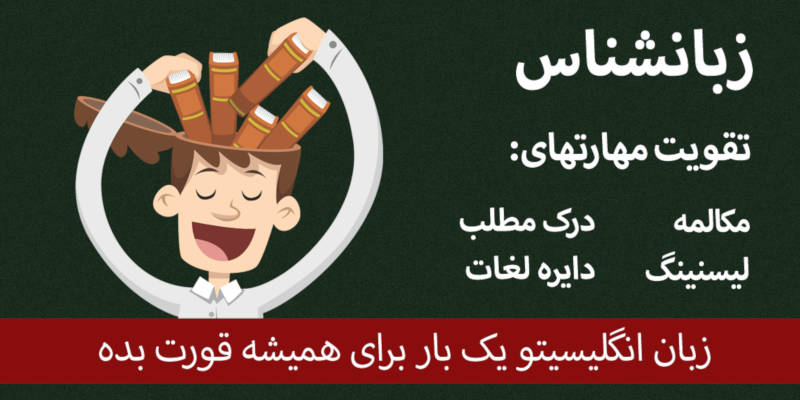 متن انگلیسی درس
BEC : Free Agent Conversation
AJ: So, to start, I think we should talk about this idea of job security or career security and I think we need to throw some cold water on that idea.
George: Very definitely. I'm not so sure that job security is something that exists these days either in big companies, small companies or in individuals' minds for that matter.
AJ: Yeah, the days of lifetime employment, that you're going to get a job with one company and stay with that company for your whole career, is just not going to happen anymore. You really have to think like a free agent.
I think of professional sports. You can imagine the best professional athletes often become free agents. It means that they can go from one team to another. Lots of teams want them and lots of teams are willing to pay them more and more money to attract them to their team and I think that people need to think that way as an employee.
You want to be a free agent and you want to imagine that you're building your own career. You might go from one company to another, to another, to another and, ideally, the best situation is that companies actually want you and they're willing to pay you more and more money eventually to get you to come.
George: That's exactly true not only if you're moving from company to company, but even if you're in a large corporation and want to move up through the company ranks as a free agent. It basically means that you're going to renegotiate your contract. How do you do that? Well, you have to add to your skills, add to your resume. Give people a reason to want to promote you, move you into a different department or, as you've said AJ, move to a different company. It doesn't matter. It's all the same concept to get yourself in a position where people want to hire you to do whatever it is that you do.
AJ: I think that whatever your job is, I mean you may be a businessperson who is very business minded, you think about business all the time, you have that mindset, but you might also just be a teacher or you might be someone who's not a businessperson. You don't think of yourself as a businessperson, but all jobs are insecure now.
There are budget crunches everywhere. You've got companies downsizing everywhere. Government jobs they're cutting people too. Everywhere in the world and in any career, any job, there's always the possibility that you might get cut, that your job might get cut or that your company, your department or your government agency is going to get cut so you have to be ready. You really need to think in a business way about your career. Imagine that you yourself are the product, for example. You're the brand.
There's that word used in marketing 'branding'. We can use it as a verb 'to brand'. It really means to kind of market yourself, to make yourself special and unique and different so that when people think of you and they think of your name that they have a strong imagine in their mind of who you are, what you're good at, how you are different than everyone else.
George: Exactly. I think the way that you build that image is by increasing your skills, increasing your visibility within an organization, whether it's the company itself or maybe it's a trade organization, clubs, whatever you want to call it, but you improve the view people have of you.
In the business world an improvement in view would tend to be somebody who seems to or does, in fact, know a great deal about the whole business operation or the business flow. They're not just secluded in a single piece of a business operation. They understand the total picture. They're able to not only understand it, but make some kind of a contribution in the way of ideas and implementing programs and things that maybe save companies money or save departments money or improve efficiency and effectiveness of a particular department or a particular company. It doesn't make any difference what it is.
It's not just in a company, it's like you say it could be a teacher. Well, good teachers tend to be the ones who put out good students. That doesn't mean that they all have good grades, but the students come out and they really and truly know something.
AJ: Yeah, I think it's this idea from Seth Godin. He's a marketing expert and writer. He writes about marketing and he's got a great book title. The title of the book is Purple Cow. The point of the book, the main message is that you need to be different, special, unique, so you're not the same as everyone else.
If you're the same as everyone else and your company or your job, wherever you work, if they need to cut people then if you're the same as everyone else then they might just cut you because there's no reason to keep you. You need to be a purple cow.
You can imagine this idea. Most cows are brown or black or white, so if you see a brown cow it's not special. You probably don't focus on it. You don't think about it, but if you saw a purple cow, you're driving on the road and you look and you see a purple cow, you're going to look at it. It's different. It's special.
The point is that you need to be this way in your own career if you're going to make more money in your current job or your first job or if you're going to have more security so if they start to cut people they won't cut you because you're special. Of course, 'special' doesn't mean just strange or weird. It means you're special in a way that benefits the company or your employer.
George: So how do you become special? Well, in my opinion you become special, as I said before, by improving your skills and your knowledge. Knowledge is power, knowledge is money and the way you acquire knowledge is just not by sitting down and reading a book, but whatever organization you are in learn as much about that organization as you can.
If you're in the finance department or the marketing department or the sales department find out about the rest of the company. If you're a teacher and you want to move up through the supervisory ranks of the education system find out what those people do. Gain some knowledge. Spend some time with the people that are in the jobs that you would like to have. Learn what they do. Learn their systems. Learn about how they make decisions. Learn about the decisions that they have to make, which are probably different than the ones that you're making on a regular basis.
AJ: Yeah, I would add to that as well, to improve your individual skills in whatever job you're in. You have to make your job special. I think that's probably one of the main points. Let's say you're a teacher. I'll give you an example from my own career.
I was an English teacher just teaching in schools. Everybody, all the other English teachers, they did the same thing. They focused on teaching the textbooks, teaching the standard activities, you know just being normal. I focused on learning how to motivate my students. I tried to learn new skills like leadership skills, motivational skills, public speaking skills and even entertainment skills like drama or comedy.
I tried to bring all these new skills into my teaching to make myself more useful, more powerful, special, different and it worked. I was able to get jobs very easily. Any time I needed to get a new job, for example, if I wanted to travel to a new country and work there, it was very easy for me to do that because I made myself special, made myself different.
George: Same is true in the business world. The first thing you have to do is be the best at whatever it is that you do. Be the best you can be. Be unique in that job. Be outstanding. Seek the awards and the praise from doing what you do, but also improve on the skills that you are going to need and particularly the skills that you know for a fact you don't have.
Business skills, what? Presentation skills --You're going to be giving presentations the rest of your life I don't care what you do. They may not be big ones in front of a thousand people, but improve your presentation skills, all of your communication skills, even your ability and the way that you write email notes and the way you talk on the telephone. All of those skills become more and more important the longer that you are in the business world.
System skills - If you're in a large company you may be using a certain system for your job or a program, system, whatever you want to call it.
AJ: Like a computer programmer maybe.
George: Computer program, yeah, but there are other systems in your company. You probably have an accounts receivable system. There's and accounts payable system. I guarantee you the folks in manufacturing have their own little system. Marketing folks have their system. Learn, learn, learn as much as you can. Improve that knowledge and make yourself unique and part of that uniqueness is you know enough about these other areas to talk to them and make yourself available for the next position outside of the realm that you are in today.
AJ: Exactly. You have to bring something to the table and you want to bring more and more and more to the table for your employer, for future employers in general. You really want to bring more skills, more knowledge, more relationships, more uniqueness, all of these things. It's about building yourself as if, you know imaging, you yourself are a product or you are your own company and then you are selling it to your employer and you are.
They're giving you a paycheck for services or for doing something and so if you think more like a businessperson and you try to do a better and better job and really go above and beyond what the basic requirements are, you do more than is expected, in the beginning you feel like well, I'm doing a lot more work for the same money. Why am I doing it, it's crazy, but in the long term it really will pay off. It will benefit your career and you will get better jobs and you will get more money and you will have more security.
You really have to think long term with your career, not just on the job you have or your first job. You may hate your first job or you may hate the job you have now. I hated a lot of my jobs, but by thinking this way, constantly trying to improve and grow and learn, even in a job you hate, long term you really can have a great career. I think that's the main point.
George: Yes, it is. You want to do a reality check on your skills and what you want in life and where you're going and what it's going to take to get there and then you have to generate a real buzz about you. You are the unique one and people are buzzing about you and everybody wants you in their operation, their organization, their company.
AJ: Absolutely. It sounds great. Well, we'll see you next time.
George: Goodbye.
The End.
مشارکت کنندگان در این صفحه
تا کنون فردی در بازسازی این صفحه مشارکت نداشته است.
🖊 شما نیز می‌توانید برای مشارکت در ترجمه‌ی این صفحه یا اصلاح متن انگلیسی، به این لینک مراجعه بفرمایید.