سرفصل های مهم
درسنامه اصلی
توضیح مختصر
زمان مطالعه

12 دقیقه

سطح

متوسط
دانلود اپلیکیشن «زبانشناس»
این درس را می‌توانید به بهترین شکل و با امکانات عالی در اپلیکیشن «زبانشناس» بخوانید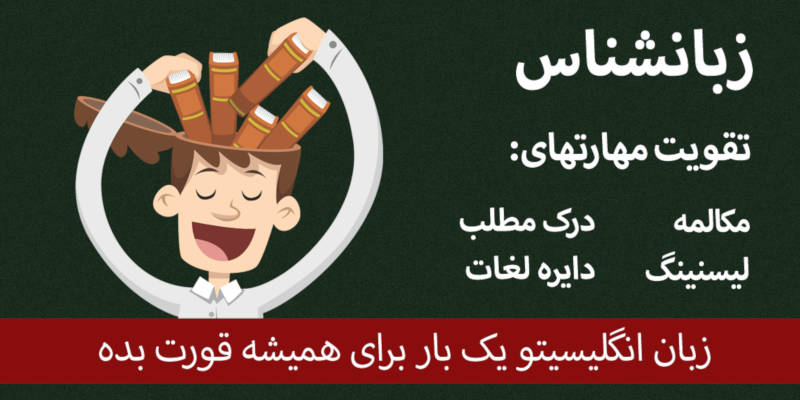 فایل ویدیویی
متن انگلیسی درس
##Unit 3 - Pitch and Volume
Hello and welcome to Unit 3. You want to have a perfect accent; a perfect North American accent. Well, you're doing the right thing. You're training. You get that perfect accent through training; the daily training, using these training audios, and following the five day process, focusing on specific things. Now in the last unit you focused on rhythm, right? That's a very important part of the music of English. We're going to talk about two other parts of the music of English in this unit; pitch and volume. Pitch and volume. What is pitch? What is volume? Pitch is really the tone.
That means if you think of music, right, we have tones that go higher and tones that go go lower. So it's the highness or the lowness. Now in music they have musical notes. You know A, B, C and they have scales. You know, "Duh, duh, duh, duh, duh, duh, duh, duh, duh, duh, duh." In music you have that. Well guess what? In language also, if you listen carefully to English or any language, you will hear that the speakers will sometimes go up and sometimes they go down. Now every speaker is a little different.
Some people have higher voices. Some people have lower voices, but the changes in pitch, the rise and the drop, can be important. In some languages these changes in tone or pitch are super important.
Languages like different Chinese languages, Thai, where the pitch can actually change the meaning. In English it's less important but you still need to hear it. You still need to get your pitch and tone correct.
You need to go up when you're supposed to go up and and you need to drop when you're supposed to drop.
Now luckily in English it's actually quite simple. For questions we go up at the end, right? So you say, "How are you?" Not, "How are you?" Because that sounds like a command. For a command we do the opposite; we drop. We say, "Go to the store now." Uh. It goes down at the end to make it sound strong and commanding. If we sound unsure, we're not quite sure, then we usually go up because it sounds more like a question, right? "Uh, should I go to the store today? I don't know maybe I'll go to the store today."
Right? Up, up, up. But if we want to emphasize something, or stress it, we go down. "Go to the store."
Mm. Down.
Now I'll be doing it very strongly in the training audios. Sometimes it's not such a strong thing. It's very small, so you have to listen carefully. But still, pitch is important. The rise and the fall of English. Very important.
Volume is another one. Volume just means loudness; loudness. So again in speaking sometimes we'll say certain words or phrases more loudly. Usually because we want to stress those words. We want to emphasize those words because they're a little more important. So and we can even change the feeling of a sentence depending on which word we say the loudest. So for example we can say, "I went to the store."
I'm emphasizing "I". It means I did it. Not someone else; me. Right, if I say that "I" the most loudly. "I went to the store." But you could also say, "I WENT to the store." That changes the feeling of the meaning a little bit. Now it seems like the most important thing is that I already went because I made went loudest word. But I could also say, "I went to the STORE." It's the same sentence, but by saying the word "store" very loudly I'm emphasizing it and that gives the feeling that that's the most important piece of information. "I went to the STORE. I didn't go to the bank. I went to the STORE."
So, this week I want you to focus… This unit I want you to focus on the loudness and on the pitch. So you're going to be listening for when I go up and when I go down and you'll also be listening for which words I say a little more loudly and also the opposite. Are there some words that I say a little more quietly? That's your focus in this unit. As you practice with the training audio, for again, five days following the same five day process.
Listen for the music of English this lesson. So you're going to still be practicing rhythm of course. Don't forget last unit's lesson. So this week as you… This unit as you go through the training audios still practice the rhythm. Make sure your pauses are correct, but you're also going to be listening and practicing pitch and volume.
All right, it's time to stop listening to me in this video and go to the training audio. Time for you to start practicing. Follow that same five day process. Get that correct music of English. It will improve your pronunciation so much. This will make a huge difference; a big, big improvement. You already have rhythm, now you're adding pitch and volume.
See you in the training audio.
مشارکت کنندگان در این صفحه
🖊 شما نیز می‌توانید برای مشارکت در ترجمه‌ی این صفحه یا اصلاح متن انگلیسی، به این لینک مراجعه بفرمایید.