سرفصل های مهم
درسنامه لغات
توضیح مختصر
در این درس آقای ای جی هوگ لغات مهم استفاده شده در درسنامه‌ی اصلی را برای شما به طور مفصل توضیح می‌دهد.
زمان مطالعه

11 دقیقه

سطح

خیلی سخت
دانلود اپلیکیشن «زبانشناس»
این درس را می‌توانید به بهترین شکل و با امکانات عالی در اپلیکیشن «زبانشناس» بخوانید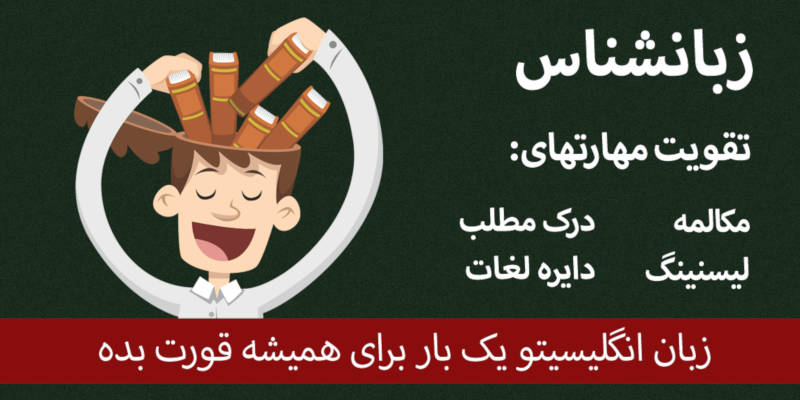 متن انگلیسی درس
Mind Maps - Vocabulary Lesson
Okay, Effortless English members, welcome to Mind Maps Vocabulary discussion.
Let's get started right away.
Diagram is the first word a diagram is a drawing or a graph of information or for information.
So, just not any drawing, a drawing of a person is not a diagram, a diagram shows information.
Okay, we see the phrase linked to it means connected to, if items are linked to each other they are connected to each other.
Next, we see the word radially that in the mind map information is arranged radially, radially means in a circle in a circular way like a circle around.
So, that's radially arranged in a circular way.
In the next sentence we see the word generate, to generate mind map generate new ideas That means to make or to create.
The word structure means used as a verb to structure something means to organize it so mind maps can be used to structure ideas to organize ideas and classify used as a verb, to classify ideas also has similar meaning as organize, structure organize classify these are all similar.
Classify actually means to put thing in groups, put ideas or things into group that are similar so all, for example we classify a dog as a mammal, it's in a mammal group with other mammals, other creatures that have hear.
Okay, we see the word semantic in the next paragraph, a mind map represents semantic information, semantic means meaning related to words and meaning about meaning, about words and meaning.
So, mind maps they use a lot of words in mind maps and mind maps organized ideas, they organized meaning that's what mind maps do.
Okay, we see the word portions, in this same sentence, mind maps organized portions of information, it portion is a piece so portion of information is a piece of information or part of information.
All right, we see the word non-linear, mind maps are non-linear, non-linear means not in a straight line so linear means straight line in a straight line comes from word line, linear, non-linear not in a straight line.
That's same thing we see non-linear graphical manner, mind maps are also graphical, graphical is quite similar to diagram because graphical is an adjective, graphical means with images, with pictures.
All right, we see the word brainstorming in the same sentence mind maps encourage brainstorming, in fact mind maps are a good way to brainstorm, brainstorming or to brainstorm means to think a lot of ideas very quickly trying to be creative, so you just think as fast as you can and you write down your ideas one after the other after the other you don't stop you don't pause to think about the ideas you don't judge the ideas you just write them down as fast as possible we call that process brainstorming, also use it as verb to brainstorm.
All right, we see the word in the next paragraph intuitively, mind maps organize information intuitively, means naturally and to be more specific intuitively means in an instinctively way coming from instinctive it means not from conscience thought means you don't think about it first or plan it comes from right side of your brain, intuitively it means you can feel what is correct and you follow your feeling if you watch a star wars, use the force Lock that's basically an intuitively way of doing something you use the force you follow your deep feeling instead of thinking too much So, mind maps are very intuitive they use intuitively.
Right, the same sentence means the same paragraph, we see the word recall, mind maps can aid can help recall of memories recall means remembering or memory so it helps memory mind maps can help memory if you start doing a mind maps it can help you remember things that you thought you forgot.
The next paragraph, we say mind maps have many applications, an application mean is a use so it means they have many uses many ways to use them many applications that's why a software sometime call an application it means something that is used to do something.
All right, at the bottom of that paragraph, we see the word mnemonic we had that one before in the past learning guide in the past article, a mnemonic technique mind maps can be a mnemonic technique, mnemonic means to help memory something that helps memory something that helps you remember something else .
A mnemonic, a mind map is a mnemonic it's tool it's technique that helps memory it's a mnemonic.
All right, at the end of that paragraph, we see the word to collaborate mind maps are also used to collaborate with other people you can do a mind map in a group everybody can yell out their ideas and one person can write down the mind map on the white board maybe so, you can collaborate to collaborate means to work together it means two or more people working together so, you say I collaborated on and we usually say on or with, you collaborate on a project you collaborate with other people. So, you say I collaborated with my friend to make this article it means we both work together to make this article we collaborated we work together. All right, next paragraph, mind maps can help you retain information retain means keep to retain something means to keep it you already have it and keep it you retain it sometimes such as this case we sometimes use retain to mean remember so if you retain information it means you remember the information you keep the information in your brain.
All right, we see the word rough notes in the next paragraph the phrase rough notes, Mind maps can be drawn by hand as rough notes or they could be quite sophisticated you can use software to do mind maps, rough notes rough of course rough as meaning means not smooth but rough also means not planed not edited for example when you first write an article or you're writing a paper the first time you write we call that the rough draft.
It means you have not edited it didn't worry about making mistakes you haven't corrected your mistakes you haven't used spelled check yet it's your rough draft it's your first draft your first time and you'll write it again a couple times you'll check your mistakes you'll correct your mistakes so, the rough draft it's the first time you do something, rough notes just means you're quickly writing you're not worrying about mistakes or you're not worrying how it looks so it's not planed very well.
All right, in the next page, we see some guide lines some rules, guide line is a rule. Guide line is a more loss, a rule is kind of strict, kind of tough. Rule something you must do.
A guide line is something you might want to do or you should probably do so it's less strong a guide line is less strong than a rule so, then we got a list of guide lines, some ideas how to do a mind map, some basic rules you might want to follow. One of the rules, rule number five uses a word organic.
It says the lines on the mind map the structure the organization should be organic. Organic has, depends on the situation Organic has several meanings but in general organic means natural and in fact it really means biological coming from life.
They are more specific meanings in science and in chemistry organic have a different meaning but in general use organic means natural or coming from natural life.
Already and finally the last one number ten we see so let's go number nine first actually we see the word associations, says use associations, show associations in your mind map in this case associations means connections or relations or relationships, associations means you connected somehow to somebody or something.
All right, and finally the last one number ten radial hierarchy, hierarchy is similar to structure it means hierarchy shows what is most important and what's next and what's next if you talking about company you might say who's the most the top person, the president, the CEO and the wise president and then other regional president and etc. So, this is the structure.
The radial hierarchy means it's in a circle the organization is in a circle nobody's at the top or in this case nothing is at the top, you have something in the middle. Your main idea and you have many other ideas lots of other information surrounding it, around it but nothing is more important than anything else that's radial hierarchy, circular hierarchy remember radial means in circle or like a circle.
All right, that's it. I suggest you listen to this vocabulary lesson a few times if you're advanced student maybe one time enough if you're not really advanced student you probably should listen several times so that you get a general feeling a general idea about the vocabulary after that listen to the mini story lessen.
Okay see you next time. bye bye
مشارکت کنندگان در این صفحه
ویرایشگران این صفحه به ترتیب درصد مشارکت:
🖊 شما نیز می‌توانید برای مشارکت در ترجمه‌ی این صفحه یا اصلاح متن انگلیسی، به این لینک مراجعه بفرمایید.